'We can go on the offence': A more positive way to look at climate action
CBC What on Earth?
20 June 2019
According to a recent survey of 14,000 respondents in 14 countries, people basically fall into four groupings when it comes to tackling climate change: "optimists," "supporters," "disempowered" and "skeptical." The optimists and supporters generally feel they can have an impact and are doing their part to mitigate rising emissions and temperatures.
The disempowered, however, think it's too late to stop the damage and feel, well, paralyzed. But Per Espen Stoknes, a psychologist who has also served as a member of Norway's parliament, has ideas about how to change that.
Stoknes is the author of a 2015 book called What We Think About When We Try Not to Think About Global Warming, which focuses on the barriers that keep people from making change — and offers ideas to overcome them. Read the whole story here.
G20 environment and energy ministers meet in Japan 
The Economic Times
16 June 2019
The spotlight is on innovations in energy.
Environment and energy ministers from G20 countries are meeting over the weekend in the Japanese resort town of Karuizawa. Ministers will focus on energy security, low carbon energy sources, plastic waste, marine litter, and innovation in these areas.
The meeting in Karuizama comes close on the heels of the attack on two oil tankers, one operated by a Japanese shipping company, in the Gulf of Oman on Thursday. 
The spotlight is on innovations in energy. Japan is focusing on hyhydrogen and carbon capture storage and use (CCS/CCUS). It signed agreements with the European Union and United States of America to partner on research and innovation in hydrogen and fuel cell technologies. 
Japan, the current chair of the G-20, is of the view that virtuous cycle of environmental protection and growth will be driven by the breakthrough innovations. Read the whole story here.
Trump and Prince Charles, polar opposites on the environment, have tea
NBC News
3 June 2019
Prince Charles greets President Trump on Monday at the start of a three-day state visit.Mandel Ngan / AFP - Getty Images

Whatever else happens on President Donald Trump's state visit to the U.K., one of the more fraught meetings might end up being his Monday afternoon tea with heir to the British throne, Prince Charles.
While smiles and pleasantries were in abundance, the two men have vastly different stances on the environment.
For over 40 years, the Prince of Wales has been outspoken about a number of environmental issues facing the planet.
Meanwhile, President Trump has previously publicly accused climate experts of having a "political agenda." And, before taking office, he called the concept of human-caused warming "a con job" and a "hoax."
Whether the two actually engaged in any kind of environmental talk during their meeting is unclear. But many media outlets in the U.K. speculated about just how uncomfortable the encounter might get, considering Trump would not be likely to stay quiet if the issue were brought up. Read the whole story here.
Are Electric Vehicles Really Better For The Environment?
Forbes
20 May 2019
Elon Musk, co-founder and chief executive officer of Tesla Inc., speaks during an unveiling event for the Tesla Model Y crossover electric vehicle in Hawthorne, California. Musk said the cheaper electric crossover sports utility vehicle (SUV) will be available from the spring of 2021. The vehicle's price will start at $39,000, a longer-range version will cost $47,000. © 2019 BLOOMBERG FINANCE LP
Since the first modern electric vehicles (EV) took to the roads in the 2000s, critics have been quick to question the 'clean' label attached to them. From manufacturing concerns to battery power sources as well as overall autonomy, EVs have been under scrutiny from sceptics. With the amount of debate and misinformation troubling the waters, the facts behind the efficiency of electric vehicles have become somewhat clouded - so just how clean are these vehicles?
An argument that is routinely put forward to contrast the clean image of electric cars is the pollution behind the manufacturing process of their batteries. There is indeed a range of rare earth metals that make up the composition of the battery, and their extraction and manipulation can contribute to carbon emissions. However, as a 2018 International Council on Clean Transportation (ICTT) report illustrates, the country in which the batteries are being produced as well as the battery composition has a much higher level of impact on emissions...
...Electric vehicles as they currently stand are far less polluting than their combustion engine counterparts despite the carbon emissions from the manufacturing process and its imperfect energy sources. As the technology becomes more mainstream, it is likely to become even more efficient and sustainable. Economies of scale will benefit EV manufacturing by providing better infrastructure, more efficient manufacturing techniques, recycling options and reduce the need for the mining of new materials. Electric vehicles are not a panacea but combined with greater deployment of renewables and the decarbonization of the electricity grid they offer a pathway to greatly reduce greenhouse gas emissions. Read the whole story here.
Letter: Environment vs. economy is a false choice
The Salt Lake Tribune
By Gerald Elias | The Public Forum
20 May 2019

Image Credit: moma.org
When I was a kid, there was an ad for Campbell's Chunky Soups, where they asked, "Is it soup or is it a meal?"
I found that question perplexing, wondering why couldn't it be both. Likewise, the conundrum about climate change: Is it good for the environment or is it good for the economy?
It's really a false choice, because indeed there is a way for it to be both; to reconcile progressive Democrats with moderates, and even Democrats with Republicans.
I'm referring to the Energy Innovation and Carbon Dividend Act (HR763), which would place a fee on the production of fossil fuels and have all the revenue returned to us, the consumers. As legislation with bipartisan congressional co-sponsorship and supported by Citizens Climate Lobby, HR763 would reduce emissions by at least 40 percent in the first 12 years, improve health and save lives by reducing pollution Americans breathe, create over two million new jobs, and because it is a free market non-regulatory solution, would not grow government. Read the whole story here.
CO2 Concentrations Rising Past 400 Parts Per Million
Climate Central.org
1 May 2019
As May begins, we are nearing the annual peak atmospheric concentration of carbon dioxide (CO2) — the greenhouse gas that contributes most to human-caused climate change. CO2 does vary seasonally, peaking in May as the Northern Hemisphere's plants blossom and breathe in more CO2 during the summer. Still, the year-to-year increase in CO2 is unmistakable. When this year's peak is announced (see here for daily updates), it will be the highest level in at least two million years. The last time CO2 levels were this high, trees grew near the South Pole and sea levels were 50 to 65 feet higher than today.
Ice core data show ups and downs for CO2 in the last 800,000 years, but the rapid increase since the industrial revolution is unprecedented. This increase leads to the rise in global temperatures — the foundation for climate change impacts that are affecting us here and now. Even if we halted our emissions today, these impacts wouldn't disappear; CO2 stays in the atmosphere for a thousand years or more. Cutting our carbon footprint is the greatest challenge of our time, but solutions do exist. From renewable energy and energy efficiency to cleaner transportation and agriculture, sustainable practices are ready for use.
Methodology: CO2 data from Mauna Loa, Hawaii is reported by NOAA's Earth System Research Laboratory Global Monitoring Division.
For Earth Day, a look at how people around the world view climate change
Pew Research Centre
18 April 2019
Protesters in Athens hold a banner calling for more efforts to stop climate change. Nine-in-ten in Greece say global climate change is a major threat to the country. (Helen Paroglou/SOPA Images/LightRocket via Getty Images)
April 22 is Earth Day, an annual event that highlights environmental concerns and encourages civic action. This year's Earth Day comes amid widespread global concern about climate change.
Here are five facts about how people globally see climate change, drawn from a 2018 Pew Research Center survey on how people evaluate eight potential threats, as well as other polls conducted by the Center. (For more on how people in the United States see climate change, see our companion post, "How Americans see climate change in 5 charts.")
Majorities in most surveyed countries say global climate change is a major threat to their nation. In fact, it's seen as the top threat in 13 of 26 surveyed countries, more than any other issue the survey asked about.
People in Greece express very high levels of concern, with 90% labeling climate change a major threat (similar to the 88% there who cite the condition of the global economy). People in South Korea, France, Spain and Mexico also express strong concerns. Eight-in-ten or more in each of these countries say climate change is a major threat. Read the whole story here.
US judge halts hundreds of drilling projects in groundbreaking climate change ruling
The Guardian
20 March 2019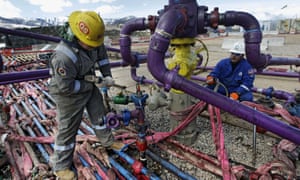 Drilling has been halted on more than 300,000 acres of public land in Wyoming. Photograph: Brennan Linsley/AP
In the first significant check on the Trump administration's "energy-first" agenda, a US judge has temporarily halted hundreds of drilling projects for failing to take climate change into account.
Drilling had been stalled on more than 300,000 acres of public land in Wyoming after it was ruled the Trump administration violated environmental laws by failing to consider greenhouse gas emissions. The federal judge has ordered the Bureau of Land Management (BLM), which manages US public lands and issues leases to the energy industry, to redo its analysis.
The decision stems from an environmental lawsuit. WildEarth Guardians, Physicians for Social Responsibility, and the Western Environmental Law Center sued the BLM in 2016 for failing to calculate and limit the amount of greenhouse gas emissions from future oil and gas projects.
The agency "did not adequately quantify the climate change impacts of oil and gas leasing", said Rudolph Contreras, a US district judge in Washington DC, in a ruling late on Tuesday. He added that the agency "must consider the cumulative impact of GHG [greenhouse gas] emissions" generated by past, present and future BLM leases across the country. Read the whole story here.
Geoengineering is not a cure-all for climate change
CBC | What on Earth?
14 March 2019

Photo credit: climate.nasa.gov
Climate change can be a touchy subject — even among advocates of climate action. And especially when it comes to the issue of geoengineering.
Geoengineering is the idea of using technology to manipulate the environment in order to combat global warming. One popular example is stratospheric aerosol injection, wherein sulphur dioxide is injected into the atmosphere (like what happens during a volcanic eruption). This reduces the amount of sunlight that can penetrate the atmosphere and could theoretically lower Earth's temperature.
Earlier this week, tempers flared on Twitter between climatologist Michael Mann and David Keith, a professor of applied physics at Harvard University and an expert on solar geoengineering. Keith, who is Canadian, was the co-author of a recent study released in Nature Climate Change that suggests solar geoengineering, paired with a reduction in CO2 emissions, could be used to cut global warming in half without making climate change worse. Read the whole story here.
How brain biases prevent climate action
BBC.com
8 March 2019
UK students went on strike in February 2019 in protest of climate change inaction. Our ability to anticipate future scenarios is a capacity that sets humans apart (Credit: Getty)
We know that climate change is happening. We also know that it's the result of increased carbon emissions from human activities like land degradation and the burning of fossil fuels. And we know that it's urgent.
A recent report from international climate experts tells us that we are likely to reach 1.5C of average global warming in as little as 11 years. At that point we can expect "increased risks to health, livelihoods, food security, water supply, human security and economic growth". These experts also found that temperature rise has already altered human and natural systems in profound ways, resulting in more extreme weather, the melting polar ice caps, sea level rise, droughts, floods and biodiversity loss.
But that information hasn't been enough to change our behaviours on a scale great enough to stop climate change. And a big part of the reason is our own evolution. The same behaviours that once helped us survive are, today, working against us.
It's important to remember one thing, however. It's true that no other species has evolved to create such a large-scale problem – but no other species has evolved with such an extraordinary capacity to solve it, either. Read the whole story here.
7 reasons why Arctic sea ice matters
12 December 2018
Mother Nature Network
Ice in the central Arctic Ocean has thinned by more than 60 percent since 1975. (Photo: Pablo Clemente-Colon/NOAA)
The Arctic hasn't been itself lately. Temperatures there are rising at twice the global rate, sparking an array of changes unlike anything seen in recorded history.
One of the most striking examples is the region's sea ice, which is now declining by about 13 percent per decade, with the 12 lowest seasonal minimums all recorded in the last 12 years. In September 2018, Arctic sea ice tied for its sixth-lowest extent on record, according to the U.S. National Snow and Ice Data Center (NSIDC).
"This year's minimum is relatively high compared to the record low extent we saw in 2012, but it is still low compared to what it used to be in the 1970s, 1980s and even the 1990s," says Claire Parkinson, a climate change senior scientist at NASA's Goddard Space Flight Center, in a statement about the 2018 minimum.
Arctic sea ice always waxes and wanes with the seasons, but its average late-summer minimum is now shrinking by 13.2 percent per decade, according to the National Oceanic and Atmospheric Administration (NOAA). And in its 2018 Arctic Report Card, NOAA reports the oldest Arctic sea ice — frozen for at least four years, making it more resilient than younger, thinner ice — is now in steep decline. This oldest ice comprised about 16 percent of the total ice pack in 1985, NOAA reports, but it's now less than 1 percent, representing a loss of 95 percent in 33 years. Read the whole story here.
Climate change: Oceans 'soaking up more heat than estimated'
1 November 2018
BBC News
Photo credit: Getty Images
The world has seriously underestimated the amount of heat soaked up by our oceans over the past 25 years, researchers say.
Their study suggests that the seas have absorbed 60% more than previously thought.
They say it means the Earth is more sensitive to fossil fuel emissions than estimated.
This could make it much more difficult to keep global warming within safe levels this century.
According to the last major assessment by the Intergovernmental Panel on Climate Change (IPCC), the world's oceans have taken up over 90% of the excess heat trapped by greenhouse gases.
But this new study says that every year, for the past 25 years, we have put about 150 times the amount of energy used to generate electricity globally into the seas - 60% more than previous estimates.
That's a big problem.
Scientists base their predictions about how much the Earth is warming by adding up all the excess heat that is produced by the known amount of greenhouse gases that have been emitted by human activities.
This new calculation shows that far more heat than we thought has been going into oceans. But it also means that far more heat than we thought has been generated by the warming gases we have emitted. Read the whole story here.
A 'conservative' carbon tax
Climate Fwd:
The New York Times
10 October 2018
The newest financial supporter of a plan to reduce greenhouse gas emissions is the biggest energy company in the world: the fossil fuel giant Exxon Mobil.
The company announced that it would give $1 million over the next two years to Americans for Carbon Dividends, a group supporting legislation that would tax carbon emissions and return the money to Americans in refunds.
The proposal is "founded on conservative principles," said James A. Baker III, one of the Republican elder statesmen who co-founded the group. "The glue that holds it together is returning all carbon-fee revenue directly to the American people rather than using it to grow government."
Exxon publicly backed the plan last year. So did other companies in the fossil fuel and renewable energy fields, as well as General Motors, Johnson & Johnson, PepsiCo and Unilever.
Scott Silvestri, an Exxon spokesman, said, "Applying a uniform cost across the economy is consistent with our principles on how to manage the risk of climate change."Ted Halstead, another founder of Americans for Carbon Dividends, said he expected lawmakers in Washington to propose legislation based on the plan in the next session of Congress, with a long-term goal of passing legislation in 2021. "We see this as a marathon, not a sprint," he said.
The plan sets an initial tax of $40 per ton of carbon dioxide produced, which would add 36 cents to the cost of each gallon of gasoline sold. The rate would rise over time, reducing demand for fossil fuels. The average family of four would receive approximately $2,000 in the first year as a carbon dividend, the group says. Read the whole story here.
Major climate report describes a strong risk of crisis as early as 2040
The New York Times
7 October 2018
Harry Taylor, 6, played with the bones of dead livestock in Australia, which has faced severe drought. (Photo credit: Brook Mitchell/Getty Images)
INCHEON, South Korea — A landmark report from the United Nations' scientific panel on climate change paints a far more dire picture of the immediate consequences of climate change than previously thought and says that avoiding the damage requires transforming the world economy at a speed and scale that has "no documented historic precedent."
The report, issued on Monday by the Intergovernmental Panel on Climate Change, a group of scientists convened by the United Nations to guide world leaders, describes a world of worsening food shortages and wildfires, and a mass die-off of coral reefs as soon as 2040 — a period well within the lifetime of much of the global population.
The report "is quite a shock, and quite concerning," said Bill Hare, an author of previous I.P.C.C. reports and a physicist with Climate Analytics, a nonprofit organization. "We were not aware of this just a few years ago." The report was the first to be commissioned by world leaders under the Paris agreement, the 2015 pact by nations to fight global warming.
The authors found that if greenhouse gas emissions continue at the current rate, the atmosphere will warm up by as much as 2.7 degrees Fahrenheit (1.5 degrees Celsius) above preindustrial levels by 2040, inundating coastlines and intensifying droughts and poverty. Previous work had focused on estimating the damage if average temperatures were to rise by a larger number, 3.6 degrees Fahrenheit (2 degrees Celsius), because that was the threshold scientists previously considered for the most severe effects of climate change.
The new report, however, shows that many of those effects will come much sooner, at the 2.7-degree mark. Read the whole story here.
Experiencing extreme weather is not enough to convince climate change sceptics that humans are damaging the environment, a new study shows
1 October 2018
Science Daily
Carton credit: medium.com
Political bias and partisan news reporting influence whether people report experiencing certain extreme weather events, the research suggests.
But Americans who lived in areas where a variety of extreme events were recorded -- flood, tornado, hurricane, and drought -- were ultimately no more likely to share the same beliefs about climate change as scientists.
Dr Ben Lyons, from the University of Exeter, who led the research, said: ""Extreme weather plays a limited long-term role in forming people's beliefs about climate change. Instead, their views and beliefs can alter the way they perceive the weather. We have found when an extreme weather event is ambiguous, as with polar vortex and drought, people are more likely to see the event through a partisan lens. If there is grey area, people are more comfortable applying their preferred label."
The University of Exeter, University of Michigan and University of Texas research found that Republicans were less likely to report experiencing a polar vortex, while those exposed to liberal media were more likely.
However the weather can be sometimes so extreme that it overshadows personal views -- the researchers found that partisanship and media use did not affect the way people in the American Northeast -- where the 2014 and 2015 polar vortex events hit hardest -- reported the weather they had experienced.
Those who favoured liberal news sources such as the Huffington Post or the Daily Show reported experiencing drought more often than national weather data would suggest they actually did.
Dr Lyons said: "Very extreme weather accompanied by constant media coverage is harder for people to deny. But on the other end of the scale, droughts can take longer to have an effect, so people have some difficulty perceiving their onset and this may allow them to bring their biases to the table." Read the whole story here.
At Climate Week NYC, the Focus is on Maintaining Momentum
The New York Times
21 September 2018
California Gov. Jerry Brown speaks as Michael Bloomberg, left, listens during a news conference at the Global Action Climate Summit Thursday, Sept. 13, 2018, in San Francisco. Gov. Brown pledged to make his state fully carbon-neutral by 2045. Photo credit: Eric Risberg/Associated Press
This year's annual Climate Week NYC arrives Monday at a moment of increasing urgency in the ongoing battle to contain — if not reverse — the effects of climate change.
On one hand there is much to celebrate. Climate Week is now entering its 10th year in New York City, emerging as the leading international forum for politicians, nongovernmental organizations (NGOs), activists and policymakers to share climate-related strategies and successes with like-minded people.
Climate Week's debut West Coast counterpart — the Global Climate Action Summit — was held in San Francisco earlier this month. A highlight was a commitment from Gov. Jerry Brown of California, to make his state fully carbon-neutral by 2045. Read the whole story here.
Cities' Emissions Are Decreasing Even as Their Economies and Populations Grow
Yale Environment 360
14 September 2018
Photo credit: peiwc.com
Twenty-seven cities across the globe, home to 54 million people, have already reached their peak greenhouse gas levels and are now seeing emissions fall an average 2 percent per year, according to C40 Cities, a coalition of local governments working to fulfill the Paris climate agreement. This downward trend is happening even as the cities' economies grow an average of 3 percent per year, and their populations 1.4 percent per year.
Scientists estimate that global greenhouse gas emissions need to peak by 2020 if the world hopes to stave off the worst impacts of climate change. The 27 cities in the new C40 analysis — including Barcelona, Berlin, Paris, New York City, and Sydney — all peaked their emissions in 2012 and have seen their greenhouse gases fall over the last five years. The coalition says many of its other member cities are on track to reach peak emissions by 2020.
San Francisco, for example, hit its peak greenhouse gas emissions in 2000 and has since reduced them by 30 percent from 1990 levels. During the same period, the city's economy grew 111 percent and its population 20 percent.
The cities achieved their emissions reductions in different ways, such as shifting away from coal-fired electricity, incentivizing energy efficiency, or expanding public transportation, the Los Angeles Times reported.
"To prevent the worst impacts of climate change, we have to cut greenhouse gas emissions even as the population grows," Michael Bloomberg, the UN Secretary-General's Special Envoy for Climate Action and President of the C40 Board, said in a statement. "Cities are showing that it can be done - and that the same steps they're taking to reduce their carbon footprint are also strengthening their local economies, creating jobs, and improving public health."
As waters rise, coastal megacities like Mumbai face catastrophe
Science News
15 August 2018
A woman poses for a photograph as a wave at high tide crashes over Mumbai's seaside promenade in July during a pause in the seasonal monsoon rains.
Each year when the monsoon rain sheets down and the tides swell over coastal Mumbai, Saif shutters his soda shop on Juhu Beach and takes shelter up in the rafters. Still, the water invades through the roof and over the concrete floors, sometimes reaching as high as the freezers full of ice cream.
For 36-year-old Saif, the coastal megacity's chronic flooding is stressful. "What would happen if too much water comes?" asks Saif, who, like many in India, goes by one name. "I could get swept up with it." Last year's torrential floods killed at least 14 people in Mumbai. And in July 2005, when a meter of rain fell in a single day, flooding cost the city about $1.7 billion in damages.
Rebuilding his uninsured shop after the 2005 floods cost Saif about $57,000. He was lucky. When those floodwaters receded after two days, more than 1,000 people had died from drowning, landslides or other flood-related accidents in Mumbai and surrounding areas. "What can we do?" Saif asks. "Who can win against nature?"
Such questions are becoming more urgent in coastal cities at mounting risk of climate-driven flooding. Climate change is raising sea levels, while also making storms more severe and bringing heavier rains to some places. For densely populated cities like Mumbai — the financial heart of India, which is the world's fastest-growing major economy — those risks threaten to throw personal incomes and national economies into chaos.
"The challenge is getting people to prepare for a risk they can't yet see," says Stéphane Hallegatte, lead economist at the World Bank's Global Facility or Disaster Reduction and Recovery in Washington, D.C. "A very tiny change in sea level can have an enormous impact on risk levels," he adds. Read the whole story here.
Heat wreaks havoc
The New York Times
30 July 2018
The continental U.S. had its hottest May and the third-hottest June. Japan has been walloped by record triple-digit temperatures, killing at least 86 people. Record temperatures were also logged on the edge of the Sahara and above the Arctic Circle.
An official with the World Meteorological Organization said the extreme heat was not surprising. "This is not a future scenario," she said of climate change. "It is happening now."
Our correspondents around the world spoke with people to find out how they're coping. Click here.
A climate policy fit for Trump?
The New York Times
Climate Fwd:
20 June 2018
Photo Illustration by The New York Times; photo by Donat Sorokin/TASS, via Getty Images
This is not something you see every day: Over the past month, a growing chorus of Senate Republicans, conservative taxpayer groups and corporate executives has been urging President Trump to implement a major Obama-era policy to tackle climate change.
They're just not calling it that.
The issue at hand revolves around air-conditioners. In 2017, at a United Nation summit in Kigali, Rwanda, President Barack Obama's administration agreed with 196 other countries to phase out the use of hydrofluoro-carbons, or HFCs, an extremely potent greenhouse gas used in air-conditioners, refrigerators and foams. The pact was an amendment to the 1987 Montreal Protocol meant to protect the ozone layer.Experts say the policy could have a surprisingly large climate impact. With countries like China and India installing millions of new air-conditioners, HFC emissions were expected to skyrocket this century. Reducing the use of these chemicals could help avoid up to 0.44 degrees Celsius of warming by century's end. Given that the world's nations are trying to limit total warming below two degrees, that's a significant chunk.
But for the United States to fully participate in these efforts, the Kigali amendment needs to be ratified by two-thirds of the Senate. Mr. Trump has not decided whether to submit the treaty for approval.
On the surface, it would seem Mr. Trump would have no interest. He's been rolling back most Obama-era climate policies. Why should this one be any different?But in this case, dozens of American manufacturers have been pressing Mr. Trump to move forward. Companies like Honeywell, Dow Chemical and Johnson Controls are well positioned to produce next-generation air-conditioners and alternatives to HFCs, and they don't want to lose out on a budding global market. Read the whole story here.
At the Royal Wedding, Something Green
The New York Times
Climate Fwd:
23 May 2018
The newly married Duke and Duchess of Sussex left Windsor Castle in a Jaguar Roadster that was modified to be all-electric.
Royal wedding viewers may have had a few questions as they watched the Duke and Duchess of Sussex (a.k.a. Harry and Meghan) drive off from Windsor Castle after the ceremony to a reception at Frogmore House a mile or so away. Such as:
1)    Were they wearing seatbelts?
2)    Does the duke, who was behind the wheel, have
       a driver's license?

3)    What was up with their ride?
We're not sure about the first question (though video evidence suggests they did not buckle up) and it turns out that Harry passed his driving test as a teenager years ago (and on his first try).
As for the happy couple's borrowed car, Climate Fwd: is pleased to report that it was a zero-emissions vehicle.
The car is a vintage silver-blue 1968 Jaguar E-Type Roadster with one crucial, and major, modification: Its famous six-cylinder gasoline-powered XK motor was replaced with an all-electric drivetrain.
Where the motor had been, Jaguar Land Rover technicians installed a lithium-ion battery pack capable of powering the car for about 170 miles on a charge (less than Tesla's new Model 3 mass-market car, but perhaps the Jaguar has better braking). And in place of the gearbox, they installed a 220-kilowatt electric motor. Read the whole story here.
In the Arctic, the Old Ice Is Disappearing
The New York Times
14 May 2018
In the Arctic Ocean, some ice stays frozen year-round, lasting for many years before melting. But this winter, the region hit a record low for ice older than five years.
This, along with a near-record low for sea ice over all, supports predictions that by midcentury there will be no more ice in the Arctic Ocean in summer.
As darker, heat-absorbing water replaces reflective ice, it hastens warming in the region. Older ice is generally thicker than newer ice and thus more resilient to heat. But as the old ice disappears, the newer ice left behind is more vulnerable to rising temperatures. Read the whole story here.
Sea level, temperature rise threaten Cayman in just 80 years
The Cayman Islands Journal
4 April 2018
The most-startling prediction is that a quarter-meter rise in sea levels, less than 10 inches, will swamp 33 buildings in Grand Cayman, among them 17 private homes and two apartment blocks.
Apart from the shock value, the striking thing about the forecasts are that they are nine years old, published in 2009. Yet little has changed. If anything, says Nick Robson, head of climate research organization The Cayman Institute, sea level rise has accelerated.
"The institute's report on SLR predicted a one-meter rise by 2100," he said last week. "However, SLR appears to be escalating and may well be more than one meter."
Pointing to Government Information Services maps, Robson says, the flooding from a sea level rise of only one-quarter meter, 9.94 inches, rapidly becomes "progressively worse from there – and if you model an Ivan-type storm surge on top of the SLR, it quickly becomes frightening." Read the whole story here.
The oceans' circulation hasn't been this sluggish in 1,000 years. That's bad news.
The Washington Post
11 April 2018
Photo credit: Dr. Michael Pidwirny (http://www.physicalgeography.net)
The Atlantic Ocean circulation that carries warmth into the Northern Hemisphere's high latitudes is slowing down because of climate change, a team of scientists asserted Wednesday, suggesting one of the most feared consequences is already coming to pass.
The Atlantic meridional overturning circulation has declined in strength by 15 percent since the mid-20th century to a "new record low," the scientists conclude in a peer-reviewed study published in the journal Nature. That's a decrease of 3 million cubic meters of water per second, the equivalent of nearly 15 Amazon rivers.
The AMOC brings warm water from the equator up toward the Atlantic's northern reaches and cold water back down through the deep ocean. The current is partly why Western Europe enjoys temperate weather, and meteorologists are linking changes in North Atlantic Ocean temperatures to recent summer heat waves.
The circulation is also critical for fisheries off the U.S. Atlantic coast, a key part of New England's economy that have seen changes in recent years, with the cod fishery collapsing as lobster populations have boomed off the Maine coast. Read the whole story here.
Urban Heat: Can White Roofs Help Cool World's Warming Cities?
Yale Environment 360
7 March 2018
New York City has painted about 7 million square feet of tar rooftops white to lower temperatures. NASA
It has long been known that installing white roofs helps reduce heat buildup in cities. But new research indicates that making surfaces more light-reflecting can have a significant impact on lowering extreme temperatures – not just in cities, but in rural areas as well. Read the whole story here.
Climate Change is Complex. We've got answers to your questions.
The New York Times
16 February 2018
Photo Credit www.climate.NASA.gov
We know. Global warming is daunting. So here's a place to start: 17 often-asked questions with some straightforward answers. Read them here.
Donald Trump gets polar ice trend backwards
Politifact.com
29 January 2018
Cartoon Courtesy of Roar Hagen (Norvége/Norway)
President Donald Trump, who once called climate change a hoax spread by China, downplayed concerns about global temperature trends in an interview with Piers Morgan.
Morgan asked Trump if he believed that climate change exists.
"There is a cooling and there is a heating and I mean, look – it used to not be climate change – it used to be global warming," Trump said in an interview broadcast Jan. 26. "That wasn't working too well, because it was getting too cold all over the place. The ice caps were going to melt, they were going to be gone by now, but now they're setting records, so okay, they're at a record level."
We looked at what's been going on with the polar ice.
Trump is wrong that the ice caps are at record levels.
In March 2017, NASA published a news brief with the headline, "Sea Ice Extent Sinks to Record Lows at Both Poles."
Researcher Julienne Stroeve with the National Snow and Ice Data Center said Trump's claim was "odd."
Stroeve said polar ice is at "a record low in the Arctic (around the North Pole) right now and near record low in the Antarctic (around the South Pole)."
Read the whole story here.
Three New Year's Resolutions That Can Help Fight Climate Change
Climate Fwd:
The New York Times
3 January 2018
#1: Measure Up!
There's some truth to the saying "What gets measured gets managed," and quantification has become something of a cultural obsession. Oroeco, an app available on both Android and iOS, takes that zeal and applies it to tracking personal carbon emissions.Oroeco helps quantify the carbon emissions associated with purchases, investments, dietary choices and preferred modes of transport. It allows users to set goals, track performance and even compare their performance with friends. The app is still relatively new, and it isn't perfect, but it can be a useful tool to get you moving in the right direction.
Read about the other resolutions here.
How a wayward Arctic current could cool the climate in Europe
Yale Environment 360
December 11, 2017
Arctic Sea Ice - Beaufort (Photo credit Melniskof Shutterstock)
The Beaufort Gyre, a key Arctic Ocean current, is acting strangely. Scientists say it may be on the verge of discharging a huge amount of ice and cold freshwater that could kick off a period of lower temperatures in northern Europe.
For millennia, the Beaufort Gyre — a massive wind-driven current in the Arctic Ocean — has been regulating climate and sea ice formation at the top of the world. Like a giant spinning top, the gyre corrals vast amounts of sea ice. Trapped in this clockwise swirl, the ice has historically had more time to thicken than it generally does in other parts of the Arctic Ocean, where currents such as the Trans Polar Drift transport the ice into the warmer north Atlantic more rapidly. In this way, the Beaufort Gyre — located north of Alaska and Canada's Yukon Territory — has helped create the abundant layers of sea ice that, until recently, covered large parts of the Arctic Ocean year-round.
These days, however, something is amiss with this vital plumbing system in the Arctic, a region warming faster than any other on the planet. Thanks in part to rising air temperatures, steadily disappearing sea ice, and the annual melting of 270 billion tons of ice from Greenland's ice cap, the gyre is no longer functioning as it has predictably done for more than a half century. And now, scientists are anticipating that a sudden change in the Beaufort Gyre could set in motion events that — in a steadily warming world — would actually lead to a temporary but significant cooling of the North Atlantic region. Read the whole story here.
If my cup of water doesn't overflow when ice melts, why would sea levels rise if glaciers melt?
New York Times
6 December 2017
Several of you have sent us a version of this question: "How do I answer when someone says that ice cubes melting in a glass don't make the water overflow — so melting glaciers won't make sea levels rise?"
The problem with that analogy is that the glaciers, unlike the ice in the glass, aren't on the water yet. The melting ice sheets that concern scientists are on land, not in the ocean.
As the climate warms, those ice sheets melt into the surrounding seas. It's like taking ice cubes from the freezer and plunking them into an already-full glass of water: the cup will overflow. This is why sea levels rise as glaciers melt.
Keep in mind that melting glaciers aren't the only cause of sea level rise. Warm water occupies more space than cooler water, a physics concept known as thermal expansion. As temperatures rise, water molecules expand, also contributing to sea level rise. Studies suggest that much of the rise in sea level we've seen since the 1880s is the result of thermal expansion.
Melting glaciers, though, can worsen the situation. The Greenland ice sheet contains enough water to raise sea levels by 24 feet. The Antarctic ice sheet is even larger. If it melted, sea levels would rise by 200 feet. Philadelphia, which is now roughly sixty miles inland, would be underwater.
According to Maureen Raymo, a paleoclimatologist at Columbia University's Lamont-Doherty Earth Observatory, if we don't reduce greenhouse gas emissions it would still take somewhere more than several centuries — but less than 10,000 years — for the polar ice caps to fully melt. But as some people living in low-lying regions can attest, humans are already beginning to feel the impacts of sea level rise.
How Much Do You Know About Solving Global Warming?
Tatiana Schlossberg
The New York Times
June 12, 2017
Photo credit: McGill Blogs - McGill University
There is no silver bullet for climate change, because slowing planetary warming will require a variety of strategies. "Drawdown," a new book edited by the green entrepreneur Paul Hawken, analyzes 100 potential solutions, ranks them by the amount of greenhouse gases they could cut, and reaches some surprising conclusions about the most effective ways to fight global warming. Can you figure out which ones are top ranked? Take the quiz here.
Climate Science Meets a Stubborn Obstacle: Students
Amy Harmon
The New York Times
June 4, 2017
Gwen Beatty in James Sutter's classroom at Wellston High School in Ohio, where she and Mr. Sutter butted heads over the issue of human-caused climate change.
WELLSTON, Ohio — To Gwen Beatty, a junior at the high school in this proud, struggling, Trump-supporting town, the new science teacher's lessons on climate change seemed explicitly designed to provoke her.
So she provoked him back.
When the teacher, James Sutter, ascribed the recent warming of the Earth to heat-trapping gases released by burning fossil fuels like the coal her father had once mined, she asserted that it could be a result of other, natural causes.
When he described the flooding, droughts and fierce storms that scientists predict within the century if such carbon emissions are not sharply reduced, she challenged him to prove it. "Scientists are wrong all the time," she said with a shrug, echoing those celebrating President Trump's announcement last week that the United States would withdraw from the Paris climate accord.
When Mr. Sutter lamented that information about climate change had been removed from the White House website after Mr. Trump's inauguration, she rolled her eyes.
Read the whole story here.
The skinny on climate change
Climate change is the biggest environmental challenge of the 21st century. Here is some information on climate change and what individuals, companies, and governments can all do to face it.
The evidence:
more extreme weather like droughts, floods, and hurricanes
disappearing polar ice
rising sea levels
What governments can do:
What companies can do:
buy

carbon offsets

when booking

travel
allow employees to work flex hours to reduce traffic
be more energy efficient
contract eco-friendly vendors
start/maintain recycling

programmes



What individuals can do:
drive less
eat less or no meat and dairy
be more energy efficient
reduce waste
buy less
buy carbon offsets when you fly
divest from fossil fuel companies
vote!
Click here for more information and ideas from the United Nations Sustainable Development Goals ("SDGs").
Sources:  www.DavidSuzuki.org
              www.un.org/sustainabledevelopment
Attention Jetsetters: travel guilt-free with carbon offsets
Feeling a bit guilty about all that flying you're doing? We found an amazing Swiss company, myclimate.org that helps individuals and companies calculate their carbon emissions and invest in the offsetting programs of their choice. Sleep easier (even on the red-eye!) knowing you are doing your part to preserve the environment.
What is a carbon offset?
David Suzuki Foundation
Many types of activities can generate carbon offsets. Renewable energy such as the wind farm example above, or installations of solar, small hydro, geothermaland biomass energy can all create carbon offsets by displacing fossil fuels. Other types of offsets available for sale on the market include those resulting from energy-efficiency projects, methane capture from landfills or livestock, destruction of potent greenhouse gases such as halocarbons, and carbon-sequestration projects (through reforestation, or agriculture) that absorb carbon dioxide from the atmosphere. 
A carbon offset is a credit for greenhouse gas reductions achieved by one party that can be purchased and used to compensate (offset) the emissions of another party. Carbon offsets are typically measured in tonnes of CO2-equivalents (or CO2e) and are bought and sold through a number of international brokers, online retailers and trading platforms.For example, wind energy companies often sell carbon offsets. The wind energy company benefits because the carbon offsets it sells make such projects more economically viable. The buyers of the offsets benefit because they can claim that their purchase resulted in new non-polluting energy, which they can use to mitigate their own greenhouse gas emissions. The buyers may also save money as it may be less expensive for them to purchase offsets than to eliminate their own emissions.
Read more about it here.
Arctic ice melt 'already affecting weather patterns where you live right now'
The Guardian
December 19, 2016 
The dramatic melting of Arctic ice is already driving extreme weather that affects hundreds of millions of people across North America, Europe and Asia, leading climate scientists have told the Guardian.
Severe "snowmageddon" winters are now strongly linked to soaring polar temperatures, say researchers, with deadly summer heatwaves and torrential floods also probably linked. The scientists now fear the Arctic meltdown has kickstarted abrupt changes in the planet's swirling atmosphere, bringing extreme weather in heavily populated areas to the boil.
The northern ice cap has been shrinking since the 1970s, with global warming driving the loss of about three-quarters of its volume so far. But the recent heat in the Arctic has shocked scientists, with temperatures 33C above average in parts of the Russian Arctic and 20C higher in some other places. 
Read the whole story here.
The skinny on climate change
Source: www.DavidSuzuki.org
May 18, 2017
[insert photo with caption]
·         The evidence:
o   more extreme weather like droughts, floods, and hurricanes
o   disappearing polar ice
o   rising sea levels
·         What governments can do:
o   follow through on the UNFCC 2015 Paris Agreement
·         What companies can do:
o   allow employees to work flexible hours to reduce traffic
o   be more energy efficient
o   start/maintain recycling programmes
o   buy carbon offsets when booking travel
o   contract eco-friendly vendors
·         What individuals can do:
o   drive less
o   eat less or no meat and dairy
o   be more energy efficient
o   reduce waste
o   buy less
o   buy carbon offsets when you fly
o   divest from fossil fuel companies
o   vote!
The skinny on climate change
Source: www.DavidSuzuki.org
May 18, 2017
[insert photo with caption]
·         The evidence:
o   more extreme weather like droughts, floods, and hurricanes
o   disappearing polar ice
o   rising sea levels
·         What governments can do:
o   follow through on the UNFCC 2015 Paris Agreement
·         What companies can do:
o   allow employees to work flexible hours to reduce traffic
o   be more energy efficient
o   start/maintain recycling programmes
o   buy carbon offsets when booking travel
o   contract eco-friendly vendors
·         What individuals can do:
o   drive less
o   eat less or no meat and dairy
o   be more energy efficient
o   reduce waste
o   buy less
o   buy carbon offsets when you fly
o   divest from fossil fuel companies
start/maintain recycling programmes
30 July 2018