CLIMATE CHANGE CORNER
Climate change: Fossil fuels must stay underground, scientists say
BBC News
7 September 2021
The Ratcliffe-on-Soar power station in Nottinghamshire is one of Britain's two remaining coal-fired power stations (Getty Images)
Almost 60% of oil and gas reserves and 90% of coal must remain in the ground to keep global warming below 1.5C, scientists say.
The forecast is based on close analysis of global energy supply and demand.
It is a "bleak" but realistic assessment of "what the science tells us is needed", the researchers say.
And they have "painted a scenario of the future" that leaves much less room for fossil fuels to be extracted than previously estimated.
'Bouncing back'
Scientists say that limiting the global temperature rise to 1.5C should help the world avoid the most dangerous effects of climate change.
Globally, the researchers calculated, production of fossil fuels needed to have peaked in 2020 and be on a steady decline of 3% every year until 2050.
"Through the Covid pandemic, we have seen a large decline in production - but that is bouncing back," UCL associate professor of energy systems Dr Steve Pye told BBC News.
The research focuses on how much energy is required and what the limit must be on carbon emissions. Read the whole story here.
Climate change is making people think twice about having children
CNBC
12 August 2021
ChristinLola | iStock | Getty Images
A growing number of people are reluctant to bring a child into a world that's set to be ravaged by climate change in the coming decades.
This week, the United Nations issued a "code red for humanity" as the world's leading climate scientists delivered their starkest warning yet about the deepening climate emergency. The Intergovernmental Panel on Climate Change's report on Monday said global temperatures are likely to rise by 1.5 degrees Celsius in the next two decades, exceeding a key target of the Paris Agreement — a landmark accord considered critically important to reduce the risk of a climate catastrophe.
Scientists' increasingly bleak outlook for the future of the planet is putting more and more people off having children.
Analysts at Morgan Stanley said in a note to investors last month that the "movement to not have children owing to fears over climate change is growing and impacting fertility rates quicker than any preceding trend in the field of fertility decline."
To support their argument, they pointed to surveys, academic research and Google data that shows climate change is directly and indirectly accelerating the decline in fertility rates. UCLA researchers showed that the number of births in the U.S. fell in the nine months after an extreme heat event while a study of 18,000 couples in China last year showed that climate change, and particulate pollution in particular, was associated with a 20% increased likelihood of infertility. Read the whole story here.
Climate Change Is the Biggest Threat We're Facing—Period. | Opinion
Newsweek
3 August 2021
There is extensive science that levels of carbon dioxide in the atmosphere are completely unprecedented. Carbon dioxide levels in the atmosphere have not been this high in over 800,000 years. Modern humans have been around for a little bit less than half that. If you look at the last 10,000 years, at the evolution of agriculture, at the entire development of civilization, that has all taken place in a time of remarkable climate stability. It's that stability that has made it possible for civilization and the societies we know to develop.
The fact that we are now so far outside the bounds of anything that we've seen in the course of human evolution is an emergency. It's a cause for huge concern.
Carbon dioxide has always been in the atmosphere and it's an incredibly important part of our planet that we have had this warming layer. What's really critical here is to realize is that you can cherry-pick specific statistics to support an argument, but there is no scientific debate about the fact that the buildup of greenhouse gases in our atmosphere is causing dangerous climate change.
So you have to really stop and ask a deep question: What would drive some people to deny an overwhelming body of science that tells us we are headed in a really dangerous direction? Read the whole story here.
NASA says 'moon wobble' and climate change could cause record-smashing floods on both coasts
The Hill
15 July 2021
Photo credit: France24
Coastal cities around the U.S. will experience increasing high-tide flooding in the 2030s thanks to a "wobble" in the moon's orbit coupled with rising sea levels caused by climate change, according to NASA. 
A study from NASA and the University of Hawaii published this month in the journal Nature Climate Change details how a regular wobble in the Moon's orbit that takes 18.6 years to complete could lead to record flooding in the next decade as sea levels continue to rise. 
"In half of the Moon's 18.6-year cycle, Earth's regular daily tides are suppressed: High tides are lower than normal, and low tides are higher than normal," NASA said. 
"In the other half of the cycle, tides are amplified: High tides get higher, and low tides get lower. Global sea level rise pushes high tides in only one direction – higher. So half of the 18.6-year lunar cycle counteracts the effect of sea level rise on high tides, and the other half increases the effect," the space agency said. Read the whole story and see the video here.
The amount of heat the Earth traps has doubled in just 15 years, study shows
CNN
18 June 2021
Earth is trapping double the amount of heat now as it did in 2005, researchers say, leading to further increase in global temperature, more snow and sea ice melting and higher sea levels.
The planet is trapping roughly double the amount of heat in the atmosphere than it did nearly 15 years ago, according to an alarming new analysis from NASA and the National Oceanic and Atmospheric Administration.
Researchers say it's a "remarkable" amount of energy that is already having far-reaching consequences.
"It's excess energy that's being taken up by the planet," said Norman Loeb, a NASA scientist and lead author of the study, "so it's going to mean further increases in temperatures and more melting of snow and sea ice, which will cause sea level rise — all things that society really cares about."
The study, published this week in the journal Geophysical Research Letters, found that what's known as the Earth's energy imbalance — the difference between how much of the sun's energy the planet absorbs and how much energy is radiated back into space — approximately doubled from 2005 to 2019. The result was "striking," the research team wrote.
Life on Earth couldn't exist without the sun's energy, but it matters how much of that energy is radiated back into space. It's a delicate balance that determines the planet's climate.
In addition to higher global temperatures, the most obvious effect of a positive imbalance, Loeb told CNN "we're going to be seeing shifts in atmospheric circulations including more extreme events like droughts." Read the whole story here.
How Businesses Can Help Address Climate Change
Forbes
by Dr Somdutta Singh
17 June 2021
Image: businesswest.co.uk
In 1969, Apollo 11 was propelled into space and history when it gave us images of our magnificent planet seemingly suspended in mid-air. Our awareness of the Earth's biosphere changed forever. Since then, we have come a long way, particularly when it comes to comprehending and unraveling issues such as climate change.
Cut to 2021: There have been multiple reports released on how climate change is having radical effects on healthcare and human lives, and a global pandemic has disrupted the world. The yesteryear images from Apollo 11 suddenly start to fade, don't they?
As humankind's activities alter Earth's climate, physical, biological and ecological systems are being severely disrupted. As a result, I believe it's important for business leaders to think about the steps they can take to help.
Why is addressing climate change important?
Climate change could cause more than 130 million people to enter poverty by 2030, a report by World Bank said. Furthermore, the warming of the atmosphere by even a few degrees could lead to severe heat waves, water scarcity, higher sea levels, lower crop yields, disappearing coral reefs and even malaria transmission. Read the whole story here.
These under-the-radar stocks fight climate change by reducing carbon emissions
MarketWatch
17 May 2021
Getty Images
To fight climate change, most investors think about renewable energy and electric vehicles. But there's another big carbon-belching culprit out there, and cutting emissions from this sector is key to mitigating climate change.
It's energy wasted in buildings, and fighting it doesn't require relying on unproven technologies from a startup company. In fact, these methods and products used in this sector are about as old-school as it gets: energy efficiency.
The buildings construction industry accounts for 38% of total global energy-related carbon emissions, according to a 2020 report from the Global Alliance for Buildings and Construction, part of the United Nations environment program.
Many of the companies that are leading the way on energy efficiency are in unsexy industries such as HVAC and insulation, which were often ignored in last year's rush to green-themed stocks. Unlike a lot of techy green stocks that are still shaking off the excesses of 2020's rally, many of these names have slowly churned higher and are up on the year.
That overlooked status may change as environmental, social and governance investors seek other areas to reduce carbon. For the buildings sector to meet net-zero goals by 2050, which is completely offsetting the greenhouse gas emissions produced by taking emissions out of the atmosphere, the report says direct building carbon emissions would need to fall by 50%. Read the whole story here.
Net zero: despite the greenwash, it's vital for tackling climate change
The Conversation
10 May 2021
Getty Images
It might seem odd to find supporters of climate action debating the merits of a concept that science shows to be essential for halting climate change, and which is accordingly embedded at the heart of the defining global agreement.
Yet that is where we find ourselves with the concept of "net zero" – the point at which any remaining emissions of greenhouse gases are balanced with absorption, halting further warming of the climate. The necessity of reaching net zero emissions globally is abundantly proven in science, and governments pledged in the 2015 Paris Agreement to achieve "a balance between anthropogenic emissions by sources and removals by sinks" in mid-century, in pursuit of holding global warming to 1.5℃.
This language was included in the Paris Agreement only because of a determined push by activists and vulnerable countries. And it's hard to think of a more successful recent example of activists' ideas changing the terms of debate. In two years, the number of nations, sub-national governments and corporates setting net zero targets has mushroomed, with coverage leaping from 16% of global GDP in June 2019 to two-thirds now. It is no exaggeration to say that net zero is now the defining lens through which many governments, businesses, NGOs and other types of entity view decarbonisation.
However, activists are not universally celebrating. Many have reacted by pointing out the flaws in some net zero targets, with particular fire turned on oil and gas companies that plan to pay for offsets in place of dealing with the emissions caused by burning their product. Read the whole story here.
Fevers are plaguing the oceans — and climate change is making them worse
Nature
5 May 2021
Ten years ago, dead fish began washing ashore on the beaches of Western Australia. The culprit was a huge swathe of unusually warm water that ravaged kelp forests and scores of commercially important marine creatures, from abalone to scallops to lobster. Over the following weeks, some of Western Australia's most lucrative fisheries came close to being wiped out. To this day, some of them have not recovered.
After the crisis, scientists came together to assess the damage and try to understand what had caused the unusual warming. "This event really had such devastating consequences for marine ecosystems," says Jessica Benthuysen, a physical oceanographer at the Australian Institute of Marine Science in Perth.
Since that event, researchers have seen dozens of similar hot spells in ocean regions around the world and have now given them a name — marine heatwaves. Although scientists have come up with a few different ways to define the events, they generally agree that they involve warm spells in surface waters of the ocean that last at least five days and reach a temperature threshold well above the normal range.
The effects of marine heatwaves can reverberate up the food chain, says Pippa Moore, a marine-community ecologist at Newcastle University, UK. Warm, low-nutrient water in the Northwest Pacific during a 2013–16 marine heatwave known as The Blob devastated phytoplankton growth. Then, Chinook salmon (Oncorhynchus tshawytscha) populations plunged, and as many as one million seabirds died in the Gulf of Alaska. Marine heatwaves have also caused massive amounts of coral bleaching in reefs around the world over the past several decades. Read the whole story here.

The Human Cost of Climate Change
The Sprawl
1 May 2021
Photo courtesy of Environmental Justice Foundation
In considering the practical implications of climate change—its existential threat, its massive disruption—we tend to focus almost exclusively on two aspects: environmental and economic.
This is understandable. The environment is, of course, the stage on which climate change plays out, as well as its first casualty. Economics, meanwhile, is a fundamental component of society, and a particular obsession of a capitalist one: climate skeptics often clamour about the economic disruption that environmental policies may cause, forcing supporters of those policies to fight on those terms. Saving the planet isn't enough—we have to turn a profit while doing it.
Often forgotten in the public discourse, though, are the human costs of a warming global climate, which can displace people from their homes, their emotional well-being, or their culture. From a possible influx of people fleeing newly unlivable parts of the world, to the mental health aspects linked to the loss of one's environment, these effects may not be as conspicuous as melting glaciers or natural disasters, but their ramifications can be devastating for individuals, families, and society at large. Read the whole story here.
Despite Tensions, U.S. and China Agree to Work Together on Climate Change
The New York Times
17 April 2021
China and the United States must "prove we can actually get together, sit down and work on some things constructively," John Kerry, President Biden's climate envoy, said in an interview in Seoul on Sunday. Chang W. Lee/The New York Times
SEOUL — The United States and China have said they will fight climate change "with the seriousness and urgency that it demands" by stepping up efforts to reduce carbon emissions, a rare demonstration of cooperation amid escalating tensions over a raft of other issues.
The agreement, which included few specific commitments, was announced on Saturday night, Washington time, after President Biden's climate envoy, John Kerry, visited China for three days of talks in which the negotiators managed not to be sidetracked by those disputes.
"It's very important for us to try to keep those other things away, because climate is a life-or-death issue in so many different parts of the world," Mr. Kerry said in an interview on Sunday morning in Seoul, where he met with South Korean officials to discuss global warming. "What we need to do is prove we can actually get together, sit down and work on some things constructively."
The agreement comes only days before Mr. Biden is scheduled to hold a virtual climate summit with world leaders, hoping to prod countries to do more to reduce emissions and limit planetary warming to 1.5 degrees Celsius above preindustrial levels. Many scientists now argue that warming must be kept below that threshold to avert catastrophic disruptions to life on the planet. Read the whole story here.
Apple's $200 million fund aims to fight climate change and boost business
CNN Business
16 April 2021
New York (CNN Business) - Apple has announced a $200 million investment fund designed to remove carbon emissions from the atmosphere and support sustainable forestry — and to generate financial returns for the company.
Called the Restore Fund, the effort aims to remove 1 million metric tons of carbon dioxide from the atmosphere each year, equivalent to the fuel used by more than 200,000 passenger cars annually. The project could also act as an important model for other corporations by demonstrating the ability to profit from investments in the environment.
"The idea of having a return is important for the planet," Apple's vice president for Environment, Policy and Social Initiatives Lisa Jackson said in an interview with CNN's Christine Romans that aired Friday.
"Because if you really want businesses to engage, if you want business to really turn around and do this at scale ... it has to be because there's a return on that investment," Jackson said. "Otherwise, it's just philanthropy. And so much of what we're doing at Apple is showing that the business of doing right by the planet is good business." Read the whole story here.
NASA finds direct evidence that humans are causing climate change
Fox 13 Tampa Bay
1 April 2021
Historic flooding on the Arkansas River in 2019 (Photo: DroneBase via AP)
LOS ANGELES - NASA has found direct evidence that shows how humans are impacting and causing a change in Earth's climate.
"Our study is the first time we've been able to track how humans are directly changing Earth's energy balance on the global scale over time with observations," Ryan Kramer, a co-author of the study, told FOX Television Stations.
Scientists have long known that climate change is a response to energy imbalances in the climate system. For example, rising greenhouse gases directly cause an initial imbalance in the planetary radiation budget and surface temperatures increase in response as the climate attempts to restore balance.
This forcing and its subsequent feedbacks dictate the amount of warming in the atmosphere.
The study, which is described as a first of its kind, calculated driving forces and found they increased between 2003 and 2018, accounting for nearly all of the long‐term growth in the total top‐of‐atmosphere radiation imbalance during this period. Read the whole story here.
Meet the Climate Change Activists of TikTok
WIRED
11 March 2021
PHOTOGRAPH: MISCHA KEIJSER/GETTY IMAGES
WHEN LOUIS LEVANTI woke up one morning last September, climate change wasn't on his mind. "I was never huge into researching climate change, but I was aware that it is real." So when the 24-year-old TikTok creator, who lives with his parents on Long Island, opened his phone and saw something about a clock being unveiled, he wasn't initially interested. "I rolled my eyes thinking it had something to do with the stock market."
The Climate Clock, in Union Square in New York City, counts down how much time we have left to act before climate change is irreversible. Levanti, who normally posts videos with topics like "weird food that celebrities like to eat" or "annoying things people do at the gym," was distressed, and he immediately decided to make a TikTok video about it. "It's a problem that can't be ignored," he said. "Why not responsibly use my big platform to educate people and wake some people up the way I was?"
In the TikTok video, Levanti, superimposed over an image of Earth on fire, says, "Hey, stop scrolling. Our planet is fucking dying." It's gotten over 314,000 views and been shared nearly 14,000 times...
...A Climate Discussion Is Happening on TikTok
The world is facing a climate change problem, and climate change is facing a communication problem. The complexities and hypotheticals of climate science do not translate well to an audience who just wants to know whether the dress was blue or white. And yet, on TikTok, one of the world's most active communication platforms, climate change is a rapidly growing topic. The hashtag #ForClimate has over 533 million views. Read the whole story here.
Do we need more scary climate change articles? Maybe.
Grist
16 February 2021
Fires blaze across continents, seas submerge cities, deserts swallow up farmland — there's no shortage of terrifying things about climate change. But does forcing people to confront all these horrible scenes (and worse, the unknowables to come) actually get people to do something about it? It's become a hotly debated issue among those who care about climate change.
Every time a bleak, adrenaline-inducing article goes viral, the so-called "hope vs. fear" dispute rages on Twitter. The most recent conversation starter was Elizabeth Weil's intimate profile in ProPublica of Peter Kalmus, a climate scientist whose death-spiraling dread was taking over his life — his whole family's life, really.
With the title "The Climate Crisis Is Worse Than You Can Imagine. Here's What Happens If You Try," the piece was bound to get attention — and criticism. Why not highlight a more productive way to cope with the climate crisis? people asked. Weil seemed to anticipate this debate, which has remained contentious at least since David Wallace-Wells' "The Uninhabitable Earth" made a splash in 2017. Near the end of the piece, Weil asks, "How do you describe an intolerable problem in a way that listeners — even you, dear reader — will truly let in?"
It's a tough question, and experts are split over the right response. "Some people believe that we should emphasize the risks and generate fear and that many people are not scared enough yet," said Jennifer Marlon, a research scientist at the Yale Program on Climate Change Communication. "And then other people think we really need to just focus on solutions."
The debate is about more than just rhetoric; it's about how people should feel about climate change. "When we're specifically trying to promote action on climate, we know that one of the best ways to do that is to emotionally engage people in it," Marlon said. The problem is, reading lots of scary articles might make one person take to the streets in protest, but lead someone else to disengage and shut down. There are an infinite variety of ways to respond to and talk about the climate crisis. Read the whole story here.
New criteria for chiefs' bonuses: diversity and climate change
Financial Times
12 February 2021
(Image courtesy of AmericanProgress.org)
Move over earnings per share. Board directors are now under greater pressure to consider issues from climate change to diversity when deciding on the size of bonuses for company chiefs.
The number of companies globally that include environmental or social metrics when deciding executive pay awards has doubled since 2018, with about a fifth of 6,500 businesses examined now considering these factors, according to the latest annual report from ISS ESG, the responsible investment arm of Institutional Shareholder Services.
Executive pay awards have traditionally focused on financial metrics, such as earnings per share, share price performance or revenue growth. But the inclusion of non-traditional metrics for pay comes as investors, politicians and the wider public pile pressure on companies to consider their wider societal impact, particularly since the pandemic started and the Black Lives Matters protests last year.
Bonnie Saynay, global head of environmental, social and governance research at ISS ESG, said the rapid inclusion of the new metrics was striking.
"[It is] driven by companies recognising the need to adopt metrics aligned with sustainability strategies to drive financial performance and in response to increased investor engagement focus," she said.
Asset managers have rushed into sustainable investing in recent years, believing companies that are better prepared for the energy transition or have a more diverse workforce will perform better. Read the whole story here.
Science Moms Look to Enlist Other Moms to Tackle Climate Change
EcoWatch
10 February 2021
Founding science mom Melissa Burt and her four-year-old daughter Mia at Horsetooth Reservoir in Fort Collins, Colorado in December 2020. Science Moms
Air quality scientist Tracey Holloway wants her children, nine month old Henry and 11 year old Peter, to be able to look back at the 2020s as the time when the U.S. and the world turned a corner on tackling climate change.
That's why she has joined forces with other climate scientists to launch Science Moms. It's a nonpartisan group working to educate mothers about climate change and inspire and empower them to raise their collective voices to advocate for action.
Holloway, a professor at the University of Wisconsin-Madison, said she is optimistic that things can improve and that mothers are a good group to focus on because they care about their children's future.
"When it comes to climate, there are so many ways to reduce our carbon emissions," such as implementing more renewable technology, Holloway said. "The barrier is the public will to push decision-makers at every level to adopt the solutions that are sitting on the shelf and waiting to be deployed."
Science Moms, working in partnership with the Potential Energy Coalition of marketing industry firms, wants to break down that barrier. The group is involved in an approximately $10 million advertising campaign that includes videos produced by the coalition that are airing in various media markets for at least six months. Read the whole story here.
Healthy Planet, Healthy People. How Slowing Climate Change Saves Lives
TIME
9 February 2021
The coal power station of Boxberg in Saxony is pictured in front of dark clouds on March 30, 2020 in Neuliebel, Germany. Florian Gaertner—Photothek via Getty Images
Just because the United States has re-joined the Paris Agreement doesn't mean that the world is on a path to a better climate future. The 2015 agreement, in which signatories pledged to collectively cap global warming at "well below" 2°C above pre-industrial levels, is only the first step. Member nations still have to adopt ambitious carbon emission reduction plans, known as Nationally Determined Contributions (NDCs), and with the current level of commitments the world is on track for a global temperature rise of more than 2.5°C.
However, a study published in a special issue of The Lancet Planetary Health journal may prove to be just the carrot for encouraging reluctant governments to pick up the pace on reducing emissions. New research from The Lancet Countdown on Health and Climate Change shows that millions of lives could be saved annually by 2040 if countries raise their climate ambitions to meet the Paris Agreement targets. By adopting Paris-level climate plans and prioritizing health, the nine nations cited in the survey (Brazil, China, Germany, India, Indonesia, Nigeria, South Africa, the United Kingdom and the United States) could save 6.4 million lives due to better diet, 1.6 million lives due to cleaner air, and 2.1 million lives due to increased exercise, every year.
Those nine nations are home to half the world's population and 70% of the world's emissions; revised commitments could make a huge difference, both for the world, and for their own populations. "Our report focuses on a crucial but often overlooked incentive for tackling climate change," says lead author Ian Hamilton, Executive Director of The Lancet Countdown on Health and Climate Change. "Not only does delivering on Paris prevent millions dying prematurely each year, the quality of life for millions more will be improved through better health." Read the whole story here.
Individual action and climate change
Hawaii Tribune-Herald
by Jon Deery
6 February 2021
President Joe Biden signs executive orders after speaking about climate change issues in the State Dining Room of the White House on Jan. 27, 2021, in Washington, D.C. President Biden signed several executive orders related to the climate change crisis on Jan. 27, including one directing a pause on new oil and natural gas leases on public lands. Also pictured, left to right, U.S. Vice President Kamala Harris and White House science adviser Eric Lander. (Anna Moneymaker/Pool/Getty Images/TNS)
As an environmental activist and public speaker, I regularly talk to people about the realities of climate change, explaining how powerful and immense corporations are destroying rain forests, oceans and the atmosphere.
After every talk, one question always comes up: What can I do to help?
There are many answers to this question. My top one is always "cut meat and dairy from your diet." The meat industry is the greatest driver of global deforestation, a major source of methane and nitrogen emissions and a polluter of rivers and lakes. A change in diet away from dairy and meat can reduce your impact on all of these issues at once.
Depending on the subject of my talk, I might then advise my audience to buy an electric vehicle (or better yet, sell their car and stick to public transportation), encourage them to get involved with tree planting projects and tell them to buy smaller refrigerators and dinner plates in order to reduce food waste.
But the truth is that individual change alone is not the solution to our climate emergency. For starters, it is extremely difficult for any one individual to totally eliminate the unsustainable elements from her or his life — cutting meat and dairy is challenging when there are few cheap meat alternatives in any of the supermarkets near one's home, for example. Read the whole story here.
UN names Mike Bloomberg special envoy for climate change
The Hill
5 February 2021
Mike Bloomberg (Photo courtesty of Wikimedia Commons)
The United Nations has tapped former New York City mayor and billionaire Michael Bloomberg for a top climate post geared toward engaging governments and businesses to take action on climate change. 
United Nations Secretary-General António Guterres on Friday announced Bloomberg will be appointed to serve as his Special Envoy for Climate Ambition and Solutions, a role in which Bloomberg will "mobilize stronger and more ambitious climate action" ahead of the COP26 climate change conference set to take place in Scotland later this year. The conference is seen as a key moment in the global effort to curb global warming six years after the Paris climate agreement was created. 
The UN said Bloomberg will work with governments, businesses, cities and financial institutions to secure new pledges to significantly reduce emissions over the next several decades. 
He will also work with high-emitting nations and industries to accelerate the phase out of coal and a transition to a clean energy economy. 
Bloomberg, who has campaigned on the issue of climate change, previously held roles as UN Special Envoy for Climate Action in 2018 and UN Special Envoy on Cities and Climate Change in 2014. 
"Fighting climate change is a global challenge that requires strong global collaboration. I'm honored to be returning as Special Envoy to the UN Secretary-General to help drive the fight forward and secure a greener, healthier future for generations to come," Bloomberg said in a statement. 
The appointment comes as the Biden administration has moved forward to rejoin the Paris climate accord, reversing former President Trump's withdrawal from the pact aimed at limiting global warming to 1.5 degrees Celsius by the end of the century. Read the whole story here.
Climate change "may have played a key role" in coronavirus pandemic, study says
CBS News
5 February 2021
Visitors look inside the abandoned Wanling cave in southern China's Yunnan province on Dec. 2, 2020. Contact between bats and people alarms scientists as a potential source of disease outbreaks (NG HAN GUAN / AP)
Human-caused climate change "may have played a key role" in the coronavirus pandemic. That's the conclusion of a new study which examined how changes in climate have transformed the forests of Southeast Asia, resulting in an explosion of bat species in the region.
The researchers found that, due to changes in vegetation over the past 100 years, an additional 40 species of bat have moved into the region, carrying with them 100 more types of bat-borne coronaviruses. Bats are known carriers of coronaviruses, with various species carrying thousands of different types. Many scientists believe the virus that started the worldwide COVID-19 pandemic originated in bats in southern China's Yunnan province or neighboring areas before it crossed paths with humans.
These findings have scientists concerned about the probability that climate change will make future pandemics more likely.
"If bats carrying around 100 coronaviruses expanded into a new area due to climate change, then it would seem likely that this increases, rather than decreases, the chance that a coronavirus harmful to humans is present, transmitted, or evolves in this area," explains Dr. Robert Beyer, lead author of the study and a researcher at the University of Cambridge. Read the whole story here.
Michael Mann: Why Biden's actions are good news from front lines of the climate change war
USA Today
2 February 2021
Given the devastating climate impacts we are now seeing play out in real time, it's no longer credible to vast swaths of the population for fossil fuel interests and their promoters to deny that climate change is real. (Illustration: Andrea Brunty, USA TODAY Network, and Getty Images)
President Joe Biden, in his first weeks in office, already has advanced a sweeping agenda to tackle the climate crisis by addressing the health, economic, inequity and foreign policy aspects of the problem.
An executive order he issued last week establishes climate as an essential consideration in U.S. foreign policy and national security, recognizing the importance of restoring our role as a leader in the international effort to avert catastrophic climate change.
By labeling climate change a "maximum threat," the president is signaling to the world that we're in the midst of, for lack of a better term, a war. 
Whether we like it or not, and surely not of our own choosing, we are indeed in a war — with powerful fossil fuel industry groups and those doing their bidding who have, for decades, orchestrated the most elaborate, well-funded disinformation campaign in the history of human civilization, the campaign to deny the reality of human-caused climate change.
Now, Biden is gathering his council to assess the current and future dangers in this fight, including all 17 intelligence agencies; a general on the international front, John Kerry, who will also have a seat on the National Security Council and will direct our diplomatic efforts abroad; and another general on the domestic front, former Environmental Protection Agency administrator Gina McCarthy, who will coordinate climate action in the homeland. 
The troops are the vast array of experts, including scientists like myself, with whom the administration will continue to consult to assess what's happening on the front lines. Read the whole story here.
Public backs climate change action across the globe, massive U.N. poll finds
NBC News
27 January 2021
Thousands of school students and protesters march during a climate strike rally in Sydney, Australia, 2019.Jenny Evans / Getty Images file
LONDON — The biggest global survey of its kind has found that almost two thirds of people believe climate change remains a global emergency, despite the ongoing Covid-19 pandemic.
The Peoples' Climate Vote, published Wednesday, conducted by the United Nations Development Programme (UNDP) and the University of Oxford, surveyed 1.2 million people across 50 countries.
In total, 64 percent of respondents agreed that climate change represented a pressing emergency. The survey also found a distinct age divide, with the majority of young people more concerned about climate change.
"The results of the survey clearly illustrate that urgent climate action has broad support amongst people around the globe," UNDP Administrator Achim Steiner, said in a statement.
"But more than that, the poll reveals how people want their policymakers to tackle the crisis," he said. Read the whole story here.
Why Are Emissions Bad for the Environment?
Green Matters
18 January 2021
It might sound like a silly question at first glance but the fact is, not everyone truly understands why emissions are bad for the environment. They know that they are bad because scientists and environmentalists have been saying that they're bad for years. They just don't know why. Understanding the different types of emissions and their effects on our planet is an important part of recognizing the need to stop these emissions. Widespread adoption of change cannot happen on the say-so of a few environmental scientists. First and foremost, people need to know why things have to change.
What are emissions?
There are various types of emissions that directly impact the environment. Carbon emissions from factories and automobiles are among the biggest contributors to pollution, climate change, and global warming. These emissions are attributed to the burning of fossil fuels like coal, gasoline, and oil, but they aren't the only emissions negatively affecting the environment. Read the whole story here.
Climate change will alter the position of the Earth's tropical rain belt
Science Daily
18 January 2021
Image: News.MongaBay.com
Future climate change will cause a regionally uneven shifting of the tropical rain belt -- a narrow band of heavy precipitation near the equator -- according to researchers at the University of California, Irvine and other institutions. This development may threaten food security for billions of people.
In a study published today in Nature Climate Change, the interdisciplinary team of environmental engineers, Earth system scientists and data science experts stressed that not all parts of the tropics will be affected equally. For instance, the rain belt will move north in parts of the Eastern Hemisphere but will move south in areas in the Western Hemisphere.
According to the study, a northward shift of the tropical rain belt over the eastern Africa and the Indian Ocean will result in future increases of drought stress in southeastern Africa and Madagascar, in addition to intensified flooding in southern India. A southward creeping of the rain belt over the eastern Pacific Ocean and Atlantic Ocean will cause greater drought stress in Central America.
"Our work shows that climate change will cause the position of Earth's tropical rain belt to move in opposite directions in two longitudinal sectors that cover almost two thirds of the globe, a process that will have cascading effects on water availability and food production around the world," said lead author Antonios Mamalakis, who recently received a Ph.D. in civil & environmental engineering in the Henry Samueli School of Engineering at UCI and is currently a postdoctoral fellow in the Department of Atmospheric Science at Colorado State University. Read the whole story here.
Countries Must Adapt to Climate Change Now, UN Warns
EcoWatch
15 January 2021
Commuters make their way through a flooded street after heavy monsoon rains in Dhaka, Bangladesh on July 21, 2020. Munir Uz Zaman / Getty Images
World leaders and businesses are not putting enough money into adapting to dangerous changes in the climate and must "urgently step up action," according to a report published Thursday by the United Nations Environment Program (UNEP).
Last year was the joint-hottest year on record and disasters struck every continent. Smoke-belching wildfires burned through communities from Australia to the Arctic. Extreme storms battered coastal cities from the Philippines to Nicaragua, while floods put a third of Bangladesh underwater and covered entire villages in Nigeria.
Extreme weather and climate-related disasters have killed more than 410,000 people in the past 10 years, almost all of them in poorer countries, according to the International Federation of the Red Cross and Crescent.
"The hard truth is that climate change is upon us," said UNEP Executive Director Inger Andersen, in the foreword to the report. "Its impacts will intensify, even if we limit global warming. We cannot afford to lose the race to adaptation." Read the whole story here.
BP CEO and climate leader: We can only fight climate change if businesses help
CNN Business
5 January 2020
BP CEO Bernard Looney speaks during an event in London on February 12, 2020, where he declared the company's intentions to achieve "net zero" carbon emissions by 2050.
We may look to be strange bedfellows -- a global leader on climate change and the chief executive of a multinational oil company -- but we share two characteristics that the world needs more than ever: stubborn optimism and a fierce commitment to inclusivity.
Both are qualities that five years ago, at the end of 2015, enabled the world to come together in Paris and find a way forward on climate change. The Paris Agreement commits countries to reducing their carbon output, keeping global warming to well below 2 degrees Celsius, with efforts to limit it to 1.5 degrees.
Now we begin the second year of the most decisive decade in history, where concrete action is crucial to meeting the goals of the landmark agreement. Since Paris, well over 100 countries have pledged to achieve net zero greenhouse gas emissions by 2050 or sooner. This means only emitting as much as can be balanced through absorption -- for example, by forests, peat bogs, mangroves, soil and seaweed forests -- and will require massive reductions in the emissions currently being released into the atmosphere.
With Joe Biden's inauguration as US president this month, and the expectation that the United States will rejoin the Paris Agreement, countries planning to make dramatic reductions in their greenhouse gas emissions make up almost two-thirds of the world's current emissions and 50% of global gross domestic product. Read the whole story here.
2020 was meant to be the year of climate action. Instead, it crowned a wasted decade
CNN
30 December 2020
Hurricane Eta, November 2020
2020 was supposed to be the watershed moment for action on climate change, the year the world woke up to the challenge and started taking it seriously. Instead, it has symbolically topped a decade of wasted climate promises.
Inspired by a wave of climate activism, national leaders were expected to come up with new, more ambitious plans for how to cut emissions over the next decade.The COP26 climate conference in Glasgow, Scotland, was going to be the first real test of their determination to do what they had promised to, under the landmark Paris Agreement.
The coronavirus pandemic has derailed those plans, giving some governments a new excuse to stall. But Covid-19 definitely hasn't stopped climate change.
2020 has brought near-constant reminders of the severity of the crisis we face: A record-breaking Atlantic hurricane season, the most devastating wildfires in recent history, and droughts, deadly floods and heatwaves that swept through communities worldwide, leaving death, destruction and disruption in their wake.
The pandemic has also showed the world that big, previously unthinkable changes are possible.
Despite the global upheaval, several of the world's largest polluters did raise their long-term climate goals, putting the world within striking distance of the Paris Agreement's goal: To reduce emissions and so limit global warming to well below 2 degrees Celsius. Read the whole story here.

Big Tech Spent Bigger Bucks on Climate Change in 2020
SDX Central
29 December 2020
Climate change didn't take a break for the pandemic – and neither did the technology titans and service providers in their fight to slow the effects of climate change. 
Despite growing pessimism about the outlook for global warming, 2021 has positive potential as 2020 saw some of the biggest names – and deepest pockets – in the tech industry throw their weight behind renewable energy projects and corporate climate commitments to drive seismic, near-term reductions in carbon pollution.
And while this is not a comprehensive list of 2020 climate change commitments or actions, it does provide a look into how some of the most influential tech companies are shaping a greener backbone of the future global economy.
Amazon
On the path to power its operations with 100% renewable energy by 2025, Amazon hit 127 renewable energy projects and declared itself the biggest corporate buyer of renewable energy in 2020. The e-commerce juggernaut also added rival Microsoft, consumer-goods giant Unilever, and 11 other companies to its Climate Pledge initiative, which commits signatories to meet the goals of the Paris climate agreement 10 years ahead of schedule. 
AT&T
AT&T committed to be carbon neutral across its entire global operations by 2035. To get there, the company plans to virtualize network functions, transition to a low-emissions fleet, accelerate energy efficiency and network optimization efforts, expand efforts to drive sustainable feature film and TV production, support the renewable energy marketplace, and invest in carbon offsets. 
AT&T also stepped up its efforts to be more resilient to the impacts of climate change by expanding the scope of its Climate Change Analysis Tool (CCAT) tool to cover the entire contiguous U.S.
Cisco
Cisco achieved 100% renewable energy for its U.S. operations this fiscal year. The networking giant also stepped up its commitment to reduce waste production with the relaunch of its Product Takeback and Reuse program. Read the whole story here.
During Biden Administration, SEC will require Climate Change Risk and ESG Disclosure
The National Law Review
29 December 2020
Image: GreenMarketReport.com
Public companies will be required to disclose climate risks and greenhouse gas emissions under President-elect Biden's administration. The Securities and Exchange Commission (SEC) will institute rulemaking and guidance on the federal monitoring of environmental, social and governance (ESG) issues. The Biden administration's decision to require climate report disclosures follows complaints from investor advocacy groups about inconsistent disclosure practices due to voluntary reporting frameworks.
Under the outgoing Trump administration, SEC Chairman Jay Clayton relied on a "principles-based approach" to climate disclosure. Through this approach, the SEC loosened certain requirements for companies under Regulation S-K and relaxed conflict-of-interest rules for independent auditors under Regulation S-X. Requirements were eased this past August and October in a pair of highly controversial split decisions.
Commissioner Allen Herren Lee, one of two Democrats who would join Biden's three-member majority, strongly opposed the SEC's decision to make changes to regulation S-K. Lee indicated that the SEC should instead be demanding more ESG disclosures from companies. In her dissent, she wrote, "Shareholders are beginning to accomplish on climate change what they have accomplished on numerous other significant issues crucial to good governance and long-term value—focus management attention and drive valuable and needed change. The Commission should be encouraging this type of engagement, not stifling it." Read the whole story here.
Report: Climate change damaging more World Heritage sites
Loop News Cayman
3 December 2020
In this July 21, 2020 file photo, Swiss photographer David Carlier takes photographs of the Swiss Aletsch glacier, the longest glacier in Europe, on the sideline of his photographic exhibition, in Fieschertal, Switzerland. Photo: Laurent Gillieron/Keystone/ AP/ File
Climate change is increasingly damaging the UN's most cherished heritage sites, a leading conservation agency warned Wednesday, reporting that Australia's Great Barrier Reef and dozens of other natural wonders are facing severe threats.
Climate change that has lead to shrinking glaciers, increasing fires, floods and droughts, and the bleaching of coral reefs are among the troubles facing 83 of the 252 World Heritage Sites listed by UNESCO, the UN's cultural agency.
Sixteen World Heritage sites have deteriorated since the last World Heritage Outlook was released three years ago, while only eight improved, said the International Union for Conservation of Nature, made up of governments and civil society groups and advises UNESCO on natural threats to those sites.
"Natural World Heritage sites are amongst the world's most precious places, and we owe it to future generations to protect them," IUCN Director-General Bruno Oberle said. "Climate change is wreaking (havoc) on natural World Heritage, from shrinking glaciers to coral bleaching to increasingly frequent and severe fires and droughts." Read the whole story here.

Report: EU greenhouse gas emissions down 24% since 1990
AP News
30 November 2020
FILE - In this Wednesday, Nov. 28, 2018 file photo, clouds of smoke over Europe's largest lignite power plant in Belchatow, central Poland. (AP Photo/Czarek Sokolowski, file)
BRUSSELS (AP) — Greenhouse gas emissions in the European Union have been reduced by 24% compared to 1990 levels, according to the bloc's annual climate report, but the EU said Monday it still needs to intensify efforts to keep to its target of making Europe the first climate-neutral continent by mid-century.
The EU's executive arm said Monday that emissions in the 27-nation bloc have decreased by 3.7% in 2019 compared to the previous year, while gross domestic product rose 1.5% over the same period.
Due to the coronavirus pandemic, the commission expects "an unprecedented fall in emissions" in 2020, along the lines of 8%.
"However, as experienced in the past, a swift economic recovery may lead to a strong and rapid rebound in emissions, unless policy gears its stimulus measures toward the green transition," the commission wrote in the report.
EU Commission President Ursula Von der Leyen, who this week celebrates one year in office, has made the fight against global warming the priority of her term. In the EU's coronavirus recovery strategy, the commission has pledged to stay away from fossil-fuel projects...
...World leaders agreed five years ago in Paris to keep the global warming increase to below 2 degrees Celsius (3.6 degrees Fahrenheit), and ideally no more than 1.5 degrees C (2.7 F) by the end of the century. Scientists say countries will miss both of those goals by a wide margin unless drastic steps are taken to begin cutting greenhouse gas emissions. Read the whole story here.
Climate crisis making autumn leaves fall earlier, study finds
The Guardian
26 November 2020
Autumn trees in Wales. Photograph: Damian Waters/Alamy
Global heating appears to be making trees drop their leaves earlier, according to new research, confounding the idea that warmer temperatures delay the onset of autumn.
The finding is important because trees draw huge amounts of carbon dioxide from the air and therefore play a key role in managing the climate.
The rising temperatures also mean that spring is arriving earlier and, overall, the growing season for trees in the planet's temperate zones is getting longer. However, the earlier autumns mean that significantly less carbon can be stored in trees than previously thought, providing less of a brake on global heating.
Scientists are still working out how large the effect is likely to be, but it might amount to 1bn tonnes of CO2 a year, which would be more than the annual emissions of Germany.
The new research is based on a huge dataset of observations of European trees, experiments that varied light and CO2 levels, and mathematical models. It showed that as well as temperature and day length, the amount of carbon a tree has absorbed in a season is a key factor in determining when it no longer needs its leaves and sheds them. The scientists liken the effect to a person becoming full after a heavy meal and being unable to eat more food. Read the whole story here.
1% of people cause half of global aviation emissions – study
The Guardian
17 November 2020
Grounded passenger planes at Groningen airport in Eelde, the Netherlands. Photograph: Siese Veenstra/EPA
Frequent-flying "'super emitters" who represent just 1% of the world's population caused half of aviation's carbon emissions in 2018, according to a study.
Airlines produced a billion tonnes of CO2 and benefited from a $100bn (£75bn) subsidy by not paying for the climate damage they caused, the researchers estimated. The analysis draws together data to give the clearest global picture of the impact of frequent fliers.
Only 11% of the world's population took a flight in 2018 and 4% flew abroad. US air passengers have by far the biggest carbon footprint among rich countries. Its aviation emissions are bigger than the next 10 countries combined, including the UK, Japan, Germany and Australia, the study reports.
The researchers said the study showed that an elite group enjoying frequent flights had a big impact on the climate crisis that affected everyone. 
They said the 50% drop in passenger numbers in 2020 during the coronavirus pandemic should be an opportunity to make the aviation industry fairer and more sustainable. This could be done by putting green conditions on the huge bailouts governments were giving the industry, as had happened in France. Read the whole story here.
Climate change bigger threat than COVID: Red Cross
Phys.org
17 November 2020
Credit: CC0 Public Domain
The world should react with the same urgency to climate change as to the coronavirus crisis, the Red Cross said Tuesday, warning that global warming poses a greater threat than COVID-19.
Even as the pandemic rages, climate change is not taking a break from wreaking havoc, the International Federation of Red Cross and Red Crescent societies (IFRC) said in a new report.
In the report, on global catastrophes since the 1960s, the Geneva-based organisation pointed out that the world had been hit by more than 100 disasters — many of them climate related — since the World Health Organization declared the pandemic in March.
More than 50 million people had been affected, it said.
"Of course, the COVID is there, it's in front of us, it is affecting our families, our friends, our relatives," IFRC Secretary-General Jagan Chapagain told a virtual press conference.
"It's a very, very serious crisis the world is facing currently," he said of the pandemic, which has already claimed more than 1.3 million lives.
But he warned that the IFRC expects "climate change will have a more significant medium and long term impact on the human life and on Earth."
And while it looked increasingly likely that one or several vaccines would soon become available against COVID-19, Chapagain stressed that "unfortunately there is no vaccine for climate change". Read the whole story here.

Bezos to award hundreds of millions to address climate change
Philanthropy News Digest
4 November 2020
Photo credit: New York Public Library/Unsplash
Amazon.com founder and CEO Jeff Bezos is preparing to announce a series of major grants from the $10 billion Bezos Earth Fund he launched in February to fight climate change, the Atlantic reports.
According to two anonymous sources, the richest man in the world spoke with environmental nonprofits and advisors over the summer and is ready to commit $100 million each to four of the most established environmental organizations in the United States — the Nature Conservancy, the Environmental Defense Fund, the Natural Resources Defense Council, and the World Wildlife Fund. The same sources said Bezos also is ready to commit $100 million to the World Resources Institute, a sustainability research organization.
In addition, Bezos has promised $200 million in grants ranging between $10 million and $50 million to four nonprofits specializing in climate and energy research — the Energy Foundation, the Union of Concerned Scientists, the ClimateWorks Foundation, and the Rocky Mountain Institute.
According to the Atlantic, the grants suggest Bezos is focusing his climate philanthropy on traditional environmental organizations and conventional approaches, given that most of the grantees subscribe to a pollution-centric view of the climate crisis and favor technocratic solutions to the problem that involve a gradual ramping down of greenhouse gas emissions. However, a spokesperson for the Earth Fund told the Atlantic that the organizations rumored to be in line for grants are not the only ones likely to receive awards in this funding round. "Th[e] list," said the spokesperson, "does not reflect the complete range of organizations that the Earth Fund has been speaking with and that will be receiving grants from the fund in this initial round — stay tuned." Read the whole story here.
As Climate Disasters Pile Up, a Radical Proposal Gains Traction
The New York Times
28 October 2020
The Eyjafjallajokull volcano in Iceland in 2010. Solar geoengineering is meant to mimic the atmospheric cooling that occurs after big volcanic eruptions. Halldór Kolbeins/Agence France-Presse — Getty Images
WASHINGTON — As the effects of climate change become more devastating, prominent research institutions and government agencies are focusing new money and attention on an idea once dismissed as science fiction: Artificially cooling the planet, in the hopes of buying humanity more time to cut greenhouse gas emissions.
That strategy, called solar climate intervention or solar geoengineering, entails reflecting more of the sun's energy back into space — abruptly reducing global temperatures in a way that mimics the effects of ash clouds spewed by volcanic eruptions. The idea has been derided as a dangerous and illusory fix, one that would encourage people to keep burning fossil fuels while exposing the planet to unexpected and potentially menacing side effects.
But as global warming continues, producing more destructive hurricanes, wildfires, floods and other disasters, some researchers and policy experts say that concerns about geoengineering should be outweighed by the imperative to better understand it, in case the consequences of climate change become so dire that the world can't wait for better solutions.
"We're facing an existential threat, and we need to look at all the options," said Michael Gerrard, director of the Sabin Center for Climate Change Law at the Columbia Law School and editor of a book on the technology and its legal implications. "I liken geoengineering to chemotherapy for the planet: If all else is failing, you try it." Read the whole story here.

CRISPR Targets Climate Change
Genetic Engineering & Biotechnology News
27 October 2020
Can CRISPR and other genome-editing technologies
address  climate change by being used to repair some
of the havoc wreaked on our planet?
(Source: Abstract Aerial Art/Getty Images)
The big climate change conundrum is how to provide the necessary calories, nutrition, and living materials to an increasing population without destroying the planet that we live on. According to the United Nations, the world's population is expected to increase from 7.7 billion in 2020 to 9.7 billion in 2050 and could peak at nearly 11 billion around 2100.
"Climate change needs to be addressed with a sense of urgency. We can start to change the world today with contributions from different approaches and fields, encompassing various technologies, and scientific communities," says Rodolphe Barrangou, PhD, distinguished professor & university faculty scholar, department of food, bioprocessing and nutrition sciences, North Carolina State University. Read the whole story here.
Exclusive: GM, Ford knew about climate change 50 years ago
E&E News
26 October 2020
Claudine Hellmuth/E&E News(illustration); ArtisticOperations/Pixabay(SUV); Tony Webster/Flickr(Ford); truck hardware/Flickr(GMC); Gilbert Plass/The Carbon Dioxide Theory of Climatic Change(text)
Scientists at two of America's biggest automakers knew as early as the 1960s that car emissions caused climate change, a monthslong investigation by E&E News has found.
The discoveries by General Motors and Ford Motor Co. preceded decades of political lobbying by the two car giants that undermined global attempts to reduce emissions while stalling U.S. efforts to make vehicles cleaner.
Researchers at both automakers found strong evidence in the 1960s and '70s that human activity was warming the Earth. A primary culprit was the burning of fossil fuels, which released large quantities of heat-trapping gases such as carbon dioxide that could trigger melting of polar ice sheets and other dire consequences.
A GM scientist presented her findings to at least three high-level executives at the company, including a former chairman and CEO. It's unclear whether similar warnings reached the top brass at Ford.
But in the following decades, both manufacturers largely failed to act on the knowledge that their products were heating the planet. Instead of shifting their business models away from fossil fuels, the companies invested heavily in gas-guzzling trucks and SUVs. At the same time, the two carmakers privately donated hundreds of thousands of dollars to groups that cast doubt on the scientific consensus on global warming.
It wasn't until 1996 that GM produced its first commercial electric vehicle, called the EV1. Ford released a compact electric pickup truck in 1998.
More than 50 years after the automakers learned about climate change, the transportation sector is the leading source of planet-warming pollution in the United States. Cars and trucks account for the bulk of those emissions. 
This investigation is based on nearly five months of reporting by E&E News, including more than two dozen interviews with former GM and Ford employees, retired auto industry executives, academics, and environmentalists. Many of these details have not previously been reported. Read the whole story here.
From climate change to equality, Lagarde turns ECB more political
Reuters
26 October 2020
FILE PHOTO: FILE PHOTO: European Central Bank (ECB) President Christine Lagarde addresses an event to launch the private finance agenda for the 2020 United Nations Climate Change Conference (COP26) at Guildhall in London, Britain February 27, 2020. Tolga Akmen/Pool via REUTERS//File Photo/File Photo
FRANKFURT (Reuters) - Since taking the helm a year ago, Christine Lagarde has turned the European Central Bank's attention to social issues like climate change and inequality, broadening its horizons but also opening it to attacks that could test its independence.
Lagarde's efforts to use the bank's leverage to fight global warming, gender imbalance or income inequality may have been overshadowed by the coronavirus pandemic and the ensuing, deep recession.
But they could yet reshape the currency union's most powerful institution and help redefine the role of central banking in an era where the threat of runaway inflation has faded into obscurity.
The ECB as an institution is one of a kind. Its president is uniquely powerful in swaying policy and the broader economic debate, as Lagarde's predecessor Mario Draghi demonstrated in 2012 when he said the bank would do "whatever it takes" to save the euro here, catching markets and some colleagues unaware.
The bank's role is also open to interpretation because of a vaguely worded Treaty.
Unlike the Fed, which has a dual mandate of nurturing price stability and employment, the ECB must first keep prices stable, then support the "general economic policies" of the European Union.
In stark contrast to her predecessors - all men with degrees in economics and decades of central banking experience – the former politician Lagarde has demonstrated a willingness to use this leeway to promote the euro zone's wider social good. Read the whole story here.

Climate change: Technology no silver bullet, experts tell PM
BBC News
25 October 2020
Boris Johnson at a launch event for the COP26 climate summit which is to be held in Glasgow later this year.
Can we trust the silver bullet of technology to fix climate change? The prime minister seems to think so.
In a speech due soon, he is expected to pledge his faith in offshore wind power, solar, carbon capture, hydrogen, clean cars, and zero-emission aviation.
Clean technologies are clearly a huge part of any solution.
But the PM is being accused of techno-optimism bias, because he does not mention other key factors in reducing emissions.
In fact, experts say, tackling climate change will need action right across society and the economy - with a host of new incentives, laws, rules, bans, appliance standards, taxes and institutional innovations.
They also warn that citizens' behaviour must shift, with people probably driving and flying less, and eating less meat and dairy produce. 
In other words, when it comes to cutting carbon emissions, there's no silver bullet – it's more like silver buckshot. Read the whole story here.
How U.S. adults are changing their feelings about climate change
World Economic Forum
19 October 2020
Climate change continues to occupy an ever-growing space in the conversations of governments and businesses around the world. More and more leaders are creating plans focused on carbon neutrality and utilizing cleaner energies in the coming decades, in large part due to increased pressure from a more informed public. New survey data shows how the public's indifference toward climate change has quickly transitioned to alarm and concern.
In survey data from the Yale Program on Climate Change Communication, 28 percent of respondents in 2020 said they felt alarmed about climate change, with 26 percent saying they felt concerned. While the percentage of those saying they're alarmed has risen steadily over the last decade, the number of those who are concerned has risen 15 percentage points in just the last five years. Since 2010, the number of those who are doubtful about climate change has fallen from 15 percent to 11 percent.
Overall, those who said they felt dismissive or doubtful about climate change in 2010 are quickly becoming cautious, concerned and alarmed. In separate surveys from Pew Research and Gallup, a majority of those still dismissive and doubtful about climate change are conservative, Republican voters, pointing to how skeptical rhetoric from conservative leaders across the world is still playing a powerful role in how the public perceives climate science.
Despite decades of convincing science providing evidence for the devastating impacts of climate change in the near future, costs and profit motives have kept industries and governments from fully committing to progressive clean energy policy and infrastructure. That's quickly changing, however, as more leaders, executives and shareholders consider the consequences of continuing to consume traditional fossil fuels. Couple that with a boom in the renewable energy industry producing cheaper clean energy and you have companies marketing their carbon neutrality plans and governments promising massive reductions in fossil fuels over the coming decades. Read the whole story here.
'We've had so many wins': why the green movement can overcome climate crisis
The Guardian
12 October 2020
Leaflets printed on "rather grotty" blue paper. That is how Janet Alty will always remember one of the most successful environment campaigns of modern times: the movement to ban lead in petrol.
There were the leaflets she wrote to warn parents at school gates of the dangers, leaflets to persuade voters and politicians, leaflets to drown out the industry voices saying – falsely – there was nothing to worry about.
In the late 1970s, the UK was still poisoning the air with the deadly toxin, despite clear scientific evidence that breathing in lead-tainted air from car exhausts had an effect on development and intelligence. Recently returned from several years in the US, Alty was appalled. Lead had been phased out in the US from 1975. Why was the British government still subjecting children to clear harm...?
...It is easy to forget that environmentalism is arguably the most successful citizens' mass movement there has been. Working sometimes globally, at other times staying intensely local, activists have transformed the modern world in ways we now take for granted. The ozone hole has shrunk. Whales, if not saved, at least enjoy a moratorium on hunting. Acid rain is no longer the scourge of forests and lakes. Rivers thick with pollution in the 1960s teem with fish. Who remembers that less than 30 years ago, nuclear tests were still taking place in the Pacific? Greenpeace's Rainbow Warrior ship was blown up by the French government in 1985, with one death and many injuries, in a long-running protest. 
As well as giving heart to activists now, these victories contain important lessons. "The environmental movement has been very successful," says Joanna Watson, who has worked at Friends of the Earth for three decades. "We've had so many campaigns and wins. Sometimes it's been hard to claim success, and sometimes it takes a long time. And sometimes things that worked before won't work now. But there's a lot we can learn." Read the whole story here.
Climate Change and COVID Threaten to Sink Small Island Nations
Scientific American
2 October 2020
Cars drive through a flooded road on September 5, 2019 in
Great Abaco Island, Bahamas. Hurricane Dorian
hit the island chain as a category 5 storm battering them for
two days before moving north. Credit: Jose Jimenez Getty Images
Small island nations are in a bind.
Under assault from climate change, they need to spend big to protect their communities from rising seas and dangerous storms.
But a major source of income—international tourism—has dried up due to the coronavirus pandemic.
So now they're pleading with world leaders for help and relief.
"As small island developing states, we are struggling to stay afloat literally and figuratively," said Jerome Xavier Walcott, minister for foreign affairs of Barbados. "We are of the view that a need for adequate climate finance in the midst of the COVID-19 pandemic cannot be overstated."
Barbados was one of several island nations to raise concerns this week with the United Nations. Their calls were aimed at the World Bank and International Monetary Fund. The World Bank-IMF annual meetings kick off in two weeks.
The pleas for debt relief came from leaders of the Bahamas, Barbados, Dominica, Grenada, the Maldives, Samoa, the Solomon Islands, Vanuatu and other small island developing countries. Read the whole story here.
Climate change will restructure the economy — here's how banks can prepare
GreenBiz
5 October 2020
The Bank of England (Photo: Shutterstock)
As scientists deliver ever-more-serious warnings about climate change, companies are beginning to size up the potential effects not only on their businesses and industries but across the entire global economy. 
Banks wouldn't seem to be on the frontlines of these emerging risks. But because they make loans and grease the wheels of commerce for clients in virtually every industry all over the world, their exposure to climate change is potentially enormous. 
Measuring the potential effects of climate change on banks is no simple task. But opportunities are beginning to emerge from the shift to a lower-carbon economy, and if banks measure and manage their growing climate risks, they will be in a better position to seize these opportunities. 
Pressure is mounting
The stakes of climate change are high for many industries: Physical risks are beginning to materialize, regulatory pressures are increasing, new opportunities are emerging — and investors are demanding more transparency. The first step is understanding what, exactly, is at risk. 
For banks, one of the biggest threats is credit risk, or the risk that borrowers will default. In home mortgage lending, for example, a bank's loan portfolio can be affected by climate risk in two ways — either through persistent, chronic changes in the environment, such as rising seas, or through specific acute events, such as more intense storms, flooding and mudslides. Expectations of an increase in such events can hurt property values and, ultimately, increase the risk of defaults. Read the whole story here.

Has the world started to take climate change fight seriously?
BBC News
30 September 2020
Chinese premier Xi Jinping has pledged that China will reach carbon neutrality by 2060 (Photo: Reuters)
You probably missed the most important announcement on tackling climate change in years.
It was made at the UN General Assembly.
It wasn't the big commitment to protect biodiversity or anything to do with the discussion about how to tackle the coronavirus pandemic - vitally important though these issues are.
No, the key moment came on Tuesday last week when the Chinese President, Xi Jinping, announced that China would cut emissions to net zero by 2060.
The commitment is a huge deal on its own, but I believe his promise marks something even more significant: China may have fired the starting gun on what will become a global race to eliminate fossil fuels. Read the whole story here.
There Are No Excuses Left for Leaving Climate Change Out of the Debates
WIRED
24 September 2020
The Bobcat Fire burns through the Angeles National Forest in California, part of a record-setting wildfire season that shows no sign of letting up. PHOTOGRAPH: KYLE GRILLOT/GETTY IMAGES
A brief sample of recent climate news: record-setting heat waves, including a 121-degree day in Los Angeles; apocalyptic wildfires up and down the West Coast, killing dozens and draping much of the continent in smoke; an August derecho that laid waste to much of the state of Iowa; five tropical cyclones forming at once in the Atlantic for only the second time in recorded history. Oh, and a new report finding that the consequences of rising temperatures are likely to be even worse than prior predictions.
Don't expect any of that to come up when Joe Biden and Donald Trump take the stage for the first presidential debate next week. On Tuesday, the debate's moderator, Fox News host Chris Wallace, announced his planned list of topics. It includes the Covid pandemic, the Supreme Court, and the economy, but you will search in vain for any mention of the environment or climate change.
To which I say, on behalf of humanity: You have got to be kidding me. Read the whole story here.
Ocean Heat Waves Are Directly Linked to Climate Change
The New York Times
24 September 2020
A sick and malnourished California sea lion pup recovered from a beach near Sausalito, Calif., in 2015. Scientists say ocean heat waves are disrupting the food webs of sea lions and other creatures. Justin Sullivan/Getty Images
Six years ago, a huge part of the Pacific Ocean near North America quickly warmed, reaching temperatures more than 5 degrees Fahrenheit above normal. Nicknamed "the blob," it persisted for two years, with devastating impacts on marine life, including sea lions and salmon.
The blob was a marine heat wave, the oceanic equivalent of a deadly summer atmospheric one. It was far from a solitary event: Tens of thousands have occurred in the past four decades, although most are far smaller and last for days rather than years. The largest and longest ones have occurred with increasing frequency over time.
On Thursday, scientists revealed the culprit. Climate change, they said, is making severe marine heat waves much more likely.
The study, published in the journal Science, looked at the blob and six other large events around the world, including one in the Northwest Atlantic in 2012. Human-caused global warming made these events at least 20 times more likely, the researchers found. "Some of these couldn't even have occurred without climate change," said Charlotte Laufkötter, a marine scientist at the University of Bern in Switzerland and the lead author of the study.
In a world with no human-caused warming, a large marine heat wave would have had about a one-tenth of 1 percent chance of occurring in any given year — what is called a thousand-year event. But with the current rate of global warming, an ocean heat wave like that could soon have as much as a 10 percent chance of occurring, the study found. Read the whole story here.
Climate change: China aims for 'carbon neutrality by 2060'
BBC News
22 September 2020
China's President Xi Jinping addressing the UN via video link
China will aim to hit peak emissions before 2030 and for carbon neutrality by 2060, President Xi Jinping has announced.
Mr Xi outlined the steps when speaking via videolink to the UN General Assembly in New York.
The announcement is being seen as a significant step in the fight against climate change.
China is the world's biggest source of carbon dioxide, responsible for around 28% of global emissions.
With global climate negotiations stalled and this year's conference of the parties (COP26) postponed until 2021, there had been little expectation of progress on the issue at the UN General Assembly.
However China's president surprised the UN gathering by making a bold statement about his country's plans for tackling emissions. Read the whole story here. 
Meet the man who told Trump climate change is real
ScienceMag.org
17 September 2020
Wade Crowfoot's challenge to U.S. President Donald Trump's misleading comments on climate change went viral. Here, Crowfoot examines a fire scene in California. PAUL KITAGAKI JR/SACRAMENTO BEE VIA ZUMA WIRE/NEWSCOM
Wade Crowfoot, a California Cabinet secretary, didn't plan on confronting President Donald Trump on extreme heat and wildfires. Then Trump dismissed climate change.
"It'll just start getting cooler, you just watch," Trump said during a Monday meeting with California officials who were briefing him on the state's catastrophic wildfires.
Crowfoot, in a response that went viral, responded: "I wish science agreed with you."
"Well, I don't think science knows, actually," Trump retorted before turning away.
Crowfoot, 47, runs California's Natural Resources Agency and oversees 19,000 employees and multiple agencies. His decision to challenge Trump was spontaneous.
"I didn't plan to beforehand," Crowfoot said an interview.
"I don't know if it was instinct, or just the intellectual curiosity of actually trying to have a conversation with him on it," he added.
There were multiple points to make on the fires, Crowfoot said, but he believed "the most important conversation to engage him in was climate change." 
On the president's response—regarding climate scientists not knowing about rising temperatures—Crowfoot said he felt "disappointed but perhaps not surprised."
The discussion marked a rare occasion on which Trump received pointed—and accurate—information about climate change. What briefings he may have had in the White House were led by William Happer, a former adviser with the National Security Council who has said the Earth needs more carbon dioxide to grow food (Climatewire, Feb. 28, 2019).
"It seems like it was one of the more direct exchanges that somebody's had in public with the president on climate change in quite a while," Crowfoot said. "Maybe that's why it struck a nerve and went viral." Read the whole story here.
Where to find upbeat news about climate change
Yale Climate Connections
9 September 2020
If you would like a regular dose of good climate and clean-energy news, these (free) weekly email newsletters are worth a look:
Reasons to Be Cheerful: Begun by artist-musician David Byrne, this project tells (original content) "stories that reveal that there are, in fact, a surprising number of reasons to feel cheerful. Many of these reasons come in the form of smart, proven, replicable solutions to the world's most pressing problems." Climate-energy is one of the problems they watch, with solutions archived here.
Future Crunch: "A group of scientists, artists, researchers and designers who believe that science and technology are the most powerful drivers of human progress" and who collect "good news from every corner of the globe, mind-blowing advances in science and technology, and the best parts of the internet" – quite often having to do with progress on clean energy but also full of cheering reports on other fronts such as global health. Here is a roundup of recent newsletters. Here is the 2019 year's-end roundup of good news, with energy/climate items starting at #79.
Good News, from Environmental Health News (EHN): "positive news about our environment," archived here. Kin to the useful Daily Climate emails.
Nexus Clean Energy News: Part of a project working "to change the conversation on climate change and clean energy from an argument to a constructive search for solutions" and kin to the exhaustive daily Climate Nexus emails. There is no central website for these links, but here is a sample email from late May.

If podcasts are your pleasure, here is a promising brand-new one available on Spotify (free download), "How to Save a Planet."
Read the whole story here.

United in Science report: Climate Change has not stopped for COVID19
World Meteorological Organization
9 September 2020
New York/Geneva - Climate change has not stopped for COVID19. Greenhouse gas concentrations in the atmosphere are at record levels and continue to increase. Emissions are heading in the direction of pre-pandemic levels following a temporary decline caused by the lockdown and economic slowdown. The world is set to see its warmest five years on record – in a trend which is likely to continue - and is not on track to meet agreed targets to keep global temperature increase well below 2 °C or at 1.5 °C above pre-industrial levels.
This is according to a new multi-agency report from leading science organizations, United in Science 2020. It highlights the increasing and irreversible impacts of climate change, which affects glaciers, oceans, nature, economies and human living conditions and is often felt through water-related hazards like drought or flooding. It also documents how COVID-19 has impeded our ability to monitor these changes through the global observing system.
"This has been an unprecedented year for people and planet. The COVID-19 pandemic has disrupted lives worldwide. At the same time, the heating of our planet and climate disruption has continued apace," said UN Secretary-General António Guterres in a foreword.
"Never before has it been so clear that we need long-term, inclusive, clean transitions to tackle the climate crisis and achieve sustainable development. We must turn the recovery from the pandemic into a real opportunity to build a better future," said Mr Guterres, who will present the report on 9 September. "We need science, solidarity and solutions." Read the whole story here.

Climate Is Taking On a Growing Role for Voters, Research Suggests
The New York Times
24 August 2020
A climate rally in San Francisco last year. The number of American voters who say climate change is extremely important to them personally has almost doubled since 2015. (Photo credit: James Tensuan for The New York Times)
The number of Americans who feel passionately about climate change is rising sharply, and the issue appears likely to play a more important role in this year's election than ever before, a new survey shows.
What's more, despite the turmoil caused by overlapping national and global crises, support for action to curb climate change has not diminished. Backing for government to do more to deal with global warming, at 68 percent in May of 2018, was at the same level in 2020, according to the survey, issued Monday.
"People can walk and chew gum at the same time," said Jon A. Krosnick, a professor of communication, political science and psychology at Stanford University and the leader of the project.
Many social scientists might have predicted a different result. A hypothesis in psychology called the "finite pool of worry" suggests that when people's level of concern about one issue rises, concern about others tends to fall. Climate change, under such thinking, appeared to be a "luxury good" issue, the sort of thing that's nice to have if you can afford it, but which gets pushed down the list of priorities in tough times.
The survey, the latest in a 23-year series, suggests that, instead, climate change has become important enough to Americans that it remains prominent despite the global coronavirus pandemic, with its rising death count in the United States, as well as the related national economic crisis, the pressures of self isolation brought on by the pandemic and a never-ending rush of other news.
The most striking part of the survey, Dr. Krosnick said, is the growth of a group he called the "issue public" around climate change. Read the whole story here.

Species 'pushed out of the tropics' by climate change
Phys.Org
24 August 2020
The painted stork (Mycteria leucocephala) is a large wader in the stork family, found in the wetlands of the plains of tropical Asia. Credit: Saketh Upadhya
The world's tropical regions are home to the widest range of plants and animals, but research from The University of Queensland reveals that climate change is pushing species away, and fast.
UQ ARC Future Fellow Dr. Tatsuya Amano led an international team that reviewed more than 1.3 million records of waterbird species, and found temperature increase is drastically affecting species abundance in the tropics.
Dr. Amano said the findings showed climate change continued to post a serious threat to biodiversity.
"There's an urgent need to understand how species respond to changing climates on a global scale," Dr. Amano said.
"Earlier global reviews have rarely included species and studies in the tropics—being largely conducted in Europe, North America, Australia and the Arctic.
"As a result, although tropical species have long been predicted to be more vulnerable to increasing temperature, there was little empirical evidence on how climate change really affects species abundance in the tropics."
The team reviewed records collected by volunteer counters from the International Waterbird Census and Christmas Bird Count since 1990 and found that 69 percent of the tropical species show, on average, negative responses to temperature increases. Read the whole story here.

Climate change: Dams played key role in limiting sea level rise
BBC
19 August 2020
GETTY IMAGES
Over the past century, melting glaciers and the thermal expansion of sea water have driven up ocean levels.
But this new study finds that dams almost stalled the rising seas in the 1970s because of the amount of water they prevented from entering the oceans.
Without them, the annual rate of rise would have been around 12% higher.
Measuring how much the seas have risen over the past 100 years or so is a difficult task for scientists.
Researchers found that there was a gap between how much water they knew had gone into the oceans compared to how much those oceans had actually risen by over the past century.
In this new work, the authors revisited information about sources and measurements to come up with a new, more accurate estimation.
As well as the melting of glaciers and the thermal expansion of the seas from heat energy entering the waters, the researchers found that water storage facilities such as dams and reservoirs had made a significant impact on sea levels throughout the period.
There are around 58,000 large dams in the world right now with many of them constructed over the past 60 years. Read the whole story here.
How climate change could expose new epidemics
Phys.Org
16 August 2020
As global warming melts permafrost such as the Alaskan tundra, what new threats will be unfrozen?
Long-dormant viruses brought back to life; the resurgence of deadly and disfiguring smallpox; a dengue or zika "season" in Europe.
These could be disaster movie storylines, but they are also serious and increasingly plausible scenarios of epidemics unleashed by global warming, scientists say.
The COVID-19 pandemic that has swept the globe and claimed over 760,000 lives so far almost certainly came from a wild bat, highlighting the danger of humanity's constant encroachment on the planet's dwindling wild spaces.
But the expanding ecological footprint of our species could trigger epidemics in other ways too.
Climate change—already wreaking havoc with one degree Celsius of warming—is also emerging as a driver of infectious disease, whether by expanding the footprint of malaria- and dengue-carrying mosquitos, or defrosting prehistoric pathogens from the Siberian permafrost. Read the whole story here.
Five Key Ideas to Keep in Mind When Fighting Climate Change
Bloomberg Green
by Akshat Rathi
11 August 2020
Photo credit: gijn.org
Over my five years of reporting on climate change, I've interviewed hundreds of experts across a wide variety of subjects from technology to policy and government to think tanks, conservation groups, and environmental watchdogs. And yet no matter the discipline, many of them tend to repeat the same small list of ideas for how to tackle climate change.
There are still debates of course, but years of research and evidence point to a convergence on a few central tenets.
This week, rather than write about the Mauritian fuel spill, the details of BP's climate plan, or the European heatwave, I wanted to share that list as a way to start some interesting conversations—and maybe even lead to future newsletters. The five key principles are:
Adaptation without mitigation is futile
If you don't measure, you won't act
Playing the blame game slows down progress
Not markets vs regulations, markets and regulation
Going after a mix of technologies will increase the odds of success
Read the whole story here.

Explainer: What is the Intergovernmental Panel on Climate Change?
Channel News Asia
3 August 2020
Delegates and experts attend the 45th Inter-governmental Panel on Climate Change (IPCC) opening ceremony in Guadalajara, Mexico on Mar 28, 2017. (File photo: AFP/Hector Guerrero)
Concern over climate change is on the rise, with effects of global warming dominating headlines of late.
In fact, warnings about climate change have been flagged for a few decades, as reported by the Intergovernmental Panel on Climate Change, or IPCC.
But what is the IPCC anyway, what have they been saying and why does it matter?
WHAT IS THE IPCC?
The IPCC is the leading international scientific authority on climate change. It is a United Nations body made up of 195 member governments, formed in 1988.
The IPCC works by convening thousands of scientific experts from around the world to summarise what is happening to the Earth's climate system, highlight vulnerabilities to societies, and recommend both mitigation and adaptation measures.
It publishes comprehensive assessment reports every five to seven years, with the most recent Fifth Assessment Report (AR5) released in 2014.
The next report, AR6, is currently being drafted and will be published in 2021. Read the whole story here.

Microsoft's astonishing climate change goals, explained
Vox
30 July 2020
The Microsoft store is seen on April 30, 2020 in New York City. Photo by Eduardo MunozAlvarez/VIEWpress via Getty Images
You could be forgiven for missing it, given the surplus of news, but the past few years have seen a profusion of climate change commitments from big tech companies. Facebook, Google, Amazon, and Apple have all promised to shrink their climate footprints, each attempting to outdo the others.
Climate advocates are naturally leery of these commitments. Those who lived through the faddish interest in climate in the mid-2000s, around the release of Al Gore's An Inconvenient Truth, will recall the endless torrent of breathless corporate announcements. NBC had a "green week," big corporations bought cheap offsets to become "carbon neutral," automakers sold SUVs with vegan leather seats, and dozens of companies sold "sustainable" coffee cups, T-shirts, and tchotchkes. It was a greenwashing parade.
But times really have changed. The steps tech companies are taking these days represent a sea change in engagement. Climate change has moved out of the public relations department, into the C-suite, and down to the shop floor. Read the whole story here.
How Covid-19 Made it Easier to Talk About Climate Change
The New York Times
IN HER WORDS
26 July 2020
Rhiana Gunn-Wright at the DealBook/DC Strategy Forum in Washington last year (Photo Credit: Michael Cohen for The New York Times)
Rhiana Gunn-Wright had asthma growing up.
So did many of her neighbors in Englewood, on the South Side of Chicago, where pediatric hospitalization rates for asthma were significantly higher than the rate nationwide in the early 2000s. Ms. Gunn-Wright had so many friends with asthma that she assumed it was a "childhood disease" that all young people had.
Only later in life did she realize it was linked to air pollution in the area, as was shown by research funded by the Environmental Protection Agency.
For some policymakers and advocates, even those organizing global climate strikes, the effects of climate change can feel distant, but Ms. Gunn-Wright, 30, never had that luxury. Her work on environmental justice has always felt personal, tied to the public health problems in her community.
In 2018, Ms. Gunn-Wright was recruited by the progressive think tank New Consensus, which focuses on climate and economic policy, to be a co-author on a paper titled "The Green New Deal." Read the whole story here.

Prolonged Siberian heat attributed to climate change
Met Office UK
15 July 2020
The recent prolonged Siberia heat from January to June 2020 would have been almost impossible without the influence of human-caused climate change, according to a rapid attribution analysis by a team of leading climate scientists. 
The researchers from international universities and meteorological services, including the P.P.Shirshov Institute of Oceanology, Russian Academy of Science, also found that temperatures were more than 2°C hotter than they would have been if humans had not influenced the climate by releasing greenhouse gas emissions. 
Temperatures in Siberia have been well above average since the start of the year. A new record temperature for the Arctic, 38°C, was recorded in the Russian town of Verkhoyansk on 20 June, while Siberia's overall temperatures were more than 5°C above average from January to June. 
To measure the effect of climate change on these high temperatures, the scientists made use of large collections of computer simulations to compare the climate as it is today, with about 1°C of global warming, with the climate as it would have been without human influence, using the same methods as in past rapid and peer-reviewed studies. Read the whole story here.

How a 'Heat Dome' Forms—and Why This One Is So Perilous
Wired
10 July 2020
PHOTOGRAPH: NIVEK NESLO/GETTY IMAGES
A PERFECT STORM of crises is forming across the United States. Above our heads, a "heat dome" of high pressure could blast 80 percent of the continental US with temperatures over 90 degrees for the next few weeks. This coming in a summer when the Covid-19 lockdown has trapped people indoors, many without air-conditioning—and mass unemployment may mean that residents with AC units can't afford to run them. Deeper still, the heat and the pandemic are exacerbating long-standing and deadly inequities that will only get deadlier this summer.
A heat dome "is really just sort of a colloquial term for a persistent and/or strong high-pressure system that occurs during the warm season, with the end result being a lot of heat," says climate scientist Daniel Swain of UCLA's Institute of the Environment and Sustainability.
That high-pressure air descends from above and gets compressed as it nears the ground. Think about how much more pressure you experience at sea level than at the top of a mountain—what you're feeling is the weight of the atmosphere on your shoulders. As the air descends and gets compressed, it heats up. "So the same air that's maybe 80 degrees a few thousand feet up, you bring that same air—without adding any extra energy to it—down to the surface in a high-pressure system and it could be 90, 95, 100 degrees," says Swain. Read the whole story here.

CO2 in Earth's atmosphere nearing levels of 15m years ago
The Guardian
9 July 2020
The level of CO2 in the atmosphere is nearing a level possibly never experienced by a hominoid. Photograph: Dmitry Rukhlenko - Travel Photos/Alamy Stock Photo
The amount of carbon dioxide in the Earth's atmosphere is approaching a level not seen in 15m years and perhaps never previously experienced by a hominoid, according to the authors of a study.
At pre-lockdown rates of increase, within five years atmospheric CO2 will pass 427 parts per million, which was the probable peak of the mid-Pliocene warming period 3.3m years ago, when temperatures were 3C to 4C hotter and sea levels were 20 metres higher than today.
But it seems we must now go much further back to see what's ahead.
Some time around 2025, the Earth is likely to have CO2 conditions not experienced since the Middle Miocene Climatic Optimum 15m years ago, around the time our ancestors are thought to have diverged from orangutans and become recognisably hominoid. Read the whole story here.

Climate Change: The Importance of Intersectionality in Environmental Activism
LiveWire
3 July 2020
While talking about the global crises looming over our heads, including climate change, we often fail to vociferously discuss the disproportionate impact on the disadvantaged and the marginalised, who form a significant part of our highly stratified society.
Marginalised communities are more likely to live in areas which are at most risk of climate change, and are less likely to have access to resources or the ability to relocate.
Minorities, indigenous communities and lower socio-economic groups
Indigenous communities are socio-culturally distinct and they directly derive their resources from natural systems, but that isn't the case with every such community. Similarly, minority communities, in urban areas especially, are at a relative disadvantage over those in the majority.
As a result, these communities are the ones to be most affected by climate change, while those with essential resources eventually manage to rebuild their lives. For the former, climate change not only dilapidates their present lives but also aggravates their already existing problems as they end up losing their land, livelihoods and in most cases even basic human dignity. Read the whole story here.
Amazon pledges $2 billion fund to invest in clean energy
NBC Tech News
23 June 2020
The logo of Amazon is seen at the company logistics center in Lauwin-Planque, northern France, on April 22, 2020. Pascal Rossignol / Reuters file
(By Reuters -) Amazon said on Tuesday it will launch a $2 billion venture capital fund that will focus on technology investments to reduce the impact of climate change and support sustainable development.
The Climate Pledge Fund will invest in companies across industries such as transportation and logistics, energy, storage and utilization, manufacturing and materials, and food and agriculture, the e-commerce giant said.
The Wall Street Journal first reported on the new fund.
Amazon, which delivers about 10 billion items a year and has a massive transportation and data center footprint, has faced protests from environmental activists and pressure from its employees to take action on climate change.
The company has vowed to be net carbon neutral by 2040. Read the whole story here.
Siberian town records 100 degree F day — the hottest in Arctic history
Live Science
22 June 2020
Summer in Siberia's Sakha Republic (Image: © Shutterstock)
Siberia — the land of black snow, blood rain and spontaneous solar eclipses — may have just set a dire new climate record. On Saturday (June 20), temperatures in the far-north town of Verkhoyansk broke 100 degrees Fahrenheit (38 degrees Celsius) for the first time, according to news reports.
If verified, that makes Saturday's high the hottest-ever temperature documented above the Arctic Circle, The Washington Post reported.
Verkhoyansk is a town of some 1,300 residents in the Siberian Arctic, about 3,000 miles (4,800 kilometers) east of Moscow. The town has one of the most extreme temperature ranges on Earth, with winter lows hitting an average of minus 56 F (minus 49 C) and a previous all-time summer high of 98.96 F (37.2 C), according to Brittanica.com. On Saturday, several weather stations reported a new high of 100.4 F — the town's all-time hottest temperature since record keeping began in 1885. On Sunday, June 21, the town also reported a high of 95.3 (35.2 C), showing the previous day's heat was not a blip.
That sweltering new high (which is still being verified) arrives on the heels of Siberia's hottest May on record, with average temperatures soaring roughly 18 F (10 C) higher than the May average from 1979 to 2019, according to a special report from the European Union's Copernicus Climate Change Service.
This summer's high Arctic temperatures have already affected the region. Wildfires are running rampant, with 31 fires currently burning through 885,800 acres (358,472 hectares) of forest in the Sakha Republic (the region that includes Verkhoyansk), Russia's Federal Forest Agency reported today (June 21). Recently, Russian officials blamed an oil spill that leaked about 20,000 tons of diesel into a river in the Siberian Arctic on melting permafrost that allegedly caused the ground to sink below several oil tanks.
While remarkable, the news out of Siberia is also depressingly predictable. For years, average temperatures in the Arctic have been rising at a far faster rate than anywhere else in the world, largely due to melting sea ice induced by man-made global warming. Read the whole story here.
Climate change: Planting new forests 'can do more harm than good'
BBC Science & Environment
22 June 2020
Children planting trees in Ethiopia, a country which has embraced new forests as part of its climate plan (Getty Images)
Rather than benefiting the environment, large-scale tree planting may do the opposite, two new studies have found.
One paper says that financial incentives to plant trees can backfire and reduce biodiversity with little impact on carbon emissions.
A separate project found that the amount of carbon that new forests can absorb may be overestimated.
The key message from both papers is that planting trees is not a simple climate solution. Read the whole story here.
How much can financiers do about climate change?
The Economist
20 June 2020
In the Mayfair office of Chris Hohn, the boss of TCI, a hedge fund, an enormous photograph of a melting iceberg hangs on one wall. Robert Gibbins, the founder of Autonomy Capital, another London hedge fund, says his desk is adorned with the deformed remains of a car bumper, melted by an Australian wildfire. An interest in modish office decor is a long-standing feature of high finance. An interest in climate change, though, was until recently rare; the preserve of boutique investment houses and pokey back offices in the large asset managers. Now it is all the rage.
One reason for this is the realisation that extreme weather events pose threats to businesses seeking investment. Last year PG&E, a Californian utility, was forced into bankruptcy for its role in sparking wildfires. Another reason is that governments are taking steps to limit the emission of greenhouse gases that could have real impacts on firms' future revenues. A third is pressure from clients. Large asset owners, including Japan's Government Pension Investment Fund, the world's biggest, are badgering the companies which manage their money to attend more to the environmental, social and governance (ESG) bona fides of the companies they put money into. A fourth factor is that asset managers are facing shrinking margins. By offering their clients various sorts of greenery they can also charge higher fees. Read the whole story here.
Unilever to invest 1 billion euros in climate change fund over 10 years
Reuters
14 June 2020
FILE PHOTO: Unilever headquarters in Rotterdam, Netherlands August 21, 2018. REUTERS/Piroschka van de Wouw
Unilever Plc (ULVR.L) said on Monday it will invest 1 billion euros in a fund to invest in climate change projects and reduce to net zero greenhouse gas emissions from all its products by 2039, 11 years ahead of the Paris Agreement deadline.
Unilever, the Anglo-Dutch consumer products company whose brands include Dove soap and Knorr soup, said it was responding to the "scale and urgency" of the climate change crisis.
The fund will invest in projects including reforestation, water preservation and carbon sequestration over the next ten years, it said. Read the whole story here.
Environmentalists Targeted Exxon Mobil. Then Hackers Targeted Them.
The New York Times
9 June 2020
Greenpeace was one of several environmental groups targeted by overseas hackers. (Photo: Yves Herman/Reuters)
Three years ago, several environmental groups noticed that they had been receiving suspicious emails with fake Google News articles and other links related to their climate-change campaign against Exxon Mobil. The emails came from accounts that impersonated their own colleagues and lawyers.
Those phishing emails have now led to a federal criminal investigation into a sprawling hacking-for-hire operation that for years has targeted the email accounts of government officials, journalists, banks, environmental activists and other individuals, according to people briefed on the inquiry.
As part of the investigation, federal prosecutors in Manhattan conducted interviews earlier this year with environmental groups that received the emails, including the Rockefeller Family Fund, some of the people familiar with the inquiry said.
Prosecutors are investigating the hackers behind the operation and who hired them, the people said, speaking on the condition of anonymity so they could discuss an ongoing investigation. Exxon Mobil has not been accused of any wrongdoing. Read the whole story here.

Threat from climate change to financial stability bigger than Covid-19
Financial Times
7 June 2020
Protesters block the road in front of the Bank of England last year during a climate change protest © PA
Climate change poses a bigger threat to financial stability than the coronavirus pandemic and the rules on bank lending to fossil fuel groups must be tightened to address it, a new report has warned.
In his latest research for the Finance Watch advocacy body, Thierry Philipponnat — a board member at the French financial regulator, and one of the EU's technical experts on sustainable finance — has recommended increasing the risk weightings banks must apply to their oil, gas and coal exposures.
This would make them treat fossil fuel lending in the same way as other risky investments, increasing their capital requirements to insulate them against possible losses. Banks would therefore have more protection against the risk of carbon assets becoming "stranded" if demand falls — or the risk of costly climate disruption if it does not. Read the whole story here.
Earth has hottest May on record, with 2020 on track to be one of the top 10 warmest years
CNBC
5 June 2020
The sun sets behind the Statue of Liberty as it is partially obscured by heat waves from the exhaust of a passing ferry on May 31, 2020 in New York City. Gary Hershorn | Getty Images
The Earth had its hottest May ever last month, continuing an unrelenting climate change trend as 2020 is set to be among the hottest 10 years ever, scientists with the Copernicus Climate Change Service announced on Friday. 
It's virtually certain that this year will be among the top hottest years in recorded history with a higher than 98% likelihood it will rank in the top five, according to the National Oceanic and Atmospheric Administration.
"The last month has been the warmest May on record globally and this is unquestionably an alarming sign," said Freja Vamborg, a scientist at Copernicus Climate Change Service, an intergovernmental agency that supports European climate policy.
"Even more concerning is the fact that average temperatures of the last 12 months have become one of the hottest 12-month periods ever recorded in our data set," she said. Read the whole story here.
Jane Goodall: humanity is finished if it fails to adapt after Covid-19
The Guardian
3 June 2020
Jane Goodall has blamed the Covid-19 pandemic on the exploitation of the natural world. Photograph: Alessandro della Valle/AP
Humanity will be "finished" if we fail to drastically change our food systems in response to the coronavirus pandemic and the climate crisis, the prominent naturalist Jane Goodall has warned.
She blamed the emergence of Covid-19 on the over-exploitation of the natural world, which has seen forests cut down, species made extinct and natural habitats destroyed. The coronavirus is thought to have made the jump from animals to humans late last year, possibly originating in a meat market in Wuhan, China.
Intensive farming was also creating a reservoir of animal diseases that would spill over and hurt human society, said Goodall, one of the world's foremost experts on chimpanzees and a longtime conservation campaigner, speaking alongside two European commissioners at an online event held by the campaigning group Compassion in World Farming, on Tuesday.
"We have brought this on ourselves because of our absolute disrespect for animals and the environment," she said. "Our disrespect for wild animals and our disrespect for farmed animals has created this situation where disease can spill over to infect human beings." Read the whole story here.
Major milestone: Coal consumption falls behind renewable energy in the United States
CNN
28 May 2020
New York (CNN Business) - The last time the United States consumed more renewable energy than coal was in the 19th century, when hydropower was just getting started and wood burning was a major fuel source.
Now, it's happening again, as the nation consumed more energy last year from renewable sources like solar and wind than from coal. This is the first time that has happened since before 1885.
The milestone, announced Thursday by the US Energy Information Administration, demonstrates the dramatic shift away from coal despite President Donald Trump's promises to prop up the industry.
America's coal consumption collapsed by another 15% last year to its weakest level since 1964, the EIA said. The sixth-straight year of declines for coal occurred even as Trump has slashed environmental regulations and installed a former coal lobbyist to lead the EPA.
Renewable energy, by contrast, continues to boom as costs fall and climate change concerns rise. Consumption of renewable energy in the United States hit a record high last year, the fourth-straight years of growth, the EIA said. Read the whole story here.

Why are we waiting for billionaires like Jeff Bezos to save us?
Grist
26 May 2020
What if the government actually met society's needs? Instead of pulling out of the Paris climate agreement amid a planetary crisis and withdrawing funding from the World Health Organization during a pandemic, the United States could lead the way on climate change and public health, possibly averting the worst outcomes. Imagine that.
The Trump administration's approach of ignoring catastrophes until the last minute doesn't appear to be changing anytime soon. That's left billionaires to fill the vacuum of leadership. From Mark Zuckerberg of Facebook to Jack Dorsey of Twitter, the ultra-wealthy are forking over huge sums of money for coronavirus relief efforts. Bill Gates, the cofounder of Microsoft, is funding efforts to create home test kits and develop a vaccine. Billionaires are increasingly stepping up to take on what's supposed to be the government's job — not just for coronavirus, but also for global problems like climate change.
In February, Jeff Bezos, the founder of Amazon who's reportedly on track to become the world's first trillionaire by 2026, pledged to give $10 billion to activists, scientists, and nonprofits to take on the climate crisis. Bezos joins the elite ranks of Mike Bloomberg, Tom Steyer, and Gates in popularizing so-called climate philanthropy. The last few years have brought the death of coal and the rise of renewable energy, in no small part because of their efforts. Read the whole story here.

Study: World carbon pollution falls 17 percent during pandemic peak
Loop Cayman
20 May 2020
In this April 21, 2020, file photo, 42nd Street in New York has very little traffic. The world cut its daily carbon dioxide emissions by 17% at the peak of the pandemic shutdown last month, a new study found. But with life and heat-trapping gas levels inching back toward normal, the brief pollution break will likely be "a drop in the ocean" when it comes to climate change, scientists said. (AP Photo/Ted Shaffrey)
The world cut its daily carbon dioxide emissions by 17 percent at the peak of the pandemic shutdown last month, a new study found.
But with life and heat-trapping gas levels inching back toward normal, the brief pollution break will likely be "a drop in the ocean" when it comes to climate change, scientists said.
In their study of carbon dioxide emissions during the coronavirus pandemic, an international team of scientists calculated that pollution levels are heading back up — and for the year will end up between 4 percent and 7 percent lower than 2019 levels.
That's still the biggest annual drop in carbon emissions since World War II.
It'll be 7 percent if the strictest lockdown rules remain all year long across much of the globe, 4 percent if they are lifted soon.
For a week in April, the United States cut its carbon dioxide levels by about one-third. China, the world's biggest emitter of heat-trapping gases, sliced its carbon pollution by nearly a quarter in February, according to a study Tuesday in the journal Nature Climate Change. India and Europe cut emissions by 26 percent and 27 percent respectively. Read the whole story here.
Climate change: Top 10 tips to reduce carbon footprint revealed
BBC
20 May 2020
Switching to a vegan diet can help but doesn't quite have the impact of other measures (Getty Images)
Climate change can still be tackled – but only if people are willing to embrace major shifts in the way we live, a report says.
The authors have put together a list of the best ways for people to reduce their carbon footprints.
The response to the Covid-19 crisis has shown that the public is willing to accept radical change if they consider it necessary, they explain.
And the report adds that government priorities must be re-ordered.
Protecting the planet must become the first duty of all decision-makers, the researchers argue.
The authors urge the public to contribute by adopting the carbon-cutting measures in the report, which is based on an analysis of 7,000 other studies.
Top of the list is living car-free, which saves an average of 2.04 tonnes of CO2 equivalent per person annually.
This is followed by driving a battery electric car - 1.95 tonnes of CO2 equivalent per person annually - and taking one less long-haul flight each year - 1.68 tonnes of CO2 equivalent per person.
Switching to a vegan diet will help - but less than tackling transport, the research shows.
It says popular activities such as recycling are worthwhile, but don't cut emissions by as much. Read the whole story here.
How To Talk Science With Policymakers—From Coronavirus To Climate Change
Forbes
by Joan Michelson
18 May 2020
WASHINGTON, UNITED STATES - MAY 05, 2020: U.S. Representative, Nancy Pelosi (D-CA) wearing a face mask as a precaution against the spread of covid 19 (Photo credit: BARCROFT MEDIA VIA GETTY IMAGES)
Coronavirus is giving science a resurgence in policy circles. Stark images of victims struggling to survive on ventilators, or having lost that battle, including maybe someone we know or loved or knew of….and the mountains of unemployment claims and miles-long lines for food banks, bring the urgency of learning what this novel virus does to our bodies and minds.  We know we can't bring the economy back until we destroy or at least bring the pandemic to heel, so we're stretching our minds to understand the science.
Suddenly we're learning an array of multi-syllabic medical terms and how medical treatments and vaccines are developed and brought to market, while we don face masks and gloves to protect ourselves from this deadly and invisible killer virus.
In a matter of eight short weeks, many policymakers from statehouses to Congress who previously doubted science are now paying attention because they have to – their lives, their family's lives and those of their constituents who they want to re-elect them literally depend upon it.
To explore what we can learn from this moment about the best way to communicate complicated scientific topics including climate science, to policymakers who may be science-averse, I spoke with Michelle Wyman, Executive Director of the National Council for Science and the Environment, an organization dedicated to integrating science into policy decisions and a long-time policy-whisperer. Read the whole story here.

Will There Be a Climate Change Vaccine?
Gensler
11 May 2020
Crises are not announced ahead of time. Instead, they arrive unexpectedly and without warning. The COVID-19 pandemic, in the matter of a few weeks, went from a trickle of cases to a tsunami of loss and uncertainty. As of today, the human impact is hundreds of thousands of lives, with an estimated economic impact of about 22 trillion US dollars. The toll on human life and economic value is beyond comprehension. The world will never be the same.
One lesson we have learned through this storm is that time matters. The places that reacted quicker to the outbreak with quarantines and shutdown orders were more resilient and resulted in both a less steep curve and better containment of cases.
But what if we knew that the COVID-19 pandemic was on its way perhaps six months to even a year before it arrived? What would we have done to get ready? If we had had this lead time, first of all, we would have put massive resources into finding a vaccine and effective therapies to treat those who would be infected. Secondly, we would have warned people and organizations to stockpile food, medicine, PPE, ventilators, and other necessities. Third, we would have developed emergency management operations strategies, involving the business community, on how to stage the appropriate shutdowns and coordinated quarantines along with an underlying economic strategy.
While we didn't have a warning of the COVID-19 crisis, we do have a warning about the climate crisis up ahead. The $22 trillion impact of the COVID-19 pandemic will likely be matched and even surpassed by climate change. This can only be avoided if we create the analogous vaccines, therapies, and business strategies to "flatten the curve" of coastal sea-level rise and warming of our cities to the point of being uninhabitable during portions of the year. We actually received the warning, and in a timely fashion. We got it 50 years ago. Read the whole story here.
Green stimulus can repair global economy and climate, study says
The Guardian
5 May 2020
The researches suggest the building of electric vehicle charging networks, redesigning roads for more cycling, flood protection and planting trees.
Photograph: Owen Humphreys/PA
Green economy recovery packages for the coronavirus crisis will repair the global economy and put the world on track to tackle climate breakdown, but time is running out to implement the changes needed, new analysis has shown.
Projects which cut greenhouse gas emissions as well as stimulating economic growth deliver higher returns on government spending, in the short term and in the longer term, than conventional stimulus spending, the study from Oxford University found.
Many of the projects that could create new jobs in the UK are "shovel-ready", compliant with social distancing requirements and could be started quickly, said Cameron Hepburn, director of the Smith School of enterprise and the environment at Oxford University and lead author of the study.
He cited energy efficiency programmes to insulate the UK's draughty housing stock, the building of electric vehicle charging networks, redesigning roads for more cycling, flood protection and planting trees. "These all need large-scale deployment, offer low to moderate skilled work and will have benefits in terms of climate change as well as boosting the economy," he said.
The Oxford study compared green stimulus projects with traditional stimulus, such as measures taken after the 2008 global financial crisis, and found green projects create more jobs, deliver higher short-term returns per pound spent by the government, and lead to increased long-term cost savings. Read the whole story here.
A Satellite Lets Scientists See Antarctica's Melting Like Never Before
The New York Times
30 April 2020
New data from space is providing the most precise picture yet of Antarctica's ice, where it is accumulating most quickly and disappearing at the fastest rate, and how the changes could contribute to rising sea levels.
The information, in a paper published on Thursday in the journal Science, will help researchers better understand the largest driver of ice loss in Antarctica, the thinning of floating ice shelves that allows more ice to flow from the interior to the ocean, and how that will contribute to rising sea levels. Researchers have known for a long time that, while the continent is losing mass over all as the climate changes, the change is uneven. It is gaining more ice in some areas, like parts of East Antarctica, and losing it quickly in others, in West Antarctica and the Antarctic Peninsula. Read the whole story here.

7 energy-sucking activities I stopped doing during quarantine
Treehugger
by Lindsey Reynolds
29 April 2020
© L. Reynolds - Dirty hair, don't care.
By now, we've probably all seen the articles that suggest we should use this worldwide lockdown to get in the best shape of our life, go vegan, meditate every day, and learn how to bake the perfect sourdough bread from a starter you sourced from a kindly old baker in your local village. I plan on doing all of those things, really, sometime in the very near future. But there is something to be said about simply stopping — or putting a strong pause on — everyday activities that aren't really necessary.
If you've read Lloyd Alter's experiment about lowering his carbon footprint, you'll see what a challenge it is for any eco-conscious person. The biggest emissions, on a personal level, come from our meat and dairy consumption, fossil-fuel based energy, car use, and air travel. And we should never forget that 20 fossil fuel companies can be directly linked to more than one-third of greenhouse gas emissions worldwide. But like Lloyd has written before: "It is too easy and simplistic to blame the building industry, the power companies and the oil industry, when we are buying what they are selling. Instead, we should be sending up some signals."
I have yet to calculate my own footprint, but I would like to think by stopping some of these arbitrary habits, we could all help the planet a little more, and emit a little less chemicals into our precious air. Of course, healthcare workers, farm workers, and the countless underpaid, overworked, hourly wage earners do not have the luxury of these choices; which means those of us who do have the means, can and should cut back where we can. Cutting back on what might seem "essential" is easier than you think.
Showering every day

Wearing makeup

Changing clothes daily

Wasting food

Shaving

Washing my hair

Driving. Anywhere.
Read the whole story here.

The world is on lockdown. So where are all the carbon emissions coming from?
Grist
27 April 2020
Image credit: Tayfun Coskun / Anadolu Agency / Getty Images
Pedestrians have taken over city streets, people have almost entirely stopped flying, skies are blue (even in Los Angeles!) for the first time in decades, and global CO2 emissions are on-track to drop by … about 5.5 percent.
Wait, what? Even with the global economy at a near-standstill, the best analysis suggests that the world is still on track to release 95 percent of the carbon dioxide emitted in a typical year, continuing to heat up the planet and driving climate change even as we're stuck at home.
A 5.5-percent drop in carbon dioxide emissions would still be the largest yearly change on record, beating out the financial crisis of 2008 and World War II. But it's worth wondering: Where do all of those emissions come from? And if stopping most travel and transport isn't enough to slow down climate change, what will be?
"I think the main issue is that people focus way, way too much on people's personal footprints, and whether they fly or not, without really dealing with the structural things that really cause carbon dioxide levels to go up," said Gavin Schmidt, a climatologist and the director of the NASA Goddard Institute for Space Studies in New York City. Read the whole story here.

4 foods that are likely to suffer from climate change
Treehugger
23 April 2020
Public Domain Unsplash / Timothy Newman
Climate change threatens many of the world's favorite foods. A writeup in National Geographic's Earth Day 2020 magazine by Daniel Stone lists seven "charismatic foods" that we can expect to "morph in appearance, nutritional value, availability, and price as growing regions shift and farmers turn to warm-weather crops."
Right now, it's easy to take for granted foods that grow far away and are imported to wherever we live. It's easy to deny that climate change will affect their production, or to assume (erroneously) that warmer weather means longer and better growing conditions. The former may be true, but the latter not necessarily: "Lack of rainfall or insufficient cold weather could stunt even the best-laid seeds and plans," Stone writes.
The UN's Intergovernmental Panel on Climate Change does not expect the world to lose much arable land before 2050 and says that few foods will disappear by then, but we should certainly brace ourselves for changes to crops and diets. The best thing we can do is start to accustom ourselves to a more locally-sourced diet. For someone like myself, living in Ontario, Canada, that means acquiring a taste for cabbage and apples in January over lettuce and strawberries flown from California.
The following list reveals several of the foods that Stone thinks will change in coming decades. Some are not surprising, having been discussed on TreeHugger numerous times. All are likely to become more expensive, due to shrunken crop yields. 
1. Coffee
2. Bananas
3. Wine
4. Olives
Read the whole story here.
On Earth Day 2020, coronavirus shutdowns are a gift to the environment
CNET
22 April 2020
NO2 amounts have dropped with the coronavirus quarantine, Chinese New Year, and a related economic slowdown. (Image credit: NASA)
It appears the COVID-19 pandemic has given the planet a gift for Earth Day 2020. The coronavirus has taken billions of people off the streets around the globe and slashed international travel. And all those people staying at home seem to be a collective weight off the shoulders of the global environment in certain observable ways.
Leatherback sea turtles are among the many species enjoying the extra space ceded by humans. Beaches in Thailand with a dearth of human tourists are now seeing the highest number of the rare reptiles' nests in two decades. 
Elsewhere, the Himalayas are visible from parts of India for the first time in decades, other animals like kangaroos and goats have more freedom to roam, and life everywhere just seems to be breathing easier. Read the whole story here.
Don't forget about climate action
The New York Times
Climate Fwd:
15 April 2020
Photo Illustration by The New York Times; Shutterstock
It can be hard to process any more bad news right now. But the climate fight won't be over when this pandemic is. While you needn't feel constantly productive in these stressful times, you might still be wondering how to stay environmentally engaged. If you've done what you can to support those affected by the coronavirus — and have the privilege of staying home with newfound time — why not tick a few items off your carbon-footprint-reduction checklist? Here are some ideas.
Home: Program your thermostat: Although an estimated 41 percent of Americans have programmable thermostats, just 12 percent actually program them. By setting yours to automatically change with the time and season, Brenda Ekwurzel, director of climate science at the Union of Concerned Scientists, said you could reduce "heating and cooling emissions by 15 percent."
Get cleaner power: Research solar panels (some companies are promoting contact-free installations) and community solar. Or, if you live in a deregulated energy state, look into switching to a green provider.
Kill energy vampires: Nearly 5 percent of our total residential electricity usage comes from devices that stay plugged in when they're not being used. So Dr. Ekwurzel suggested putting devices on a single power strip that you can easily switch off.
Adjust your water heater: According to the Department of Energy, lowering the temperature of your water heater to 120 degrees Fahrenheit from 140 degrees (or to about 50 Celsius from 60) could reduce its annual energy usage by as much as 22 percent.
Food: Experiment with climate-friendly recipes: Going vegetarian could reduce your food-related footprint by a third — but even if you're a devoted carnivore, Dr. Ekwurzel said simply eating less meat "makes a big difference over the long run." To stay stocked on produce, search for farmers' markets near you; many remain open or are offering online ordering. (GrowNYC has a list of area farmers with delivery or pickup.) Adding frozen veggies to your grocery list isn't a bad idea, either.
Join a Community Supported Agriculture Program: As another way to avoid "buying agricultural products that have been flown around the world," Laurel Hanscom, chief executive officer of the Global Footprint Network, recommended subscribing to a community supported agriculture program. (Just note that, if spring hasn't yet sprung in your region, it may be a while before your first delivery!)
Compost: The Environmental Protection Agency says food is the biggest single contributor to our landfills, constituting an incredible "22 percent of discarded municipal solid waste." Keep your scraps out of the landfill by (finally!) starting a compost pile.
And moreGo paperless: Spend 20 minutes registering for digital statements from all of your accounts. While you're at it, reduce your unwanted junk mail, too.
Buy carbon offsets: Remember when traveling was a thing? Well now is the perfect opportunity to purchase offsets for prior adventures.
Get educated: Use your downtime to catch up on climate change books, documentaries and podcasts.
Make your voice heard: Ms. Hanscom urged readers to "encourage your representatives to fight for climate-forward policies in the bailouts and stimulus packages." (Luckily, you can do that from the couch.)
However you spend these next few weeks and months, Ms. Hanscom said the coronavirus has shown us "how connected we all are in terms of our decisions." So, moving forward, she said, it's important to ask: "How can we take these lessons to thoughtfully bring ourselves, humanity and the planet, back into balance?"
Exploring the link between education and climate change
Phys.org
13 April 2020
Photo credit: CC0 Public Domain
What are the most effective ways to achieve desired sustainable development outcomes across all aspects of wellbeing, and how might the pursuit of some of these goals affect progress toward others? A new study by an international team of researchers aims to address these questions to help understand possible synergies and tradeoffs among these goals.
The importance of pursuing sustainable development poses a challenge to scientists in terms of determining the most effective ways to achieve desired outcomes across health, education, poverty, energy, the environment, and many other aspects of wellbeing, as well as how the pursuit of some of these goals might affect the achievement of others.
A study published in the journal Nature Sustainability brings together several different connections between particularly education and climate change and evaluates them together...
...According to the researchers, one of the more surprising results of the study is that increasing educational attainment tends to lead to a small increase in emissions that drive climate change. Many other studies have found that slower population growth leads to lower emissions. In this case however, the authors found that if increased educational attainment is taken into account, the reductions in emissions from a smaller population can be more than offset by the boost to economic growth that education also provides.
A second unexpected finding was the size of the positive effect of education on vulnerability. If optimistic increases in educational attainment can be achieved in developing countries in the future, the reduction in vulnerability, as measured by the Human Development Index, can be quite large. Read the whole story here.

Here's what a coronavirus-like response to the climate crisis would look like
Los Angeles Times
24 March 2020
The blades of wind turbines catch the breeze at the Saddleback Ridge wind farm in Carthage, Maine. (Robert F. Bukaty / Asssociated Press)
Both the COVID-19 pandemic and climate change are global crises with the power to derail economies and kill millions of people.
Society has moved far more aggressively to address the coronavirus than it has the climate crisis. But some experts wonder if the unprecedented global mobilization to slow the pandemic might help pave the way for more dramatic climate action.
Leah Stokes, a political scientist at UC Santa Barbara, pointed out that aggressive steps to reduce planet-warming emissions — such as investing in solar and wind power, switching to electric cars and requiring more efficient buildings — wouldn't be nearly as disruptive to everyday life as the stay-at-home orders that have defined the novel coronavirus response. Read the whole story here.
Use Coronavirus Rescue Packages to Fight Climate Change: UK Adviser
The New York Times
by Reuters
24 March 2020
British Parliament Building (Photo credit: Sundar M - Flickr)
LONDON — Gigantic stimulus packages to prop up the world economy during the coronavirus crisis should be designed to tackle climate change, according to a senior adviser from Britain which is hosting the next U.N. summit on global warming.
With governments pouring money into the economy at levels unseen since World War Two, many politicians, economists and campaigners are calling for the measures to accelerate a lasting shift away from polluting coal, oil and gas.
The epidemic, which has killed more than 16,500 people worldwide and infected nearly 380,000, has given a temporary respite to the planet thanks to the shutdown of large swathes of the global economy. Read the whole story here.
"It almost certainly looks as if (global) CO2 emissions will go down this year but I wouldn't take any false security from that," Chris Stark, chief executive of the Committee on Climate Change, an independent body advising the British government on how to meet its climate goals, told Reuters.
"The question is what happens after. We locked in higher global CO2 emissions after the last global financial crisis."
The coronavirus has taken global attention away from environmental issues in what had been seen as a crucial year for implementing an agreement brokered in Paris in 2015 to try to avert catastrophic climate change and parallel international talks to try to save threatened species from extinction. Read the whole story here.

The world's top climate negotiator is feeling optimistic. She says you should too
CNN Project Planet
19 March 2020
Schoolchildren march during a climate change protest in Auckland, New Zealand. Figueres believes protests like this one will bring about change.
At first glance, Christiana Figueres doesn't have that many reasons to be optimistic.
The Costa Rican diplomat played a pivotal role in negotiating the Paris Climate Agreement in 2015. But while the deal was widely praised as a landmark achievement, it has since begun to crumble.The United States left the pact under President Donald Trump, and negotiations over key aspects of the deal's implementation have repeatedly failed.Yet Figueres says she still feels upbeat about fighting climate change.
"It's a deliberate choice," she told CNN in a video call. "This is not about subjecting ourselves to huge sacrifices that lead us to feeling that we're having a worse life, it's actually exactly the opposite," she said."This is about moving toward a much better life, a life that has better health conditions, that has better urban conditions, that has better transport conditions, that has safer investment conditions." Read the whole story here.

Here are the top ways the world could take on climate change in 2020
Grist
19 March 2020
The climate think tank Project Drawdown first took on the question "what's really the best way to stop climate change" in 2017 — and came up with a hundred answers, from cutting food waste to implementing alternative refrigerants. Now, Project Drawdown has updated its original list to incorporate the latest findings.
The name references the day when humanity switches from emitting carbon dioxide to storing it and begins drawing down the carbon we've dumped into the atmosphere. The team compiled its recommendations, which were first published as a bestselling coffee table book, based on rigorous scientific analysis of the costs and carbon savings of every solution available at scale today.
Jonathan Foley, an environmental scientist and the executive director of Project Drawdown, chatted with us about the changes — and explained why we don't need technological breakthroughs or political miracles to bring the world to net-zero carbon emissions. Read the whole story here.

Paper That Blames The Sun For Climate Change Was Just Retracted From Major Journal
ScienceAlert
5 March 2020
Sun spots (Photo courtesy of PBS)
A paper published last year that claimed global warming was all to do with the Sun has been retracted. Nature Publishing Group-owned Scientific Reports has found that the paper's conclusion was based on a flawed assumption.
The decision comes after sharp criticism from the scientific community prompted the journal's editors to undertake a further review of the study.
The paper, titled "Oscillations of the baseline of solar magnetic field and solar irradiance on a millennial timescale," led by mathematician Valentina Zharkova of Northumbria University in the UK, was published in June 2019.
It claimed that human activity was not to blame for the roughly one degree rise in global temperatures since the Industrial Revolution, and therefore we can avoid culpability for the shockingly fast upward trend of global temperatures having devastating effects on communities and ecosystems around the world.
Instead, the paper claimed that rising temperatures were due to the changing distance between Earth and the Sun, because of the way the Sun moves around. Read the whole story here.

Carbon Brief: UK carbon emissions have fallen by 29% in last decade
ClimateAction.org
3 March 2020
In 2019, Carbon Brief found that the UK's CO2 emissions fell by 2.9%, bringing the total reduction to 29% over the past decade since 2010, even as the economy grew by a fifth.
Coal use fell by 29% last year, which Carbon Brief say was the main driving force behind the decline in UK emissions in 2019, with oil and gas use largely unchanged. Carbon emissions from coal have fallen by 80% over the past decade, while those from gas are down 20% and oil by just 6%.
The 2.9% fall in 2019 marks a seventh consecutive year of carbon cuts for the UK, the longest series on record. It also means UK carbon emissions in 2019 fell to levels last seen in 1888.
This week, the UK Government have opened a new consultation to support the renewable energy supply chain to enhance productivity and increase competitiveness. The Government plan to make the UK a world-leader in new technologies such as floating offshore wind, which would allow wind farms to be built further away from the shore and increase clean energy capacity. Read the whole story here.
10 Things You Can Do About Climate Change, According To The Shepherds Of The Paris Agreement
Forbes
25 February 2020
Former United Nations climate chief Christiana Figueres at the U.N Climate Conference in Le Bourget - ASSOCIATED PRESS
Christiana Figueres once credited the Buddhist teacher Thich Nhat Hanh with helping her shepherd 192 countries from blaming to collaborating, from paralysis to empowerment in the Paris Agreement.
Now Figueres and her strategic advisor, former Buddhist monk Tom Rivett-Carnac, have penned a book that shepherds climate activism from changing mental states to changing the world.
"Throughout our lives we have found that what we do and how we do it is largely determined by how we think." Read the whole story here.
How to Buy Carbon Offsets That Actually Help the Environment
LifeHacker.com
20 February 2020
Illustration: Benjamin Currie
Carbon offsets can seem too good to be true. In theory, the offsets work like a big sponge sopping up all the emissions you put into the environment when traveling by plane or riding in a car. It all comes at a relatively low cost, as well: you can offset emissions for a 12-hour flight for the price of an airport cocktail.
They've skyrocketed in popularity in recent years. Most people might know them only as a little feel-good box you can check when booking a plane ticket through some carriers, but now you can buy them through various providers whenever you feel particularly carbon bloated. One of the providers, the non-profit Cool Effect, saw a 700 percent increase this summer, thanks in part to teenage climate activist Greta Thunberg, who sailed a boat across the Atlantic to America in order to bring attention to the carbon emissions of airplane travel.
"That boat that she took put it on the main stage. It was really incredible," said Blake Lawrence, marketing manager for Cool Effect. "Over the period of a week and a half we saw an incredible amount of interest in travel offsets."
But because we live in a dark timeline, even this seemingly positive step toward fighting climate change has some pitfalls, possible scams and bad-faith operators. Here's what you need to know to navigate carbon offsets and put them to best use for the planet. Read the whole story here.
Climate change could make premiums unaffordable: QBE Insurance
Reuters
17 February 2020
Image credit: Insurance and Risk Australia
SYDNEY (Reuters) - Australia's QBE Insurance Group (QBE.AX) said on Monday climate change could make some premiums unaffordable, especially for customers exposed to extreme weather events, and was a "material risk" for its operations across the globe.
During 2019, QBE's net Australia-Pacific cost of catastrophe claims jumped to $193 million from $106 million the year before, led by unprecedented floods in Australia's north east coast and horrendous bushfires across the country's south east.
The insurer said it has started to adjust its catastrophe models to factor in the expected impacts of climate change until 2100, and would assess the impact on its weather-related exposures from emissions and temperatures.
In the short-term, QBE would manage higher claims by considering event frequency and severity in its capital planning and will deploy a comprehensive catastrophe reinsurance program, it said.
Over the long-term, it expected the physical impacts of climate change "will result in our customers seeking increased insurance for the protection of their assets and the services they provide."
"This may cause insurance premiums to become unaffordable, especially for customers in areas more exposed to weather-related events, potentially resulting in a loss of revenue." Read the whole story here.

Climate change: are adults doing 'nothing'?
Cayman News Service
Viewpoint
by Tammy Kelderman
14 February 2020
Greta Thunberg (Photo credit: Bloomberg.com)
Greta Thunberg, Swedish teen climate change activist, and her young followers claim that the adults have done "nothing" to help curb climate change in any meaningful way. It has been at least three decades since climate change first became widely known as a threat to humanity and we are all on the brink of an irreversible climate catastrophe with no real solutions being acted on. Is Greta right? Are we adults really doing "nothing"? Is it time we perhaps self–reflect and ask, "What are we really doing to help curb climate change?"
According to a 2017 joint study by Swedish and Canadian geographers, the following are among the most effective ways individuals can mitigate climate change: flying less, switching to a fuel-efficient or electric vehicle, having one less child, eating a more plant-based diet, and buying green energy, such as solar.

Source: Wynes & Nicholas (2017). The climate mitigation gap: education and government recommendations miss the most effective individual actions.
If we cannot personally check one or more of these actions off our list, Greta and her followers may just have a point. Read the whole story here.

The Five Pillars of Climate Change Denial
Snopes | The Conversation
12 February 2020
Climate change deniers (Photo credit: InTheseTimes.com)
The fossil fuel industry, political lobbyists, media moguls and individuals have spent the past 30 years sowing doubt about the reality of climate change – where none exists. The latest estimate is that the world's five largest publicly-owned oil and gas companies spend about US$200 million a year on lobbying to control, delay or block binding climate policy.
Their hold on the public seems to be waning. Two recent polls suggested over 75% of Americans think humans are causing climate change. School climate strikes, Extinction Rebellion protests, national governments declaring a climate emergency, improved media coverage of climate change and an increasing number of extreme weather events have all contributed to this shift. There also seems to be a renewed optimism that we can deal with the crisis.
But this means lobbying has changed, now employing more subtle and more vicious approaches – what has been termed as "climate sadism". It is used to mock young people going on climate protests and to ridicule Greta Thunberg, a 16-year-old young woman with Asperger's, who is simply telling the scientific truth.
At such a crossroads, it is important to be able to identify the different types of denial. The below taxonomy will help you spot the different ways that are being used to convince you to delay action on climate change. Read the whole story here.
Solving climate change: Start in the kitchen
Napa Valley Register
10 February 2020
© Liljam | Dreamstime.com
When the topic of climate change arises, most of us know we must make speedy and unparalleled changes in how we live. Still, many feel that we are already doing everything we can. We try to carpool, take public transportation, walk more instead of driving, compost, and buy produce that is grown locally. We also avoid single-use plastic bags and recycle every chance we get.
Though every action is crucial and helpful, there's one, simple, important habit that will have a high impact on reducing the emissions causing climate change: try going vegan every Thursday. No meat, poultry, fish, eggs or dairy products. One day a week. No meat, no poultry, no fish, no eggs, no dairy products. One day a week.
Eating a plant-based diet one day out of seven will reduce methane emissions from animal husbandry. Methane is a gas (natural gas) that heats the atmosphere more than 100 times as much as carbon dioxide (CO2). In addition to this powerful warming, the continued consumption of red meat in Western diets is rapidly adding other pressures on the environment. The process of meat production requires vast amounts of water and feed grain, and the energy demands of slaughtering, processing, transporting and storing meat products are intensive. Read the whole story here.
Global warming is speeding up Earth's massive ocean currents
ScienceMag.org
5 February 2020
A warming climate appears to be altering global currents, reconstructed here from satellite and ship readings. NASA/GODDARD SPACE FLIGHT CENTER SCIENTIFIC VISUALIZATION STUDIO
The oceans' great continent-wrapping currents, each one moving as much water as all the world's rivers combined, can rightly be considered the planet's circulatory system. And this circulation, it appears, has started to thump faster: For nearly 25 years the currents have been rapidly speeding up, partly because of global warming.
That's the conclusion of a new paper today in Science Advances. Based on observations combined with models, the authors claim that from 1990 to 2013, the energy of the currents increased by some 15% per decade. "This is a really huge increase," says Susan Wijffels, an oceanographer at the Woods Hole Oceanographic Institution. "It's going to stimulate a lot of other work." If the acceleration is real, it could affect jet streams, weather patterns, and the amount of heat stored in the ocean's depths. Read the whole story here.
Deep Decarbonization: A Realistic Way Forward on Climate Change
Yale Environment 360
28 January 2020
A maintenance worker at solar farm in Zacoalco de Torres, Mexico. ULISES RUIZ/AFP VIA GETTY IMAGES
In 1969, in the middle of the spiraling U.S.-Soviet arms race, international relations expert McGeorge Bundy wrote a prescient article in Foreign Affairs about how to "cap the volcano" of armaments. Success in arms control, he explained, required a laser-like focus on the strategic incentives for both sides to change behavior and stick with their agreements. Awareness of the dangers of arms racing, by itself, wasn't enough.
Today, the same kind of laser focus is needed on climate change. The problem is a lot more complicated than strategic arms control, of course — there are many more relevant countries, not just two dueling superpowers, and the problem of heat-trapping emissions is deeply embedded in the modern industrial economy. Cutting emissions to nearly zero isn't merely an activity, like redirecting the purchase of armaments, that governments can control directly. But the point remains: Success requires less moralizing and more strategizing.
Moralizing about climate has led to bold goals, like limiting warming to 1.5 degrees Celsius (2.7 degrees Fahrenheit) above pre-industrial levels — a stretch target written into the Paris Agreement on climate change. The problem is that such goals apply to everyone collectively and therefore have no strategic bite on individual countries and companies. Moralizing has inspired shaming and agitating and striking — all useful in drawing attention to the problem of climate change, just as public protests helped focus minds on the need to control nuclear weapons.
But attention on climate change is already pretty high and rising. The real challenge is taking action that delivers major cuts in greenhouse gases, and that means rewiring the incentives for key governments and corporations to change behavior and start decarbonizing the global economy. Read the whole story here.
What Was Said at Davos on Climate Change
The New York Times
27 January 2020
Prince Charles and Greta Thunberg both spoke about climate issues last week at the World Economic Forum in Davos. World Economic Forum, via Associated Press
As the effects of climate change are increasing around the world, so is talk about solutions — from businesses, governments, nonprofits, individuals (especially young ones), scientists and others. While there are many advocates for change, most experts would say progress needs to be much faster to avert global disaster.
At the World Economic Forum in Davos last week, climate change was at the top of the agenda. Talks took place in open panel discussions, hallways and private meeting rooms. Businesses and global leaders like Jane Goodall and Prince Charles made some commitments. Read the whole story here.
'Reassuring' that Trump, Thunberg are returning to Davos, top official says
The Hill
19 January 2020
© Getty Images
The leader of the World Economic Forum (WEF) said Sunday that it's "reassuring" that both President Trump and climate activist Greta Thunberg will attend the annual meeting at Davos that begins Tuesday.
WEF founder Klaus Schwab said that environmental concerns will be at the forefront of discussions at the meeting after the forum determined these concerns to be of the top five long-term risks to the global economy, according to a survey from 750 decision-makers. 
Schwab told The Associated Press that Trump will be welcome at the meeting because of his global role, while Thunberg will keep the focus on climate change. Both are scheduled to speak on the first day of the meeting.
"I think both voices are necessary," Schwab said. "The environment will play a particularly important role during this meeting."
The meeting has in recent years focused on how changing technology affects the environment and how businesses can promote stopping climate change and working for the social good. 
The founder said he hopes to bring the sense of urgency felt in the limited amount of time to act on climate change into the meeting. He added that businesses are also seeing the advantage of environmental, social and governance or "ESG." Read the whole story here.
Florida to buy Everglades land to prevent family from drilling for oil
Mother Nature Network
17 January 2020
The Everglades is a vast but delicate ecosystem that supports plants, wildlife and the humans who live near it. (Photo: Alan Sandercock [CC BY 2.0]/Flickr)
The state of Florida says it will purchase a section of land in the Everglades, effectively ending one prominent family's plans to drill for oil in an ecosystem unlike any other on the planet. If all goes as planned, it will be the state's largest land acquisition in a decade and a peaceful settlement of a dispute that had gone on for years.
The state has until June 30 to buy the 20,000-acre tract and prevent the threat of drilling on protected lands in Broward County, according to The Miami Herald. Florida Gov. Ron DeSantis was a key negotiator in the agreement, which says the state will pay $16.5 million by June 30 or $18 million if it misses that deadline.
In February 2019, a state court ordered Florida to issue an exploratory oil-drilling permit to Kanter Real Estate LLC. The well would have been in Broward County, a few miles west of the city of Miramar and near the Everglades.
"This will permanently save the land from oil production," DeSantis said at a news conference this week. "With this acquisition, there will be nearly 600,000 acres of wetlands in Water Conservation Area Three that will be protected by public ownership for recreation and restoration." Read the whole story here.

Ocean temperatures hit record high as rate of heating accelerates
The Guardian
13 January 2020
Photograph: Modis/Terra/Nasa
The heat in the world's oceans reached a new record level in 2019, showing "irrefutable and accelerating" heating of the planet.
The world's oceans are the clearest measure of the climate emergency because they absorb more than 90% of the heat trapped by the greenhouse gases emitted by fossil fuel burning, forest destruction and other human activities.
The new analysis shows the past five years are the top five warmest years recorded in the ocean and the past 10 years are also the top 10 years on record. The amount of heat being added to the oceans is equivalent to every person on the planet running 100 microwave ovens all day and all night.
Hotter oceans lead to more severe storms and disrupt the water cycle, meaning more floods, droughts and wildfires, as well as an inexorable rise in sea level. Higher temperatures are also harming life in the seas, with the number of marine heatwaves increasing sharply. Read the whole story here.
Is it wrong to be hopeful about climate change?
BBC Future
by Diego Arguedas Oritz
9 January 2020
Image credit news.stanford.edu
In 2018, a 30-minute documentary was premiered in San José, Costa Rica's capital and my hometown. The film followed the early efforts of a handful of marine biologists who are fighting coral bleaching. They grow tiny bits of coral in underwater nurseries and once they're big enough move them back to the reef, hoping to restore it.
Their pace is slow, possibly too slow to keep up with bleaching due to climate change. Warming waters swipe entire reefs in a matter of weeks. The biologists need months to nurture enough corals to restore a couple of square meters. Reef restoration seems like an impossible task, but they are relentless. It must be done to give corals a chance, so they are doing it.
It's the same principle guiding young climate activists, atmospheric scientists and climate essayists. As author Rebecca Solnit wrote in 2016: "We don't know what is going to happen, or how, or when, and that very uncertainty is the space of hope." Read the whole story here.
One thing you can do: Make your New Year's resolutions count
The New York Times
Climate Fwd:
5 January 2020
New Year's resolutions suggest an abstract faith in the future. If we do this thing, we tell ourselves, our 2020 selves will look or act or feel better than our 2019 selves did. There's an implicit acknowledgment that change is possible and that we are capable of making it happen (though just under half of us won't hold on to our resolutions through February).
Talking about fighting climate change is a lot like that: Here's what things look like if nothing changes. But if we reduce greenhouse gas emissions by a little — through the end of February, maybe — what happens? If we reduce them by a lot, what will the world look like and what will it take to make that happen?
At once we're thinking about the present, modeling the future and thinking about how those models might differ depending on what we decide to do.
Climate change tends to scramble time, defying our sense of an orderly progression. As Robert Macfarlane, the chronicler of nature, climate, and the environment, has said, "We burn Carboniferous-era fossil fuels to melt Pleistocene-era ice to determine Anthropocene future climates." Read the whole story here.

Behind the Forecast: Difference between climate change and global warming
Wave 3 News
27 December 2019
Climate change - Image credit www.naaa.gov
The terms "climate change" and "global warming" are often used interchangeably but have distinct definitions.
First, let's start with the term weather. Weather references conditions that occur in a localized area over a short time (from seconds to days). Rain, tornadoes, floods, and clouds are examples of weather.
Climate applies to long-term regional or global averages of temperatures, rainfall, and humidity across years or decades.
Global Warming:
The National Aeronautics and Space Administration (NASA) defines global warming as the "long-term heating of Earth's climate system observed since the pre-industrial period (between 1850 and 1900)."
Global warming focuses on the changes in global average surface temperatures caused by human activity, mainly the burning of fossil fuels, which increases the overall amount of greenhouse gases in the atmosphere.
Geochemist Wallace Broecker was the first to use the term in a 1975 article. Until that point, "global warming" was referred to as "inadvertent climate modification."
Since the pre-industrial era, human activity has increased the planet's global average temperature by 1.8°F. While a few degrees does not seem like much, it can have significant impacts on our day-to-day weather. Read the whole story here.
CO2 levels in the atmosphere
The Guardian
16 December 2019
Weekly averages
1 December 2019: 411.07 ppm
This time last year: 408.47 ppm
10 years ago: 387.08 ppm
Pre-industrial base: 280
Safe level: 350
Atmospheric CO2 reading from Mauna Loa, Hawaii (part per million). Source: NOAA-ESRL
Scientists have warned for more than a decade that concentrations of more than 450ppm risk triggering extreme weather events and temperature rises as high as 2C, beyond which the effects of global heating are likely to become catastrophic and irreversible. Read more about The Guardian's weekly carbon count here.
5 of the biggest environmental and climate change stories over the last decade and what's changed
ABC News
11 December 2019
A resident of Eita in the Republic of Kiribati watches as ocean water slowly floods his village, on the Tarawa atoll, Sept. 30, 2015.A resident of Eita in the Republic of Kiribati watches as ocean water slowly floods his village, on the Tarawa atoll, Sept. 30, 2015. (Photo credit: Jonas Gratzer/LightRocket via Getty Images)
Dire warnings on climate change from scientists warning about more severe consequences and less time to stop them.
Microplastics littering the ocean, the growing great Pacific garbage "patch" and dead marine animals found with plastic and other trash in their guts.
Concerns about drinking water tainted with lead and exposure to "forever" chemicals.
And a country once again leaning on fossil fuels for energy production despite a global push to reduce greenhouse gas emissions.
The last decade has produced some startling climate and environmental headlines in the United States amid growing awareness of the problems faced around the world -- as well as potential solutions for some of them.
Here are some of the things biggest developments in climate change and some of other big environmental stories of the last decade. Read the whole story and watch the video here.

Fingerprints of climate change are increasingly appearing in extreme weather
Science News
10 December 2019
Flash flooding on May 27, 2018, turned Main Street in Ellicott City, Md., into a river. The heavy rains throughout much of 2018 that led to the mid-Atlantic region's floods were made more likely by human-caused climate change, scientists say. (Photo credit: LIBBY SOLOMON/THE BALTIMORE SUN VIA AP)
Extremely low sea ice in the Bering Sea. Heavy rainfall in the mid-Atlantic United States. Wildfires in northeast Australia.
Examinations of these and 16 other extreme weather events that occurred in 2018 found that all but one were made more likely due to human-caused climate change, scientists reported December 9 at a news conference at the American Geophysical Union's annual meeting. Insufficient observational data made it impossible to assess the influence of climate change on the one event, heavy rains in Tasmania.
The new report marks the third year in a row that scientists have identified specific weather events that they said would not have happened without human activities that are altering Earth's climate.
The findings are part of a climate-attribution special issue, called "Explaining extreme events in 2018 from a climate perspective," published online December 9 in the Bulletin of the American Meteorological Society. Over the 11 years that BAMS has published the special issue, it's included 168 studies examining specific weather events. Of those, 122, or 73 percent, found that climate change likely played some role in the event, the special issue's editor Stephanie Herring said at the news conference. In some cases, that means the event was more likely to occur due to human actions; in a few studies, researchers have concluded that the event would not have occurred without climate change. 
Finding a role is becoming more common; the special issues tied to events in 2017 and 2016 found that climate change was linked to 95 percent of the events studied (SN: 12/14/17; SN: 12/11/18).
Rather than being a cause for despair, identifying humankind's role in these events should be seen as a way to provide new data in the fight to prepare for climate change, BAMS Editor in Chief Jeff Rosenfeld said in the news conference. "Instead of stoking fear, I think having real quantifiable information like this puts that human fingerprint in terms that we can actually act [on] without getting overwhelmed." Read the whole story here.

Countries are not doing enough to keep Earth's temperature from rising to near-catastrophic levels, a UN report says
CNN
26 November 2019
Image Credit: CarbonBrief.org
A new United Nations report paints a bleak picture: The commitments countries pledged to limit the climate crisis are nowhere near enough to stave off record-high temperatures. Delaying change any further will make it impossible to reach desired temperature goals.
The time for "rapid and transformational" change to limit global warming is now, the report says.The UN Environment Program (UNEP) 2019 Emissions Gap report calls on countries to strengthen the commitments made in the 2015 Paris Agreement to stall climate change.
Current measures will not keep global temperature increases within the 1.5-to-2-degree Celsius range (a "safe" level to which temperatures can rise and not cause devastation, though 1.5 degrees is preferable), according to the report issued Tuesday.
Greenhouse gases reached a record high in 2018 with no sign of peaking, according to a World Meteorological Organization report released Monday. Carbon dioxide levels reached 407.8 parts per million, a unit used to measure the level of a contaminant in the air. 
At the current rate, temperatures are expected to rise 3.2 degrees Celsius (5.8 degrees Fahrenheit) by 2100, the UNEP report states.
The changes the UNEP suggests are extreme: To get Earth back on track to the 1.5-degree goal, countries must multiply their commitment level, or the level at which they pledge to reduce their emissions, five times the current rates outlined in the Paris accords.
That means global greenhouse gas emissions must fall at least 7.6% every year to remove 32 gigatons of carbon dioxide from the atmosphere.
Incremental change is no longer enough to stall off the potentially devastating effects of a changing climate, the report's authors write.
What the world needs now, they say, is "rapid and transformational action." Read the whole story here.
Wealth alone won't save countries from climate change
Reuters
20 November 2019
Storm over Chesil Beach, Portland, UK
(Image credit: Natural Environment Research Council)
LONDON (Thomson Reuters Foundation) - Wealth alone will not shield economies from the impact of climate change, researchers said on Wednesday, urging governments to build flood defenses and early warning systems to stem financial losses.
Climate research has shown that poor people in tropical countries are most vulnerable to economic loss caused by global warming.
But countries that aggressively prepare for climate impacts like hurricanes and heatwaves will fare drastically better financially than others with similar economies, according to a report by the Economist Intelligence Unit.
For example, by 2050, Russia's economy will be 5% smaller than it would have been without the impact of climate change. 
Argentina, which has done more to prepare, will only contract by 2% despite having similar levels of economic development, said the study.
"Argentinean leadership recognizes that climate change represents a risk to Argentina's long-term growth rate, most obviously through its impact on the important agriculture sector," said the report.
It linked Russia's estimated losses to "widespread climate change scepticism among much of the Russian business community and a lack of broader public engagement". Read the whole story here.
Can carbon offsets tackle airlines' emissions problem?
The Guardian
19 November 2019
Carbon emissions from commercial flights are growing up to 70% faster than predicted. Photograph: Roger Bamber/Alamy
Global carbon emissions from the aviation industry are growing faster than expected, and pose a serious risk to the world's climate efforts if left to grow unchecked. The rise of flygskam, or "flight-shame", has spurred airlines and travel companies to offer customers the option of offsetting the carbon emissions of their flights. But not everyone is convinced that climate sins can be absolved through projects based on simple carbon accounting.
What is carbon offsetting?
Offsetting involves calculating the emissions of a trip or activity and then purchasing "credits" from projects that prevent or remove the equivalent amount of greenhouse gases elsewhere. Many accredited carbon offsetting schemes involve planting trees to absorb carbon dioxide from the atmosphere, which according to recent research could play a major role in helping to tackle the climate crisis. Other schemes invest in renewable energy projects which save carbon emissions by replacing fossil fuels alternatives. Growing awareness of the climate crisis, and the "Greta Thunberg effect", has driven demand for carbon offset schemes. The amount of investment from people who hope to "cancel" their carbon footprints has climbed fourfold in recent years, according to the offsetting watchdog Gold Standard. Read the whole story here.
How has climate change affected you in 2019?
Grist
18 November 2019

Grist / PeopleImages / Westend61 / Getty Images
2019 sure has been a doozy of a year for climate change, huh? From wildfires to floods and cold snaps to heatwaves, people around the world have been seeing the effects of our sweltering planet in their own backyards. And it's not just the weather — rising temperatures are reshaping every part of our life. It's changing where we can grow food and how we get sick. It's hitting some places — and people — worse than others, but most of us are feeling the heat one way or another. And accordingly, the topic of climate is starting to pop up in seemingly unrelated political conversations, like those about gentrification or foreign relations.
Here at Grist, we're doing our best to cover all the trends and big events as they're happening. But we also know that behind all the headlines and statistics are people living their lives. As the year wraps up, we want to know how climate change has affected you. Did you live through one of the big catastrophes of the year, like the flooding in the Midwest? Did you decide not to buy that house in California after seeing another season of wildfires? Did you have tomatoes in your garden through November?
Big or small, widely reported or not, life-changing or inconvenient or just sort of weird, we want to hear your story. We'll round up our favorites for a future Grist story. Click here to complete the survey.

US begins formal withdrawal from Paris climate deal
Loop Cayman
4 November 2019
President Donald Trump has been promising withdrawal for two years.
The United States has told the United Nations it has begun the process of pulling out of the landmark 2015 Paris climate agreement.
Secretary of State Mike Pompeo said Monday that he submitted a formal notice to the United Nations. That starts a withdrawal process that does not become official for a year. His statement touted America's carbon pollution cuts and called the Paris deal an "unfair economic burden" to the US economy.
Nearly 200 nations signed the climate deal in which each country provides its own goals to curb emissions of heat-trapping gases that lead to climate change...
...With a hand-delivered letter, the US is the first nation to pull out of the deal. Agreement rules prevented any country from pulling out in the first three years after the November 4, 2016, ratification.
President Donald Trump has been promising withdrawal for two years, but Monday was the first time he could actually do it.
Trump's decision was condemned as a reckless failure of leadership by environmental experts, activists and critics such as former New York City Mayor Michael Bloomberg.
"Donald Trump is the worst president in history for our climate and our clean air and water," said Michael Brune, the executive director of the Sierra Club. "Long after Trump is out of office, his decision to withdraw the United States from the Paris Agreement will be seen as a historic error." Read the whole story here.

Former Exxon CEO Tillerson denies misleading investors in climate case
Reuters
30 October 2019

NEW YORK - Former Exxon Mobil Corp Chief Executive Officer Rex Tillerson on Wednesday denied misleading investors about how the oil major measured potential costs of climate change, as he testified in a closely watched civil lawsuit brought by New York's attorney general.
The case, filed last October in Manhattan state court, last week became the first of several climate-related lawsuits against major oil companies to go to trial.
The attorney general alleges that Exxon caused investors to lose up to $1.6 billion by falsely telling them it had properly evaluated the impact of future climate regulations on its business. The company used a "proxy cost" of up to $80 per ton of carbon emissions in wealthy countries by 2040, but internally used figures as low as $40 per ton or none at all, the attorney general has said.
Exxon has assailed the claims as false and politically motivated. Read the whole story here.
A new estimate triples the number of people in the path of rising seas
Science News
29 October 2019
A new method for assessing coastal elevation suggests sea level rise could threaten areas now home to up to 480 million people by 2100. Most of those facing flood risks live in Asia, including in the Indonesian capital of Jakarta (shown).
Sea level rise this century could flood coastal areas that are now home to 340 million to 480 million people, researchers from Climate Central, a research and advocacy group, report. That's roughly triple the number of people estimated to be at risk using previous coastal elevation data.
The new estimate, published October 29 in Nature Communications, comes from efforts to refine NASA satellite elevation data, and it illustrates the implications of elevation data having been overestimated in some places by up to 5 to 10 meters. The results are presented in terms of how many people, by today's population numbers, could be affected, but don't predict how many people will actually be living in those coastal areas in 2100.
"The global threat from sea level rise and coastal flooding is far greater than what we thought it was," says Benjamin Strauss, who heads Climate Central in Princeton, N.J. Read the whole story here.

Why it's so hard to talk about climate change
Dame Magazine
28 October 2019
Photo credit: wired.com
As an African-American woman working in a predominantly white environmental space, I've had more than one engagement with white people who assume that just because I've worked in or with large environmental groups, I "get it" and must see solutions the way that they do. How very wrong. The "how" we talk about climate change is becoming more and more important to implementable solutions as communities of color recognize their value and importance to the answer. Truth is, privilege has always existed in the climate space just like it does everywhere else. But due to the urgency of the climate crisis and the small universe of climate groups, we no longer have the luxury of tolerating said privilege. Our planet requires climate action now, and it requires all of us.
Acting under the guise of white privilege denies groups the opportunity to learn from each other and enact culturally innovative ideas that can solve more than one problem at a time. Let's face it, when I say the words "climate change" most Americans think vegan white people in Birkenstocks who care more about polar bears than people. While this perception of the environmentalist couldn't be further from the truth, the practice of white privilege in our country and the resulting disconnect with communities of color is our present reality. Privilege interferes with our ability to understand why people reject certain solutions. It prevents people from hearing the real-time pain associated with being left out of a decision that will directly impact them and their families for generations to come. No one is denying a variety of solutions should be considered, but how we discuss it prevents the implementation. 
A glaring example is the conversation around food and its relations to climate change. The Intergovernmental Panel on Climate Change (IPCC) United Nations Climate Report encourages the world to eat less meat in order to reduce the impacts of climate. The study shows that moving to a plant-based diet would be a positive adapter to a changing climate. However, when coupled with the message that in order to protect the Earth, we should search the grocery store for "sustainably fished, organic or "grain fed" products; communities of color, particularly those that are located in food deserts, laugh. The NAACP put it best: "Environmental injustice and climate change are about the fact that in many communities it is far easier to find a bag of Cheetos than a carton of strawberries and this only stands to get worse as drought and flooding impact the availability and affordability of nutritious food." Read the whole story here.
Revealed: the 20 firms behind a third of all carbon emissions
The Guardian
9 October 2019
Chevron's Kern River oil field in Bakersfield, California. Photograph: Guardian Design
The Guardian today reveals the 20 fossil fuel companies whose relentless exploitation of the world's oil, gas and coal reserves can be directly linked to more than one-third of all greenhouse gas emissions in the modern era.
New data from world-renowned researchers reveals how this cohort of state-owned and multinational firms are driving the climate emergency that threatens the future of humanity, and details how they have continued to expand their operations despite being aware of the industry's devastating impact on the planet.
The analysis, by Richard Heede at the Climate Accountability Institute in the US, the world's leading authority on big oil's role in the escalating climate emergency, evaluates what the global corporations have extracted from the ground, and the subsequent emissions these fossil fuels are responsible for since 1965 – the point at which experts say the environmental impact of fossil fuels was known by both industry leaders and politicians.
The top 20 companies on the list have contributed to 35% of all energy-related carbon dioxide and methane worldwide, totalling 480bn tonnes of carbon dioxide equivalent (GtCO2e) since 1965. Read the whole story here.

'We're looking for common ground': Canadian scientist and 'Champion of the Earth' on talking to climate skeptics
CBC What on Earth?
3 October 2019
Katharine Hayhoe is a Canadian climate scientist with a big voice. A professor at Texas Tech University's department of political science and director of the university's Climate Center, Hayhoe has been fervent in communicating the challenges and reality of climate change, as well as the solutions to limiting global warming to 2 C above the pre-industrial average.
Hayhoe's work recently earned her the United Nations 2019 Champions of the Earth award. Nicole Mortillaro spoke to her about the challenges of communicating the realities of climate change.
What are the biggest hurdles for you in getting the message out about climate change?
There is a massively funded and very intelligent disinformation campaign that is trying to muddy the waters on everything that we do. So it is really kind of like the Girl Guides trying to fight the Marines here.
When we first started, we [were] naive. We thought, well, surely the truth will win if we just tell people the truth. But it's such a highly politically polarized topic. And sadly, it isn't just limited to the U.S. anymore. In Canada, it's becoming increasingly politically polarized as well. 
Why do you think it's become politicized?
It's become politicized because, if you go to Wikipedia and you just run your eyes down the list of the richest corporations in the world, No. 1 is Walmart. After Walmart, you have petroleum, petroleum, petroleum, energy, energy, petroleum, petroleum, energy, petroleum. So, we are talking about solutions that are overall beneficial for almost everybody on this planet, with one exception. And the one exception are the industries that currently hold the balance of power and wealth in this world.
Can you change people's minds with facts?
Facts are not what change people's minds because people have made the rejection of climate change part of their personal identity. And so changing their mind about climate change would require them to change their idea of who they are… 
People don't truly have a problem with basic science, because if they did, they would also be rejecting stoves and fridges and airplanes. What they have a problem with is not the actual science. They have a problem with the perceived solution. We see the solution to be liberal, to be socialist, to be — as [former prime minister Stephen] Harper famously put it — the economy versus the environment. We see the only solutions to be harmful and punitive and potentially even worse than the impact, especially in Canada, where many people feel, "Isn't warmer better?"
But the reality is, there are many solutions that are extremely beneficial, that help us improve air quality, reduce our water use, grow the economy, grow local jobs. 
What bothers you the most about climate change science communication?
If we want to have constructive, positive conversations that move the dialogue along, we have to begin that conversation with what we most agree with, with that person, or those people or that organization, rather than what we disagree with her about. Not the Bill Nye approach, but rather the approach where we're looking for common ground.
Those of us who are doing it, it is not part of our job description. It is not part of our daily routine, it is something that we're doing … above and beyond what we're actually doing in terms of our teaching and our research and our service. And it is a woefully, woefully under-supported and underfunded initiative.
This interview has been edited and condensed.
Sea level rise threat growing, says UN
Cayman News Service
1 October 2019
In its latest report on the impact of climate change on the world, a UN panel laid bare the severe risk to coastal cities and low-lying islands from the sea, which is rising faster than scientists have ever predicted. The Intergovernmental Panel on Climate Change (IPCC) said the threat to hundreds of millions of people from the acceleration in the rate that sea levels are rising is due to a combination of melting ice in the polar regions and ocean expansion caused by warmer water.
While other elements of climate change, such as increasingly intense storms, potential drought and coral bleaching, are going to impact Cayman, sea level rise is perhaps one of the biggest threats to these islands. The impact on coastal property, the erosion of our beaches and increased flooding will wreak havoc in the next few decades.
Researchers have warned that extreme floods, the likes of which have historically only occurred once per century, are likely to happen at least once per year by 2050 in many regions, especially the tropics, even if global warming is limited to 1.5°C — and that remains a big 'if'. Despite pledges from world leaders to cut greenhouse gas emissions, the levels of carbon dioxide in the atmosphere is still rising.
Global warming has already reached 1°C above pre-industrial levels, with overwhelming evidence that this is resulting in profound consequences for ecosystems and people. The ocean is warmer, more acidic and less productive. While the sea level has risen globally by around 15cm during the 20th century, it is currently rising more than twice as fast — 3.6mm per year — and accelerating, the report showed. Read the whole story here.
UN Climate Action Summit rejects talk, demands plans
Cayman Compass
23 September 2019
Environmental activist Greta Thunberg, of Sweden, addresses the Climate Action Summit in the United Nations General Assembly, at the UN headquarters, on Monday. - Photo: AP
United Nations Secretary General Antonio Guterres opened Monday's Climate Action Summit with a call to action: "The climate crisis comes from us and the solutions must come from us."
Speaking from UN headquarters in New York City, Guterres rejected talk on climate change and insisted world leaders go beyond words.
"This is not a climate negotiation summit because we do not negotiate with nature. This is a climate action summit," he said.
Guterres described alarming signs of climate change that are already in play, from expansion of deserts to acidification of oceans.
He described increasingly frequent and more deadly storms, such as Hurricane Dorian in the Bahamas, where he called the destruction "apocalyptic".
"Make no mistake, when we see these images, we are not just seeing damage, we are seeing the future if we do not act," he said.
In the Polynesian island nation of Tuvalu, he described "an entire country fighting for its very existence against the rising seas". Read the whole story here.
The carbon budget: What it is, why it matters
CBC: What on Earth?
19 September 2019
"If we are to have a 67 per cent chance of limiting the global temperature rise to below 1.5 degrees [C], we had, on Jan. 1, 2018, 420 gigatonnes of carbon dioxide left in our CO2 budget. And of course, that number is much lower today. We emit about 42 gigatonnes of CO2 a year. At current emission levels, that remaining budget is gone within 8 1/2 years."
Those words were delivered by youth climate activist Greta Thunberg to the French parliament on July 23, 2019. She said she has not heard much on the subject of a "carbon budget," either from politicians or the media. But what's left in our carbon budget is of utmost importance if we hope to limit global warming. 
Simply put, this budget refers to how much carbon — which includes CO2 and other greenhouse gases like methane — we can emit into the atmosphere before we pass the point of warming the Earth to 1.5 C or 2 C.
The carbon budget was discussed in the first of three special reports by the Intergovernmental Panel on Climate Change (IPCC), released in October 2018. The final instalment, the Special Report on the Ocean and Cryosphere in a Changing Climate (SROCC), will be discussed in Morocco this weekend, with a summary due to be released next Wednesday.
The Paris Agreement seeks to limit a global temperature rise to 2 C above pre-industrial levels this century (with a goal of keeping it to 1.5 C). The key to understanding the carbon budget is that even if countries keep in line with the Paris accord, if the budget is depleted by then, it won't matter. The damage will already be done. And it will be irreversible.
"If you think about annual emissions and reducing emissions without thinking about the carbon budget, you could really blow past the Paris Agreement," said Brenda Ekwurzel, director of climate science at the U.S.-based Union of Concerned Scientists. "That's the trouble."
After a few years of stable global CO2 emissions, they rose in 2018, and there are concerns they may rise again in 2019.
If we don't pay attention to the carbon budget, it increases the chance of a host of global problems: the loss of coral reefs, no summer sea ice in the Arctic, more severe weather events and changes in crops that could lead to further food scarcity. 
If it sounds dire, Ekwurzel said we have the power to change the trajectory. Read the whole story here.
Ancient crystal growths in caves reveal seas rose 16 meters in a warmer world
Science News
9 September 2019
Giant rock formations inside Spain's Artà Caves reveal how high seas once rose. Bulbous formations grew onto stalactites where brackish water lapped at the rock 4.39 million years ago. (Photo credit: ANTONI MERINO)
The future of sea level rise may be written into the walls of coastal Spanish caves.
Mineral "bathtub rings" deposited inside the limestone Artà Caves on the Balearic island of Mallorca show how high seas rose during the Pliocene Epoch — a time when Earth was about as warm as it's expected to get by 2100. Those mineral deposits suggest the planet's seas were around 16 meters higher on average than they are today, researchers report August 30 in Nature.
That measurement provides the most precise peek yet into what may come as climate change causes ice sheets to melt and ocean waters to rise — a process that could happen over hundreds to thousands of years. Previous estimates of Pliocene sea levels gave similar results, but relied on more indirect dating methods or failed to incorporate information about the subsequent rise and fall of the Earth's crust. The Artà analysis, however, takes that rise and fall into account.
The new study's combination of precision dating and corrected sea levels also may help answer a crucial question: How much of Earth's biggest ice sheet melted during the Pliocene? Read the whole story here.
One thing we can do: eat a bit less meat
The New York Times
Climate Fwd:
21 August 2019
This week, we're trying something different. Usually, our One Thing You Can Do feature highlights an idea for reducing your climate footprint. For a change, we decided to look at an individual action and talk about what would happen if everybody in the United States actually adopted it.
Here's the question: What if everybody in the United States ate less meat? We don't mean going vegetarian. Just less.
Is that realistic? "There is historical precedent," said Richard Waite, an associate in the food program at the World Resources Institute. Overall, Americans eat about a third less beef than they did in the 1970s, he noted. It's conceivable that we could make such a dietary shift again.
So, according to a study this month in the journal Scientific Reports, if everyone in the country reduced their consumption of beef, pork, and poultry by a quarter and substituted plant proteins, we'd save about 82 million metric tons of greenhouse gas emissions per year. That would be a reduction of a little more than 1 percent.
Just for comparison: If everyone in the country did go vegetarian, cutting meat out completely and replacing it with plant proteins of the same nutritional value, we'd save 330 million metric tons of greenhouse gas emissions per year. In that case, the savings would be about 5 percent.
Keep in mind, studies like this one necessarily include some assumptions about farming practices, dietary choices and even market forces. The numbers here are an estimate based on the average American diet and agricultural emissions data.
The average American, by the way, consumes almost 215 pounds of meat per person per year, according to 2016 data from the Organization for Economic Cooperation and the Food and Agriculture Organization. That includes beef, pork, poultry and lamb. Read the whole story here.
July confirmed as hottest month on record
Cayman News Service
16 August 2019
Like much of the planet, the Caribbean experienced warmer or much warmer temperatures last month, as July 2019 has been officially confirmed as the hottest month globally across land and sea since records began around 140 years ago. The National Oceanic and Atmospheric Administration (NOAA) said Thursday that the average temperature last month was 1.71°F above the 20th century average.
The record warmth also shrank Arctic and Antarctic sea ice to historic lows, the scientists from NOAA stated.
July 2019 was 0.05°F hotter than the previous record, set in 2016, and followed the hottest June ever recorded. According to NOAA, the January-July temperature across global land and ocean surfaces was 1.71°F above the 20th century average of 56.9°F. Over the last 140 years only 2016 was hotter over that period. 
The news comes as a regional Pacific climate conference ended badly, as leaders from islands in the region on the front-line of the consequences of climate change accused the Australian government of watering down the current climate crisis in the final communique.
Fiji Prime Minister Frank Bainimarama, who leads one of those nations that is already feeling the impact, tweeted, "Watered-down climate language has real consequences — like water-logged homes, schools, communities, and ancestral burial grounds." Read the whole story here.
Climate change food calculator: What's your diet's carbon footprint?
BBC News
9 August 2019
Avoiding meat and dairy products is one of the biggest ways to reduce your environmental impact, according to recent scientific studies.
Switching to a plant-based diet can help fight climate change, according to a major report by the UN's Intergovernmental Panel on Climate Change (IPCC), which says the West's high consumption of meat and dairy is fuelling global warming.
But what is the difference between beef and chicken? Does a bowl of rice produce more climate warming greenhouse gases than a plate of chips? Is wine more environmentally friendly than beer?
To find out the climate impact of what you eat and drink, choose from one of the 34 items in our calculator and pick how often you have it. Click here.
Climate change threatening food security
Cayman News Service
8 August 2019
A new report published by the UN Intergovernmental Panel on Climate Change (IPCC) has found that the rise in global temperatures is already impacting food security. With more than a quarter of the ice-free land we inhabit already degraded, some 820 million people are undernourished, not just because of war, poverty and disease but because of climate change. But scientists are also warning that humans must drastically alter food production to prevent the most catastrophic effects of global warming.
"Today 500 million people live in areas that experience desertification," said French climate scientist Valérie Masson-Delmotte, who is Co-Chair of the IPCC Working Group, at a press conference. "People living in already degraded or desertified areas are increasingly negatively affected by climate change."
Food production is being impacted by the changes in climate, while at the same time making climate change worse. Soil degradation has a direct impact on the amount of carbon the earth is able to contain, which, together with food waste and contamination, is making our ability to feed ourselves increasingly precarious.
"Food security will be increasingly affected by future climate change through yield declines – especially in the tropics – increased prices, reduced nutrient quality, and supply chain disruptions," said Priyadarshi Shukla, also Co-Chair of the IPCC Working Group, who specialises in energy and environment modelling and policies. "We will see different effects in different countries, but there will be more drastic impacts on low-income countries in Africa, Asia, Latin America and the Caribbean," he added. Read the whole story here.
Climate Could Be an Electoral Time Bomb, Republican Strategists Fear
The New York Times
2 August 2019
Benjamin Backer, 21, on Capitol Hill last month. He founded the American Conservation Coalition, a conservative group that advocates for environmental policies.CreditCreditTing Shen for The New York Times
WASHINGTON — When election time comes next year, Will Galloway, a student and Republican youth leader at Clemson University, will look for candidates who are strong on the mainstream conservative causes he cares about most, including gun rights and opposing abortion.
But there is another issue high on his list of urgent concerns that is not on his party's agenda: climate change.
"Climate change isn't going to discriminate between red states and blue states, so red-state actors have to start engaging on these issues," said Mr. Galloway, 19, who is heading into his sophomore year and is chairman of the South Carolina Federation of College Republicans. "But we haven't been. We've completely ceded them to the left."
While Donald Trump has led the Republican Party far down the road of denying the scientific consensus of human-caused climate change, Mr. Galloway represents a concern among younger Republicans that has caught the attention of Republican strategists.
In conversations with 10 G.O.P. analysts, consultants and activists, all said they were acutely aware of the rising influence of young voters like Mr. Galloway, who in their lifetimes haven't seen a single month of colder-than-average temperatures globally, and who call climate change a top priority. Those strategists said lawmakers were aware, too, but few were taking action. Read the whole story here.
Moody's Buys Climate Data Firm, Signaling New Scrutiny of Climate Risks
The New York Times
24 July 2019
A damaged home in Mexico Beach, Fla., after Hurricane Michael last October. Photo Credit: Hector Retamal/Agence France-Presse — Getty Images
Moody's Corporation has purchased a controlling stake in a firm that measures the physical risks of climate change, the latest indication that global warming can threaten the creditworthiness of governments and companies around the world.
The rating agency bought a majority share in Four Twenty Seven, a California-based company that measures a range of hazards, including extreme rainfall, hurricanes, heat stress and sea level rise, and tracks their impact on 2,000 companies and 196 countries. In the United States, the data covers 761 cities and more than 3,000 counties.
"We are taking these risks very seriously," said Myriam Durand, global head of assessments at Moody's Investors Service, who said the purchase would allow its credit analysts to be more precise in their review of climate related risks. "You can't mitigate what you don't understand."
The purchase is the latest in a series of moves by rating agencies to better account for the effects of climate change on the ability of governments to pay back the money they borrow by issuing bonds. Global warming can threaten that ability in a variety of ways. Read the whole story here.
Climate change: Current warming 'unparalleled' in 2,000 years
BBC News
24 July 2019
Photo Credit: Getty Images
The speed and extent of current global warming exceeds any similar event in the past 2,000 years, researchers say.
They show that famous historic events like the "Little Ice Age" don't compare with the scale of warming seen over the last century.
The research suggests that the current warming rate is higher than any observed previously.
The scientists say it shows many of the arguments used by climate sceptics are no longer valid.
When scientists have surveyed the climatic history of our world over the past centuries a number of key eras have stood out.
These ranged from the "Roman Warm Period", which ran from AD 250 to AD 400, and saw unusually warm weather across Europe, to the famed Little Ice Age, which saw temperatures drop for centuries from the 1300s.
The events were seen by some as evidence that the world has warmed and cooled many times over the centuries and that the warming seen in the world since the industrial revolution was part of that pattern and therefore nothing to be alarmed about.
Three new research papers show that argument is on shaky ground. Read the whole story here.
'No doubt left' about scientific consensus on global warming, say experts
The Guardian
24 July 2019
The scientific consensus that humans are causing global warming is likely to have passed 99%, according to the lead author of the most authoritative study on the subject, and could rise further after separate research that clears up some of the remaining doubts.
Three studies published in Nature and Nature Geoscience use extensive historical data to show there has never been a period in the last 2,000 years when temperature changes have been as fast and extensive as in recent decades.
It had previously been thought that similarly dramatic peaks and troughs might have occurred in the past, including in periods dubbed the Little Ice Age and the Medieval Climate Anomaly. But the three studies use reconstructions based on 700 proxy records of temperature change, such as trees, ice and sediment, from all continents that indicate none of these shifts took place in more than half the globe at any one time. Read the whole story here.
Cayman experiences dry year and a half
Cayman Compass
22 July 2019
The Cayman Islands built up a rainfall deficit of 6.21 inches over an 18‑month period, according to data provided by the National Weather Service.
Measurements taken from January 2018 to June 2019 show Grand Cayman has fallen below the 30‑year rainfall average for 11 of the past 18 months. That brings Cayman 8% below the 30‑year average of 74.47 inches for an 18‑month period.
The cumulative rainfall over that time span was 68.26 inches.
For 14 of those months, at least one third of the total monthly rainfall came in one day. During five of those months, more than half of the total rainfall came in one day.
The wettest single day over the past 18 months was 21 May 2018 with 3.84 inches, followed by 9 Sept. 2018 with 3.41 inches and 6 Jan. 2019 with 3.33 inches.
In the long term, the Cayman Islands can expect shorter but heavier rain events, explained Winston Gall, a Cayman Islands National Weather Service forecaster. He described the projection as an anticipated effect of climate change. Read the whole story here.
Air travellers may have to pay carbon charge to offset emissions
The Guardian
22 July 2019
Air passengers may have to pay an extra "carbon charge" on flights as part of a government initiative to reduce CO2 emissions and tackle the climate crisis.
Passengers could choose to pay more for travel tickets, which would then be used to offset greenhouse gas emissions. Or the scheme could work on an "opt-out" basis and also be applied to trains, buses and ferries.
Ministers hope the plans will raise awareness about the effects of public transport on the environment. The extra funds could be used to spearhead eco-friendly projects such as planting trees to reduce the carbon footprint.
The government said it hoped the initiative would "drive consumer choices towards less polluting journey options". Read the whole story here.
Can Africa's Great Green Wall combat climate change and mass migration?
Mother Nature Network
16 July 2016
The Great Green Wall is rooted in Africa's Sahel region, which is the southern border of the Sahara. (Photo: Great Green Wall)
The Great Green Wall may be the most aptly named thing ever. It's great, stretching nearly 5,000 miles across the continent of Africa. It's green, consisting of millions of trees. And it's a wall — not a solid wall, but a wall of trees meant to keep the Sahara from encroaching further into communities as a result of climate change and desertification.
It has been under construction for a decade and is about 15 percent done. Once completed, it will be the largest living structure on the planet at three times the size of the Great Barrier Reef.
The Great Green Wall is rooted in Africa's Sahel region, which is the southern border of the Sahara. It stretches through at least 20 nations, some of them among the poorest in the world. Read the whole story here.
Climate change made last month's European heatwave at least five times more likely
Yale Enviornment 360
5 July 2019
This article was originally published by The Guardian and was reproduced by Yale Enviornment 360 as part of their Climate Desk collaboration.
Europe had its hottest June on record, around 1 degree Celsius above the previous record set in 1999, and more than 2 degrees C above normal. WMO/TWITTER
The record-breaking heatwave that struck France and other European nations in June was made at least five — and possibly 100 — times more likely by climate change, scientists have calculated.
Such heatwaves are also about 4 degrees Celsius hotter than a century ago, the researchers say. Furthermore, the heatwaves hitting Europe are more frequent and more severe than climate models have predicted...
...The searing heat led to wildfires in Spain and Germany, and widespread disruption across the continent. It is inevitable that the heatwave will have caused many premature deaths, particularly as it occurred outside the usual holiday months when people are more able to take shelter. But these figures take time to compile. The heatwave of 2003 caused more than 70,000 premature deaths across Europe. Read the whole story here.

Morse: Climate change — Does Cayman care?
Cayman Compass
3 July 2019
by Graham Morse
A London black cab stops at an electric recharging station.
I have just returned from a month in London. It is hard not to pick up a newspaper or watch the news on radio or TV without getting drawn into the climate change debate and the problem of air pollution.
But things are changing. The buses are electric, as are many of the iconic black cabs. One cab driver told me he was making so much more money by buying a fully electric cab that he could take a month off and still make the same take-home money. Charging was no problem. An overnight charge and a plug-in while he was having his lunch was all that he needed.
The UK government has committed to net zero carbon emissions by 2050, and a ban on all gasoline and diesel fuelled vehicles by 2040.
The all-party Climate Change Committee has set out a detailed report on how to achieve net zero emissions. Much progress has already been made, with 50% of the UK electric supply now being generated from non-carbon sources.
New technology will play an increasing part in achieving the government's goals. Hydrogen will come into the picture and a hydrogen train is being tested. Developing technology will allow machines to capture and store carbon dioxide, and planting more trees is part of the solution.
Climate deniers have been drowned out by the overwhelming scientific evidence, and even they are conceding, not that it is not happening, but challenging how fast it is happening and how catastrophic the outcomes could be.
The debate now has moved on to estimating the cost of change to net zero emissions. What will people be prepared to give up to become carbon neutral? Would they give up eating beef? Would they take fewer flights or pay more?
Back here in Cayman, it feels very different. Two years have passed since our National Energy Policy was passed into law with a target of 70% of our power to be generated from renewable sources by 2037. But little appears to have been done. Read the whole story here.
What climate scientists do at home to save the planet
The Guardian
29 June 2019
'As a rule of thumb, a vegetarian meal is going to have a substantially lower carbon footprint than a meat one.' Illustration: Steve Caplin/The Guardian
What changes have the experts made to their own lives to tackle the climate emergency?
Tom Bailey, head of sustainable consumption at C40 Cities Climate Leadership Group:
Month after month, there is research showing that climate change is happening faster than we thought. We're in a car hurtling towards the edge of a cliff, we've got our foot on the accelerator, and we're just talking to each other, faffing about. If anything, some of us are even putting the foot further down. What we need to do is stop the car and get out. That has become increasingly clear to me in the last couple of years, which is why I've made changes to my own lifestyle.
These all come from the research we've been doing at my work, and it's all based on climate science. The first – and the hardest for many people – is flying. The evidence is clear that, as far as the climate is concerned, we should keep to one return short-haul flight every two to three years. So it's not that I can't see the world – I could still go abroad at least another 10 times in my life – it's just that I can't go to Istanbul for the weekend. Read the whole story here.
'We can go on the offence': A more positive way to look at climate action
CBC What on Earth?
20 June 2019
According to a recent survey of 14,000 respondents in 14 countries, people basically fall into four groupings when it comes to tackling climate change: "optimists," "supporters," "disempowered" and "skeptical." The optimists and supporters generally feel they can have an impact and are doing their part to mitigate rising emissions and temperatures.
The disempowered, however, think it's too late to stop the damage and feel, well, paralyzed. But Per Espen Stoknes, a psychologist who has also served as a member of Norway's parliament, has ideas about how to change that.
Stoknes is the author of a 2015 book called What We Think About When We Try Not to Think About Global Warming, which focuses on the barriers that keep people from making change — and offers ideas to overcome them. Read the whole story here.
G20 environment and energy ministers meet in Japan 
The Economic Times
16 June 2019
The spotlight is on innovations in energy.
Environment and energy ministers from G20 countries are meeting over the weekend in the Japanese resort town of Karuizawa. Ministers will focus on energy security, low carbon energy sources, plastic waste, marine litter, and innovation in these areas.
The meeting in Karuizama comes close on the heels of the attack on two oil tankers, one operated by a Japanese shipping company, in the Gulf of Oman on Thursday. 
The spotlight is on innovations in energy. Japan is focusing on hyhydrogen and carbon capture storage and use (CCS/CCUS). It signed agreements with the European Union and United States of America to partner on research and innovation in hydrogen and fuel cell technologies. 
Japan, the current chair of the G-20, is of the view that virtuous cycle of environmental protection and growth will be driven by the breakthrough innovations. Read the whole story here.
Trump and Prince Charles, polar opposites on the environment, have tea
NBC News
3 June 2019
Prince Charles greets President Trump on Monday at the start of a three-day state visit.Mandel Ngan / AFP - Getty Images
Whatever else happens on President Donald Trump's state visit to the U.K., one of the more fraught meetings might end up being his Monday afternoon tea with heir to the British throne, Prince Charles.
While smiles and pleasantries were in abundance, the two men have vastly different stances on the environment.
For over 40 years, the Prince of Wales has been outspoken about a number of environmental issues facing the planet.
Meanwhile, President Trump has previously publicly accused climate experts of having a "political agenda." And, before taking office, he called the concept of human-caused warming "a con job" and a "hoax."
Whether the two actually engaged in any kind of environmental talk during their meeting is unclear. But many media outlets in the U.K. speculated about just how uncomfortable the encounter might get, considering Trump would not be likely to stay quiet if the issue were brought up. Read the whole story here.
Are Electric Vehicles Really Better For The Environment?
Forbes
20 May 2019
Elon Musk, co-founder and chief executive officer of Tesla Inc., speaks during an unveiling event for the Tesla Model Y crossover electric vehicle in Hawthorne, California. Musk said the cheaper electric crossover sports utility vehicle (SUV) will be available from the spring of 2021. The vehicle's price will start at $39,000, a longer-range version will cost $47,000. © 2019 BLOOMBERG FINANCE LP
Since the first modern electric vehicles (EV) took to the roads in the 2000s, critics have been quick to question the 'clean' label attached to them. From manufacturing concerns to battery power sources as well as overall autonomy, EVs have been under scrutiny from sceptics. With the amount of debate and misinformation troubling the waters, the facts behind the efficiency of electric vehicles have become somewhat clouded - so just how clean are these vehicles?
An argument that is routinely put forward to contrast the clean image of electric cars is the pollution behind the manufacturing process of their batteries. There is indeed a range of rare earth metals that make up the composition of the battery, and their extraction and manipulation can contribute to carbon emissions. However, as a 2018 International Council on Clean Transportation (ICTT) report illustrates, the country in which the batteries are being produced as well as the battery composition has a much higher level of impact on emissions...
...Electric vehicles as they currently stand are far less polluting than their combustion engine counterparts despite the carbon emissions from the manufacturing process and its imperfect energy sources. As the technology becomes more mainstream, it is likely to become even more efficient and sustainable. Economies of scale will benefit EV manufacturing by providing better infrastructure, more efficient manufacturing techniques, recycling options and reduce the need for the mining of new materials. Electric vehicles are not a panacea but combined with greater deployment of renewables and the decarbonization of the electricity grid they offer a pathway to greatly reduce greenhouse gas emissions. Read the whole story here.
Letter: Environment vs. economy is a false choice
The Salt Lake Tribune
By Gerald Elias | The Public Forum
20 May 2019

Image Credit: moma.org
When I was a kid, there was an ad for Campbell's Chunky Soups, where they asked, "Is it soup or is it a meal?"
I found that question perplexing, wondering why couldn't it be both. Likewise, the conundrum about climate change: Is it good for the environment or is it good for the economy?
It's really a false choice, because indeed there is a way for it to be both; to reconcile progressive Democrats with moderates, and even Democrats with Republicans.
I'm referring to the Energy Innovation and Carbon Dividend Act (HR763), which would place a fee on the production of fossil fuels and have all the revenue returned to us, the consumers. As legislation with bipartisan congressional co-sponsorship and supported by Citizens Climate Lobby, HR763 would reduce emissions by at least 40 percent in the first 12 years, improve health and save lives by reducing pollution Americans breathe, create over two million new jobs, and because it is a free market non-regulatory solution, would not grow government. Read the whole story here.
CO2 Concentrations Rising Past 400 Parts Per Million
Climate Central.org
1 May 2019
As May begins, we are nearing the annual peak atmospheric concentration of carbon dioxide (CO2) — the greenhouse gas that contributes most to human-caused climate change. CO2 does vary seasonally, peaking in May as the Northern Hemisphere's plants blossom and breathe in more CO2 during the summer. Still, the year-to-year increase in CO2 is unmistakable. When this year's peak is announced (see here for daily updates), it will be the highest level in at least two million years. The last time CO2 levels were this high, trees grew near the South Pole and sea levels were 50 to 65 feet higher than today.
Ice core data show ups and downs for CO2 in the last 800,000 years, but the rapid increase since the industrial revolution is unprecedented. This increase leads to the rise in global temperatures — the foundation for climate change impacts that are affecting us here and now. Even if we halted our emissions today, these impacts wouldn't disappear; CO2 stays in the atmosphere for a thousand years or more. Cutting our carbon footprint is the greatest challenge of our time, but solutions do exist. From renewable energy and energy efficiency to cleaner transportation and agriculture, sustainable practices are ready for use.
Methodology: CO2 data from Mauna Loa, Hawaii is reported by NOAA's Earth System Research Laboratory Global Monitoring Division.
For Earth Day, a look at how people around the world view climate change
Pew Research Centre
18 April 2019
Protesters in Athens hold a banner calling for more efforts to stop climate change. Nine-in-ten in Greece say global climate change is a major threat to the country. (Helen Paroglou/SOPA Images/LightRocket via Getty Images)
April 22 is Earth Day, an annual event that highlights environmental concerns and encourages civic action. This year's Earth Day comes amid widespread global concern about climate change.
Here are five facts about how people globally see climate change, drawn from a 2018 Pew Research Center survey on how people evaluate eight potential threats, as well as other polls conducted by the Center. (For more on how people in the United States see climate change, see our companion post, "How Americans see climate change in 5 charts.")
Majorities in most surveyed countries say global climate change is a major threat to their nation. In fact, it's seen as the top threat in 13 of 26 surveyed countries, more than any other issue the survey asked about.
People in Greece express very high levels of concern, with 90% labeling climate change a major threat (similar to the 88% there who cite the condition of the global economy). People in South Korea, France, Spain and Mexico also express strong concerns. Eight-in-ten or more in each of these countries say climate change is a major threat. Read the whole story here.
US judge halts hundreds of drilling projects in groundbreaking climate change ruling
The Guardian
20 March 2019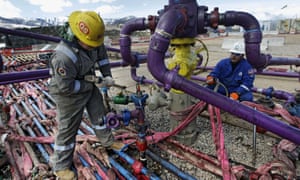 Drilling has been halted on more than 300,000 acres of public land in Wyoming. Photograph: Brennan Linsley/AP
In the first significant check on the Trump administration's "energy-first" agenda, a US judge has temporarily halted hundreds of drilling projects for failing to take climate change into account.
Drilling had been stalled on more than 300,000 acres of public land in Wyoming after it was ruled the Trump administration violated environmental laws by failing to consider greenhouse gas emissions. The federal judge has ordered the Bureau of Land Management (BLM), which manages US public lands and issues leases to the energy industry, to redo its analysis.
The decision stems from an environmental lawsuit. WildEarth Guardians, Physicians for Social Responsibility, and the Western Environmental Law Center sued the BLM in 2016 for failing to calculate and limit the amount of greenhouse gas emissions from future oil and gas projects.
The agency "did not adequately quantify the climate change impacts of oil and gas leasing", said Rudolph Contreras, a US district judge in Washington DC, in a ruling late on Tuesday. He added that the agency "must consider the cumulative impact of GHG [greenhouse gas] emissions" generated by past, present and future BLM leases across the country. Read the whole story here.
Geoengineering is not a cure-all for climate change
CBC | What on Earth?
14 March 2019

Photo credit: climate.nasa.gov
Climate change can be a touchy subject — even among advocates of climate action. And especially when it comes to the issue of geoengineering.
Geoengineering is the idea of using technology to manipulate the environment in order to combat global warming. One popular example is stratospheric aerosol injection, wherein sulphur dioxide is injected into the atmosphere (like what happens during a volcanic eruption). This reduces the amount of sunlight that can penetrate the atmosphere and could theoretically lower Earth's temperature.
Earlier this week, tempers flared on Twitter between climatologist Michael Mann and David Keith, a professor of applied physics at Harvard University and an expert on solar geoengineering. Keith, who is Canadian, was the co-author of a recent study released in Nature Climate Change that suggests solar geoengineering, paired with a reduction in CO2 emissions, could be used to cut global warming in half without making climate change worse. Read the whole story here.
How brain biases prevent climate action
BBC.com
8 March 2019
UK students went on strike in February 2019 in protest of climate change inaction. Our ability to anticipate future scenarios is a capacity that sets humans apart (Credit: Getty)
We know that climate change is happening. We also know that it's the result of increased carbon emissions from human activities like land degradation and the burning of fossil fuels. And we know that it's urgent.
A recent report from international climate experts tells us that we are likely to reach 1.5C of average global warming in as little as 11 years. At that point we can expect "increased risks to health, livelihoods, food security, water supply, human security and economic growth". These experts also found that temperature rise has already altered human and natural systems in profound ways, resulting in more extreme weather, the melting polar ice caps, sea level rise, droughts, floods and biodiversity loss.
But that information hasn't been enough to change our behaviours on a scale great enough to stop climate change. And a big part of the reason is our own evolution. The same behaviours that once helped us survive are, today, working against us.
It's important to remember one thing, however. It's true that no other species has evolved to create such a large-scale problem – but no other species has evolved with such an extraordinary capacity to solve it, either. Read the whole story here.
7 reasons why Arctic sea ice matters
12 December 2018
Mother Nature Network
Ice in the central Arctic Ocean has thinned by more than 60 percent since 1975. (Photo: Pablo Clemente-Colon/NOAA)
The Arctic hasn't been itself lately. Temperatures there are rising at twice the global rate, sparking an array of changes unlike anything seen in recorded history.
One of the most striking examples is the region's sea ice, which is now declining by about 13 percent per decade, with the 12 lowest seasonal minimums all recorded in the last 12 years. In September 2018, Arctic sea ice tied for its sixth-lowest extent on record, according to the U.S. National Snow and Ice Data Center (NSIDC).
"This year's minimum is relatively high compared to the record low extent we saw in 2012, but it is still low compared to what it used to be in the 1970s, 1980s and even the 1990s," says Claire Parkinson, a climate change senior scientist at NASA's Goddard Space Flight Center, in a statement about the 2018 minimum.
Arctic sea ice always waxes and wanes with the seasons, but its average late-summer minimum is now shrinking by 13.2 percent per decade, according to the National Oceanic and Atmospheric Administration (NOAA). And in its 2018 Arctic Report Card, NOAA reports the oldest Arctic sea ice — frozen for at least four years, making it more resilient than younger, thinner ice — is now in steep decline. This oldest ice comprised about 16 percent of the total ice pack in 1985, NOAA reports, but it's now less than 1 percent, representing a loss of 95 percent in 33 years. Read the whole story here.
Climate change: Oceans 'soaking up more heat than estimated'
1 November 2018
BBC News
Photo credit: Getty Images
The world has seriously underestimated the amount of heat soaked up by our oceans over the past 25 years, researchers say.
Their study suggests that the seas have absorbed 60% more than previously thought.
They say it means the Earth is more sensitive to fossil fuel emissions than estimated.
This could make it much more difficult to keep global warming within safe levels this century.
According to the last major assessment by the Intergovernmental Panel on Climate Change (IPCC), the world's oceans have taken up over 90% of the excess heat trapped by greenhouse gases.
But this new study says that every year, for the past 25 years, we have put about 150 times the amount of energy used to generate electricity globally into the seas - 60% more than previous estimates.
That's a big problem.
Scientists base their predictions about how much the Earth is warming by adding up all the excess heat that is produced by the known amount of greenhouse gases that have been emitted by human activities.
This new calculation shows that far more heat than we thought has been going into oceans. But it also means that far more heat than we thought has been generated by the warming gases we have emitted. Read the whole story here.
A 'conservative' carbon tax
Climate Fwd:
The New York Times
10 October 2018
The newest financial supporter of a plan to reduce greenhouse gas emissions is the biggest energy company in the world: the fossil fuel giant Exxon Mobil.
The company announced that it would give $1 million over the next two years to Americans for Carbon Dividends, a group supporting legislation that would tax carbon emissions and return the money to Americans in refunds.
The proposal is "founded on conservative principles," said James A. Baker III, one of the Republican elder statesmen who co-founded the group. "The glue that holds it together is returning all carbon-fee revenue directly to the American people rather than using it to grow government."
Exxon publicly backed the plan last year. So did other companies in the fossil fuel and renewable energy fields, as well as General Motors, Johnson & Johnson, PepsiCo and Unilever.
Scott Silvestri, an Exxon spokesman, said, "Applying a uniform cost across the economy is consistent with our principles on how to manage the risk of climate change."Ted Halstead, another founder of Americans for Carbon Dividends, said he expected lawmakers in Washington to propose legislation based on the plan in the next session of Congress, with a long-term goal of passing legislation in 2021. "We see this as a marathon, not a sprint," he said.
The plan sets an initial tax of $40 per ton of carbon dioxide produced, which would add 36 cents to the cost of each gallon of gasoline sold. The rate would rise over time, reducing demand for fossil fuels. The average family of four would receive approximately $2,000 in the first year as a carbon dividend, the group says. Read the whole story here.
Major climate report describes a strong risk of crisis as early as 2040
The New York Times
7 October 2018
Harry Taylor, 6, played with the bones of dead livestock in Australia, which has faced severe drought. (Photo credit: Brook Mitchell/Getty Images)
INCHEON, South Korea — A landmark report from the United Nations' scientific panel on climate change paints a far more dire picture of the immediate consequences of climate change than previously thought and says that avoiding the damage requires transforming the world economy at a speed and scale that has "no documented historic precedent."
The report, issued on Monday by the Intergovernmental Panel on Climate Change, a group of scientists convened by the United Nations to guide world leaders, describes a world of worsening food shortages and wildfires, and a mass die-off of coral reefs as soon as 2040 — a period well within the lifetime of much of the global population.
The report "is quite a shock, and quite concerning," said Bill Hare, an author of previous I.P.C.C. reports and a physicist with Climate Analytics, a nonprofit organization. "We were not aware of this just a few years ago." The report was the first to be commissioned by world leaders under the Paris agreement, the 2015 pact by nations to fight global warming.
The authors found that if greenhouse gas emissions continue at the current rate, the atmosphere will warm up by as much as 2.7 degrees Fahrenheit (1.5 degrees Celsius) above preindustrial levels by 2040, inundating coastlines and intensifying droughts and poverty. Previous work had focused on estimating the damage if average temperatures were to rise by a larger number, 3.6 degrees Fahrenheit (2 degrees Celsius), because that was the threshold scientists previously considered for the most severe effects of climate change.
The new report, however, shows that many of those effects will come much sooner, at the 2.7-degree mark. Read the whole story here.
Experiencing extreme weather is not enough to convince climate change sceptics that humans are damaging the environment, a new study shows
1 October 2018
Science Daily
Carton credit: medium.com
Political bias and partisan news reporting influence whether people report experiencing certain extreme weather events, the research suggests.
But Americans who lived in areas where a variety of extreme events were recorded -- flood, tornado, hurricane, and drought -- were ultimately no more likely to share the same beliefs about climate change as scientists.
Dr Ben Lyons, from the University of Exeter, who led the research, said: ""Extreme weather plays a limited long-term role in forming people's beliefs about climate change. Instead, their views and beliefs can alter the way they perceive the weather. We have found when an extreme weather event is ambiguous, as with polar vortex and drought, people are more likely to see the event through a partisan lens. If there is grey area, people are more comfortable applying their preferred label."
The University of Exeter, University of Michigan and University of Texas research found that Republicans were less likely to report experiencing a polar vortex, while those exposed to liberal media were more likely.
However the weather can be sometimes so extreme that it overshadows personal views -- the researchers found that partisanship and media use did not affect the way people in the American Northeast -- where the 2014 and 2015 polar vortex events hit hardest -- reported the weather they had experienced.
Those who favoured liberal news sources such as the Huffington Post or the Daily Show reported experiencing drought more often than national weather data would suggest they actually did.
Dr Lyons said: "Very extreme weather accompanied by constant media coverage is harder for people to deny. But on the other end of the scale, droughts can take longer to have an effect, so people have some difficulty perceiving their onset and this may allow them to bring their biases to the table." Read the whole story here.
At Climate Week NYC, the Focus is on Maintaining Momentum
The New York Times
21 September 2018
California Gov. Jerry Brown speaks as Michael Bloomberg, left, listens during a news conference at the Global Action Climate Summit Thursday, Sept. 13, 2018, in San Francisco. Gov. Brown pledged to make his state fully carbon-neutral by 2045. Photo credit: Eric Risberg/Associated Press
This year's annual Climate Week NYC arrives Monday at a moment of increasing urgency in the ongoing battle to contain — if not reverse — the effects of climate change.
On one hand there is much to celebrate. Climate Week is now entering its 10th year in New York City, emerging as the leading international forum for politicians, nongovernmental organizations (NGOs), activists and policymakers to share climate-related strategies and successes with like-minded people.
Climate Week's debut West Coast counterpart — the Global Climate Action Summit — was held in San Francisco earlier this month. A highlight was a commitment from Gov. Jerry Brown of California, to make his state fully carbon-neutral by 2045. Read the whole story here.
Cities' Emissions Are Decreasing Even as Their Economies and Populations Grow
Yale Environment 360
14 September 2018
Photo credit: peiwc.com
Twenty-seven cities across the globe, home to 54 million people, have already reached their peak greenhouse gas levels and are now seeing emissions fall an average 2 percent per year, according to C40 Cities, a coalition of local governments working to fulfill the Paris climate agreement. This downward trend is happening even as the cities' economies grow an average of 3 percent per year, and their populations 1.4 percent per year.
Scientists estimate that global greenhouse gas emissions need to peak by 2020 if the world hopes to stave off the worst impacts of climate change. The 27 cities in the new C40 analysis — including Barcelona, Berlin, Paris, New York City, and Sydney — all peaked their emissions in 2012 and have seen their greenhouse gases fall over the last five years. The coalition says many of its other member cities are on track to reach peak emissions by 2020.
San Francisco, for example, hit its peak greenhouse gas emissions in 2000 and has since reduced them by 30 percent from 1990 levels. During the same period, the city's economy grew 111 percent and its population 20 percent.
The cities achieved their emissions reductions in different ways, such as shifting away from coal-fired electricity, incentivizing energy efficiency, or expanding public transportation, the Los Angeles Times reported.
"To prevent the worst impacts of climate change, we have to cut greenhouse gas emissions even as the population grows," Michael Bloomberg, the UN Secretary-General's Special Envoy for Climate Action and President of the C40 Board, said in a statement. "Cities are showing that it can be done - and that the same steps they're taking to reduce their carbon footprint are also strengthening their local economies, creating jobs, and improving public health."
As waters rise, coastal megacities like Mumbai face catastrophe
Science News
15 August 2018
A woman poses for a photograph as a wave at high tide crashes over Mumbai's seaside promenade in July during a pause in the seasonal monsoon rains.
Each year when the monsoon rain sheets down and the tides swell over coastal Mumbai, Saif shutters his soda shop on Juhu Beach and takes shelter up in the rafters. Still, the water invades through the roof and over the concrete floors, sometimes reaching as high as the freezers full of ice cream.
For 36-year-old Saif, the coastal megacity's chronic flooding is stressful. "What would happen if too much water comes?" asks Saif, who, like many in India, goes by one name. "I could get swept up with it." Last year's torrential floods killed at least 14 people in Mumbai. And in July 2005, when a meter of rain fell in a single day, flooding cost the city about $1.7 billion in damages.
Rebuilding his uninsured shop after the 2005 floods cost Saif about $57,000. He was lucky. When those floodwaters receded after two days, more than 1,000 people had died from drowning, landslides or other flood-related accidents in Mumbai and surrounding areas. "What can we do?" Saif asks. "Who can win against nature?"
Such questions are becoming more urgent in coastal cities at mounting risk of climate-driven flooding. Climate change is raising sea levels, while also making storms more severe and bringing heavier rains to some places. For densely populated cities like Mumbai — the financial heart of India, which is the world's fastest-growing major economy — those risks threaten to throw personal incomes and national economies into chaos.
"The challenge is getting people to prepare for a risk they can't yet see," says Stéphane Hallegatte, lead economist at the World Bank's Global Facility or Disaster Reduction and Recovery in Washington, D.C. "A very tiny change in sea level can have an enormous impact on risk levels," he adds. Read the whole story here.
Heat wreaks havoc
The New York Times
30 July 2018
The continental U.S. had its hottest May and the third-hottest June. Japan has been walloped by record triple-digit temperatures, killing at least 86 people. Record temperatures were also logged on the edge of the Sahara and above the Arctic Circle.
An official with the World Meteorological Organization said the extreme heat was not surprising. "This is not a future scenario," she said of climate change. "It is happening now."
Our correspondents around the world spoke with people to find out how they're coping. Click here.
A climate policy fit for Trump?
The New York Times
Climate Fwd:
20 June 2018
Photo Illustration by The New York Times; photo by Donat Sorokin/TASS, via Getty Images
This is not something you see every day: Over the past month, a growing chorus of Senate Republicans, conservative taxpayer groups and corporate executives has been urging President Trump to implement a major Obama-era policy to tackle climate change.
They're just not calling it that.
The issue at hand revolves around air-conditioners. In 2017, at a United Nation summit in Kigali, Rwanda, President Barack Obama's administration agreed with 196 other countries to phase out the use of hydrofluoro-carbons, or HFCs, an extremely potent greenhouse gas used in air-conditioners, refrigerators and foams. The pact was an amendment to the 1987 Montreal Protocol meant to protect the ozone layer.Experts say the policy could have a surprisingly large climate impact. With countries like China and India installing millions of new air-conditioners, HFC emissions were expected to skyrocket this century. Reducing the use of these chemicals could help avoid up to 0.44 degrees Celsius of warming by century's end. Given that the world's nations are trying to limit total warming below two degrees, that's a significant chunk.
But for the United States to fully participate in these efforts, the Kigali amendment needs to be ratified by two-thirds of the Senate. Mr. Trump has not decided whether to submit the treaty for approval.
On the surface, it would seem Mr. Trump would have no interest. He's been rolling back most Obama-era climate policies. Why should this one be any different?But in this case, dozens of American manufacturers have been pressing Mr. Trump to move forward. Companies like Honeywell, Dow Chemical and Johnson Controls are well positioned to produce next-generation air-conditioners and alternatives to HFCs, and they don't want to lose out on a budding global market. Read the whole story here.
At the Royal Wedding, Something Green
The New York Times
Climate Fwd:
23 May 2018
The newly married Duke and Duchess of Sussex left Windsor Castle in a Jaguar Roadster that was modified to be all-electric.
Royal wedding viewers may have had a few questions as they watched the Duke and Duchess of Sussex (a.k.a. Harry and Meghan) drive off from Windsor Castle after the ceremony to a reception at Frogmore House a mile or so away. Such as:
1)    Were they wearing seatbelts?
2)    Does the duke, who was behind the wheel, have
       a driver's license?

3)    What was up with their ride?
We're not sure about the first question (though video evidence suggests they did not buckle up) and it turns out that Harry passed his driving test as a teenager years ago (and on his first try).
As for the happy couple's borrowed car, Climate Fwd: is pleased to report that it was a zero-emissions vehicle.
The car is a vintage silver-blue 1968 Jaguar E-Type Roadster with one crucial, and major, modification: Its famous six-cylinder gasoline-powered XK motor was replaced with an all-electric drivetrain.
Where the motor had been, Jaguar Land Rover technicians installed a lithium-ion battery pack capable of powering the car for about 170 miles on a charge (less than Tesla's new Model 3 mass-market car, but perhaps the Jaguar has better braking). And in place of the gearbox, they installed a 220-kilowatt electric motor. Read the whole story here.
In the Arctic, the Old Ice Is Disappearing
The New York Times
14 May 2018
In the Arctic Ocean, some ice stays frozen year-round, lasting for many years before melting. But this winter, the region hit a record low for ice older than five years.
This, along with a near-record low for sea ice over all, supports predictions that by midcentury there will be no more ice in the Arctic Ocean in summer.
As darker, heat-absorbing water replaces reflective ice, it hastens warming in the region. Older ice is generally thicker than newer ice and thus more resilient to heat. But as the old ice disappears, the newer ice left behind is more vulnerable to rising temperatures. Read the whole story here.
Sea level, temperature rise threaten Cayman in just 80 years
The Cayman Islands Journal
4 April 2018
The most-startling prediction is that a quarter-meter rise in sea levels, less than 10 inches, will swamp 33 buildings in Grand Cayman, among them 17 private homes and two apartment blocks.
Apart from the shock value, the striking thing about the forecasts are that they are nine years old, published in 2009. Yet little has changed. If anything, says Nick Robson, head of climate research organization The Cayman Institute, sea level rise has accelerated.
"The institute's report on SLR predicted a one-meter rise by 2100," he said last week. "However, SLR appears to be escalating and may well be more than one meter."
Pointing to Government Information Services maps, Robson says, the flooding from a sea level rise of only one-quarter meter, 9.94 inches, rapidly becomes "progressively worse from there – and if you model an Ivan-type storm surge on top of the SLR, it quickly becomes frightening." Read the whole story here.
The oceans' circulation hasn't been this sluggish in 1,000 years. That's bad news.
The Washington Post
11 April 2018
Photo credit: Dr. Michael Pidwirny (http://www.physicalgeography.net)
The Atlantic Ocean circulation that carries warmth into the Northern Hemisphere's high latitudes is slowing down because of climate change, a team of scientists asserted Wednesday, suggesting one of the most feared consequences is already coming to pass.
The Atlantic meridional overturning circulation has declined in strength by 15 percent since the mid-20th century to a "new record low," the scientists conclude in a peer-reviewed study published in the journal Nature. That's a decrease of 3 million cubic meters of water per second, the equivalent of nearly 15 Amazon rivers.
The AMOC brings warm water from the equator up toward the Atlantic's northern reaches and cold water back down through the deep ocean. The current is partly why Western Europe enjoys temperate weather, and meteorologists are linking changes in North Atlantic Ocean temperatures to recent summer heat waves.
The circulation is also critical for fisheries off the U.S. Atlantic coast, a key part of New England's economy that have seen changes in recent years, with the cod fishery collapsing as lobster populations have boomed off the Maine coast. Read the whole story here.
Urban Heat: Can White Roofs Help Cool World's Warming Cities?
Yale Environment 360
7 March 2018
New York City has painted about 7 million square feet of tar rooftops white to lower temperatures. NASA
It has long been known that installing white roofs helps reduce heat buildup in cities. But new research indicates that making surfaces more light-reflecting can have a significant impact on lowering extreme temperatures – not just in cities, but in rural areas as well. Read the whole story here.
Climate Change is Complex. We've got answers to your questions.
The New York Times
16 February 2018
Photo Credit www.climate.NASA.gov
We know. Global warming is daunting. So here's a place to start: 17 often-asked questions with some straightforward answers. Read them here.
Donald Trump gets polar ice trend backwards
Politifact.com
29 January 2018
Cartoon Courtesy of Roar Hagen (Norvége/Norway)
President Donald Trump, who once called climate change a hoax spread by China, downplayed concerns about global temperature trends in an interview with Piers Morgan.
Morgan asked Trump if he believed that climate change exists.
"There is a cooling and there is a heating and I mean, look – it used to not be climate change – it used to be global warming," Trump said in an interview broadcast Jan. 26. "That wasn't working too well, because it was getting too cold all over the place. The ice caps were going to melt, they were going to be gone by now, but now they're setting records, so okay, they're at a record level."
We looked at what's been going on with the polar ice.
Trump is wrong that the ice caps are at record levels.
In March 2017, NASA published a news brief with the headline, "Sea Ice Extent Sinks to Record Lows at Both Poles."
Researcher Julienne Stroeve with the National Snow and Ice Data Center said Trump's claim was "odd."
Stroeve said polar ice is at "a record low in the Arctic (around the North Pole) right now and near record low in the Antarctic (around the South Pole)."
Read the whole story here.
Three New Year's Resolutions That Can Help Fight Climate Change
Climate Fwd:
The New York Times
3 January 2018
#1: Measure Up!
There's some truth to the saying "What gets measured gets managed," and quantification has become something of a cultural obsession. Oroeco, an app available on both Android and iOS, takes that zeal and applies it to tracking personal carbon emissions.Oroeco helps quantify the carbon emissions associated with purchases, investments, dietary choices and preferred modes of transport. It allows users to set goals, track performance and even compare their performance with friends. The app is still relatively new, and it isn't perfect, but it can be a useful tool to get you moving in the right direction.
Read about the other resolutions here.
How a wayward Arctic current could cool the climate in Europe
Yale Environment 360 
December 11, 2017
Arctic Sea Ice - Beaufort (Photo credit Melniskof Shutterstock)
The Beaufort Gyre, a key Arctic Ocean current, is acting strangely. Scientists say it may be on the verge of discharging a huge amount of ice and cold freshwater that could kick off a period of lower temperatures in northern Europe.
For millennia, the Beaufort Gyre — a massive wind-driven current in the Arctic Ocean — has been regulating climate and sea ice formation at the top of the world. Like a giant spinning top, the gyre corrals vast amounts of sea ice. Trapped in this clockwise swirl, the ice has historically had more time to thicken than it generally does in other parts of the Arctic Ocean, where currents such as the Trans Polar Drift transport the ice into the warmer north Atlantic more rapidly. In this way, the Beaufort Gyre — located north of Alaska and Canada's Yukon Territory — has helped create the abundant layers of sea ice that, until recently, covered large parts of the Arctic Ocean year-round.
These days, however, something is amiss with this vital plumbing system in the Arctic, a region warming faster than any other on the planet. Thanks in part to rising air temperatures, steadily disappearing sea ice, and the annual melting of 270 billion tons of ice from Greenland's ice cap, the gyre is no longer functioning as it has predictably done for more than a half century. And now, scientists are anticipating that a sudden change in the Beaufort Gyre could set in motion events that — in a steadily warming world — would actually lead to a temporary but significant cooling of the North Atlantic region. Read the whole story here.
If my cup of water doesn't overflow when ice melts, why would sea levels rise if glaciers melt?
New York Times
6 December 2017
Several of you have sent us a version of this question: "How do I answer when someone says that ice cubes melting in a glass don't make the water overflow — so melting glaciers won't make sea levels rise?"
The problem with that analogy is that the glaciers, unlike the ice in the glass, aren't on the water yet. The melting ice sheets that concern scientists are on land, not in the ocean.
As the climate warms, those ice sheets melt into the surrounding seas. It's like taking ice cubes from the freezer and plunking them into an already-full glass of water: the cup will overflow. This is why sea levels rise as glaciers melt.
Keep in mind that melting glaciers aren't the only cause of sea level rise. Warm water occupies more space than cooler water, a physics concept known as thermal expansion. As temperatures rise, water molecules expand, also contributing to sea level rise. Studies suggest that much of the rise in sea level we've seen since the 1880s is the result of thermal expansion.
Melting glaciers, though, can worsen the situation. The Greenland ice sheet contains enough water to raise sea levels by 24 feet. The Antarctic ice sheet is even larger. If it melted, sea levels would rise by 200 feet. Philadelphia, which is now roughly sixty miles inland, would be underwater.
According to Maureen Raymo, a paleoclimatologist at Columbia University's Lamont-Doherty Earth Observatory, if we don't reduce greenhouse gas emissions it would still take somewhere more than several centuries — but less than 10,000 years — for the polar ice caps to fully melt. But as some people living in low-lying regions can attest, humans are already beginning to feel the impacts of sea level rise.
How Much Do You Know About Solving Global Warming?
Tatiana Schlossberg
The New York Times
June 12, 2017
Photo credit: McGill Blogs - McGill University
There is no silver bullet for climate change, because slowing planetary warming will require a variety of strategies. "Drawdown," a new book edited by the green entrepreneur Paul Hawken, analyzes 100 potential solutions, ranks them by the amount of greenhouse gases they could cut, and reaches some surprising conclusions about the most effective ways to fight global warming. Can you figure out which ones are top ranked? Take the quiz here.
Climate Science Meets a Stubborn Obstacle: Students
Amy Harmon
The New York Times
June 4, 2017
Gwen Beatty in James Sutter's classroom at Wellston High School in Ohio, where she and Mr. Sutter butted heads over the issue of human-caused climate change.
WELLSTON, Ohio — To Gwen Beatty, a junior at the high school in this proud, struggling, Trump-supporting town, the new science teacher's lessons on climate change seemed explicitly designed to provoke her.
So she provoked him back.
When the teacher, James Sutter, ascribed the recent warming of the Earth to heat-trapping gases released by burning fossil fuels like the coal her father had once mined, she asserted that it could be a result of other, natural causes.
When he described the flooding, droughts and fierce storms that scientists predict within the century if such carbon emissions are not sharply reduced, she challenged him to prove it. "Scientists are wrong all the time," she said with a shrug, echoing those celebrating President Trump's announcement last week that the United States would withdraw from the Paris climate accord.
When Mr. Sutter lamented that information about climate change had been removed from the White House website after Mr. Trump's inauguration, she rolled her eyes.
Read the whole story here.
The skinny on climate change
Climate change is the biggest environmental challenge of the 21st century. Here is some information on climate change and what individuals, companies, and governments can all do to face it.
The evidence:
more extreme weather like droughts, floods, and hurricanes
disappearing polar ice
rising sea levels
What governments can do:
What companies can do:
buy carbon offsets when booking travel
allow employees to work flex hours to reduce traffic
be more energy efficient
contract eco-friendly vendors
start/maintain recycling programmes

What individuals can do:
drive less
eat less or no meat and dairy
be more energy efficient
reduce waste
buy less
buy carbon offsets when you fly
divest from fossil fuel companies
vote!
Click here for more information and ideas from the United Nations Sustainable Development Goals ("SDGs").
Sources:  www.DavidSuzuki.org
              www.un.org/sustainabledevelopment
Attention Jetsetters: travel guilt-free with carbon offsets
Feeling a bit guilty about all that flying you're doing? We found an amazing Swiss company, myclimate.org that helps individuals and companies calculate their carbon emissions and invest in the offsetting programs of their choice. Sleep easier (even on the red-eye!) knowing you are doing your part to preserve the environment.
What is a carbon offset?
David Suzuki Foundation
Many types of activities can generate carbon offsets. Renewable energy such as the wind farm example above, or installations of solar, small hydro, geothermaland biomass energy can all create carbon offsets by displacing fossil fuels. Other types of offsets available for sale on the market include those resulting from energy-efficiency projects, methane capture from landfills or livestock, destruction of potent greenhouse gases such as halocarbons, and carbon-sequestration projects (through reforestation, or agriculture) that absorb carbon dioxide from the atmosphere. 
A carbon offset is a credit for greenhouse gas reductions achieved by one party that can be purchased and used to compensate (offset) the emissions of another party. Carbon offsets are typically measured in tonnes of CO2-equivalents (or CO2e) and are bought and sold through a number of international brokers, online retailers and trading platforms.For example, wind energy companies often sell carbon offsets. The wind energy company benefits because the carbon offsets it sells make such projects more economically viable. The buyers of the offsets benefit because they can claim that their purchase resulted in new non-polluting energy, which they can use to mitigate their own greenhouse gas emissions. The buyers may also save money as it may be less expensive for them to purchase offsets than to eliminate their own emissions.
Read more about it here.
Arctic ice melt 'already affecting weather patterns where you live right now'
The Guardian
December 19, 2016 
The dramatic melting of Arctic ice is already driving extreme weather that affects hundreds of millions of people across North America, Europe and Asia, leading climate scientists have told the Guardian.
Severe "snowmageddon" winters are now strongly linked to soaring polar temperatures, say researchers, with deadly summer heatwaves and torrential floods also probably linked. The scientists now fear the Arctic meltdown has kickstarted abrupt changes in the planet's swirling atmosphere, bringing extreme weather in heavily populated areas to the boil.
The northern ice cap has been shrinking since the 1970s, with global warming driving the loss of about three-quarters of its volume so far. But the recent heat in the Arctic has shocked scientists, with temperatures 33C above average in parts of the Russian Arctic and 20C higher in some other places. 
Read the whole story here.
The skinny on climate change
Source: www.DavidSuzuki.org
May 18, 2017
[insert photo with caption]
·         The evidence:
o   more extreme weather like droughts, floods, and hurricanes
o   disappearing polar ice
o   rising sea levels
·         What governments can do:
o   follow through on the UNFCC 2015 Paris Agreement
·         What companies can do:
o   allow employees to work flexible hours to reduce traffic
o   be more energy efficient
o   start/maintainrecycling programmes
o   buy carbon offsets when booking travel
o   contract eco-friendly vendors
·         What individuals can do:
o   drive less
o   eat less or no meatand dairy
o   be more energy efficient
o   reduce waste
o   buy less
o   buy carbon offsets when you fly
o   divest from fossil fuel companies
o   vote!
The skinny on climate change
Source: www.DavidSuzuki.org
May 18, 2017
[insert photo with caption]
·         The evidence:
o   more extreme weather like droughts, floods, and hurricanes
o   disappearing polar ice
o   rising sea levels
·         What governments can do:
o   follow through on the UNFCC 2015 Paris Agreement
·         What companies can do:
o   allow employees to work flexible hours to reduce traffic
o   be more energy efficient
o   start/maintainrecycling programmes
o   buy carbon offsets when booking travel
o   contract eco-friendly vendors
·         What individuals can do:
o   drive less
o   eat less or no meatand dairy
o   be more energy efficient
o   reduce waste
o   buy less
o   buy carbon offsets when you fly
o   divest from fossil fuel companies
start/maintain recycling programmes
30 July 2018

Tom Bailey, head of sustainable consumption at C40 Cities Climate Leadership Group:
This article was originally published by The Guardian and is reproduced by Yale 360 as part of the Climate Desk collaboration.
This article was originally published by The Guardian and is reproduced by Yale 360 as part of the Climate Desk collaboration.
This article was originally published by The Guardian and is reproduced by Yale 360 as part of the Climate Desk collaboration.
Climate Could Be an Electoral Time Bomb, Republican Strategists Fear
The New York Times
2 August 2019
Benjamin Backer, 21, on Capitol Hill last month. He founded the American Conservation Coalition, a conservative group that advocates for environmental policies. Photo Credit: Ting Shen for The New York Times
WASHINGTON — When election time comes next year, Will Galloway, a student and Republican youth leader at Clemson University, will look for candidates who are strong on the mainstream conservative causes he cares about most, including gun rights and opposing abortion.
But there is another issue high on his list of urgent concerns that is not on his party's agenda: climate change.
"Climate change isn't going to discriminate between red states and blue states, so red-state actors have to start engaging on these issues," said Mr. Galloway, 19, who is heading into his sophomore year and is chairman of the South Carolina Federation of College Republicans. "But we haven't been. We've completely ceded them to the left."
While Donald Trump has led the Republican Party far down the road of denying the scientific consensus of human-caused climate change, Mr. Galloway represents a concern among younger Republicans that has caught the attention of Republican strategists.
Can carbon offsets tackle airlines' emissions problem?
The Guardian
19 November 2019
Carbon emissions from commercial flights are growing up to 70% faster than predicted. Photograph: Roger Bamber/Alamy
Global carbon emissions from the aviation industry are growing faster than expected, and pose a serious risk to the world's climate efforts if left to grow unchecked. The rise of flygskam, or "flight-shame", has spurred airlines and travel companies to offer customers the option of offsetting the carbon emissions of their flights. But not everyone is convinced that climate sins can be absolved through projects based on simple carbon accounting.

What is carbon offsetting?
Offsetting involves calculating the emissions of a trip or activity and then purchasing "credits" from projects that prevent or remove the equivalent amount of greenhouse gases elsewhere. Many accredited carbon offsetting schemes involve planting trees to absorb carbon dioxide from the atmosphere, which according to recent research could play a major role in helping to tackle the climate crisis. Other schemes invest in renewable energy projects which save carbon emissions by replacing fossil fuels alternatives. Growing awareness of the climate crisis, and the "Greta Thunberg effect", has driven demand for carbon offset schemes. The amount of investment from people who hope to "cancel" their carbon footprints has climbed fourfold in recent years, according to the offsetting watchdog Gold Standard. Read the whole story here.
https://www.theguardian.com/environment/2019/apr/05/why-the-guardian-is-putting-global-co2-levels-in-the-weather-forecast?utm_term=RWRpdG9yaWFsX0dyZWVuTGlnaHQtMTkxMjE2&utm_source=esp&utm_medium=Email&CMP=greenlight_email&utm_campaign=GreenLight
CNET22 April 2020
NO2 amounts have dropped with the coronavirus quarantine, Chinese New Year, and a related economic slowdown. (Image credit: NASA)
It appears the COVID-19 pandemic has given the planet a gift for Earth Day 2020. The coronavirus has taken billions of people off the streets around the globe and slashed international travel. And all those people staying at home seem to be a collective weight off the shoulders of the global environment in certain observable ways.
Leatherback sea turtles are among the many species enjoying the extra space ceded by humans. Beaches in Thailand with a dearth of human tourists are now seeing the highest number of the rare reptiles' nests in two decades. 
Elsewhere, the Himalayas are visible from parts of India for the first time in decades, other animals like kangaroos and goats have more freedom to roam, and life everywhere just seems to be breathing easier. Read the whole story here.
https://yaleclimateconnections.org/2020/09/where-to-find-upbeat-news-about-climate-change/
(Photo credit: New York Public Library/Unsplash)
https://www.usatoday.com/in-depth/news/investigations/2021/01/18/biden-climate-plan-carbon-emission-cuts-new-jobs-lots-questions/4176058001/
CNN Business

16 April 2021