Smart Practices for Drinking With the Environment in Mind
The Manual
7 October 2019
Union Wine Company
Earth Day is a half-year away, but that's no excuse to drink like a shortsighted heathen. Thanks to new technology, emerging trends, and real creativity, there are now more ways than ever to enjoy a drink with Mother Nature very much in mind.
There are many considerations, from the obvious to the almost always overlooked. Sure, we've seen the impact of straws and made inroads to changing that, given wine the aluminum treatment, and thought more and more about sustainability, but we can always, always do more. And let's not forget, sustainability involves both the land and the people. Read the whole story here.
Sali Hughes's 40 best sustainable beauty brands
The Guardian
14 September 2019
From packaging to ingredients, the Guardian's beauty editor picks the top brands doing their bit for the planet
What follows is an imperfect list, a subjective selection of great quality beauty brands trying to do better for the good of the planet. They are not all doing everything; some are better than others and they could always be doing more. But as industry experts at a recent sustainability conference told me, again and again: we don't have time to wait for perfect, or for people to reject all the conveniences of modern life. It is more important to do something now than nothing at all, to our later cost. Read the whole story here.
The cost of beauty shouldn't be the environment
The Independent Florida Alligator
by Zora Viel
8 September 2019
Photo credit: Raphael Lovaski via Unsplash
People love makeup. More than a third of Americans aged between 18 and 29 wear makeup on a daily basis, and another third use makeup several times per week. Even men have taken an interest in keeping up their appearances with beauty products, according to CNN. While I enjoy dismantling toxic masculinity and being able to express myself creatively, I can't help but become frustrated with the amount of waste we're producing that is harming our environment. 
The beauty industry is worth $532 billion and is projected to steadily grow, according to Business Insider. In fact, a report published by Zion Market Research said the market for beauty will be worth $863 billion by 2024. That's great news for entrepreneurs who are looking to make it big in the industry, but it's not so great news for the environment. 
The L.A Times reported that 120 billion units of cosmetic packaging are produced every year. This makes sense because plastic for packaging is the biggest use of plastic across the globe.  Unfortunately, many of these units are single-use and will likely end up being disposed of in a wasteful manner. 
America needs to be a little bit more mindful of its waste, it seems. The U.S Environmental Protection Agency said in 2015 that 53 percent of plastic packaging was recycled. In other words, nearly half of the plastic packaging produced wasn't recycled. What's worse is that there is no guarantee that the things you want to recycle will be recycled. There simply isn't enough space for these products anymore. 
Mass production is the root of the issue. In 2016, Business Insider reported it was actually cheaper to produce more plastic than to recycle it. The greed of companies and the vulnerability of consumers has led to a problem that seems irreversible. Luckily, there are other methods to get our products in an environmentally conscious way: pressuring companies into doing so. Read the whole story here.
Cold comfort: How we cooled ourselves before A/C
CBC: What on Earth?
19 August 2019
Roughly 2.8 billion people live in countries where the daily average temperature is 25 C, which is set to increase as the planet warms.
As a result of cheaper technology and a greater quality of life, more people will have access to air conditioners in the future. The International Energy Agency (IEA) estimates that by 2050, as much as two-thirds of the world's population could own an air conditioner.
This is both good and bad news. Air conditioning certainly makes people more comfortable during hot spells, but more A/C units put more stress on electricity grids, which in turn contributes to climate change.
While our grids are likely to become greener as we use renewables like solar and wind energy to replace fossil fuels like coal and natural gas, we can also become smarter in how we design buildings.
"From a technical perspective, pretty much anywhere in the world, you can build a building and not need air conditioning," said John Dulac, an energy consultant with the International Energy Agency. He said it depends "on how you design the building environment and the ventilation in the building." Read the whole story here.
The upside of upcycling
Cayman Compass
12 April 2019
In the modern lexicon, upcycling is the word used to describe what artist Avril Ward does with large wood pallets obtained from an import company on-island.
She sands, refines and dismantles the original pieces and uses them to create headboards or tables. They are whitewashed with a hint of colour but maintain a rustic look.
A fierce environmentalist, Avril says the value of upcycling in a small society like the Cayman Islands cannot be overstated. Read the whole story here.
Those hotel mini soaps and shampoo bottles will soon be history
Mother Nature Network
31 July 2019
Long a mainstay of the hotel business, those mini soaps and tiny bottles of shampoo and lotion will soon be gone in one of the world's largest chains.
InterContinental Hotels Group (IHG) is removing the personal-sized amenities in its 843,000 guest rooms across its 17 hotel brands. Instead, guests will find bulk-sized toiletries in all rooms by the end of 2021.
IHG — which owns Holiday Inn and Crowne Plaza hotels — said it's the first global hotel company to swap out the individual toiletries.
"Switching to larger-size amenities across more than 5,600 hotels around the world is a big step in the right direction and will allow us to significantly reduce our waste footprint and environmental impact as we make the change," CEO Keith Barr said in a news release. Read the whole story here.
Balloons pose a serious threat to the environment. But what about sky lanterns?
Earth.com
25 July 2019
First it was plastic straws. Now balloons are quickly gaining public ire due to their environmental impacts. Sky lanterns are a natural alternative to balloons, yet there has been little focus on their effect on the environment.
Sky lanterns, also known as Chinese lanterns, are tiny paper hot air balloons. Similar to traditional latex balloons, the lanterns are often released into the sky during celebrations. 
Balloons can cause vast damage to an ecosystem once released. Not only do balloons contribute to our pollution crisis, but wild animals may mistake balloons for food and ingest the material. The balloon can then block the animal's stomach resulting in a slow death by starvation. Turtles are especially susceptible to this as balloons floating in water look eerily similar to jellyfish. Wildlife also risk becoming entangled in the strings of the balloon.
Balloon releases were once an exciting public spectacle. Many other balloons are also accidentally released into the environment with the slip of a hand.
This balloon pollution quickly adds up. During a 2016 international beach clean-up event, enough balloons were collected to lift a 2,200 pound walrus off the ground. Read the whole story here.
Aluminum Cans vs. Plastic Bottles: Which Is Worse for the Environment?
Mental Floss
22 July 2019
Photo credit: Lifehacker.com
We are experiencing the effects of climate change, and the pressure is building for us to do whatever we can in our daily lives to help the environment recover—or, at least, harm it less. So when you've forgotten your solar-powered water bottle and are trying to decide between buying a beverage bottled or canned, which should you choose?
When it comes to the resources and processes required for producing plastic bottles and aluminum cans, they're pretty much tied at "terrible," according to Lifehacker. Plastic bottles are derived from the non-renewable resource petroleum, also known as oil. You might have seen a commercial where some poor animal is covered in oil from an oil spill—that's just one of its negative effects. Oil drilling itself can also wreck water and land ecosystems, and fracking uses tons of water and also releases methane, a greenhouse gas that contributes to climate change. Aluminum, on the other hand, is made from a rock called bauxite. Mining bauxite can devastate ecosystems, generate air and water pollution, and cause health issues for the surrounding communities.
When it comes to the recycling prospects of each receptacle, aluminum cans have the edge. Since plastic bottles are so thin, they can't be recycled into more plastic bottles. Instead, their fibers are used in things like carpeting, clothing, and sleeping bags. Plus, people don't recycle plastic bottles as often as you might think: Recycling Today reported that the national recycling rate for plastic bottles in 2017 was just 29.3 percent.
Meanwhile, aluminum cans can be recycled back into new aluminum cans, and the Aluminum Association, an industry group, estimates that almost 75 percent of all aluminum ever produced is still in use. Aluminum cans are recycled more often than plastic bottles, too—the rate for 2016 was about 50 percent. Read the whole story here.

Plastic cutlery is terrible for the environment and we don't need to have it delivered
Forbes
16 July 2019
Image credit: GETTY
Everybody has one of those dumb drawers full of plastic utensils that we got when we had food delivered to our home. We all know this trend is ridiculous. Even the restaurants know it. No one needs plastic cutlery delivered to their home. No one needs it delivered to their office either. Everyone already has cutlery. Yet the plastic comes anyway, by default. It's an unconscious and wasteful habit.
Maybe you think, "It's just one fork," but multiplied by millions upon millions, those plastic utensils are terrible for the environment. Some estimates put the number of individual plastic utensils wasted at 40 billion per year in the United States alone. After just one single use, most of them are thrown out and end up in landfills and in our waterways.
Plastic cutlery is one of those items that won't get recycled even when you put it in the recycling. It's too contaminated. It's too small. It's too lightweight. So those 40 billion plastic utensils per year are a complete waste. Read the whole story here.
One thing you can do: Beat the heat efficiently
The New York Times
Climate Fwd:
3 July 2019
A heat wave scorched Europe through the weekend and Americans are facing what's predicted to be a very hot couple of months. Last summer ranked as the fourth-hottest on record for the lower 48 states, and this year's temperatures are expected to be above average in most of the country.
So, how do you win the battle against summer heat in a sustainable way?
When it comes to cooling your home, you basically have three options: open your windows, use fans or turn on the air conditioning.
Natural ventilation is the most sustainable choice, hands down, because it doesn't use power. It's an especially good option in coastal areas, where temperatures often drop at night, but it won't work for everyone.
When temperatures stay high and there's little wind, fans are the next-most-sustainable choice because they bring relief while using relatively little electricity. Read the whole story here.
Lawns may be green, but they're terrible for the environment
Greater Greater Washington
by Ellen Paul (Guest Contributor)
20 June 2019
A sustainable lawn alternative in Pennsylvania
(Photo credit: Stan Kotala)
I made my childhood fortune pulling dandelions. My father saw them as the scourge of his beautiful green lawn. He paid two cents per pulled dandelion, provided the roots came up, too. I had job security because the neighbors let their dandelions go to seed, so there were always more for me to pull.
I remember the annual lawn care ritual: the arrival of the spreader delivering various powdery compounds to the grass, the mowing, the watering, the edging. When I was old enough to pull the starter cord on the lawn mower, I supplemented my dandelion earnings by mowing the lawn. Though the lawn was totally flat, we had a noisy, gasoline-engine power lawn mower.
Kids played on the lawns. Mothers shrieked about grass-stained clothes, but everyone wanted a yard with a large expanse of grass for the kids to play. It was a time of innocence. Now it's a time of consequences. Read the whole story here.

How did we let plastic bags get everywhere?
The Guardian
9 June 2019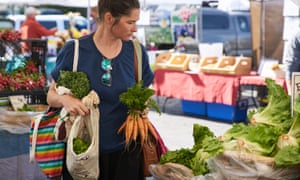 They're under our sinks, all over our streets, and filling the stomachs of dead whales. What can we do to stem the single-use scourge?
Joan Shuttleworth has fond memories of her 1940s childhood in Orchard Park, near Buffalo. "When I was seven or eight I used to do the grocery shopping at a small store a block from our house," she tells me. "It was all paper or cloth bags, and fish and meat would be wrapped in butchers' paper. There was no plastic."
The lightweight polythene plastic bags we know today were patented in Sweden in 1965. By 1979, 80% of European supermarkets were using plastic, and by the early 1980s they were widespread across the US – aggressively pushed by the oil company Mobil. "We just didn't think about it," said Shuttleworth, a 79-year-old retired nurse now living in Oakland, California. "We didn't realise what a scourge they would become. It was mindless." Read the whole story here.
Fight against plastic pollution targets a hidden source: Our clothes
NBC News
5 May 2019
The plastic bottles, straws and grocery bags that wash ashore on beaches are some of the most visible signs that society's intoxication with plastic is taking a toll on the environment. But scientists say there is another source of plastic pollution that is just as pervasive and even more difficult to clean up — and it's hiding in our clothes.
Most clothing contains synthetic fabrics such as polyester or nylon that are essentially constructed from thin plastic fibers. These fabrics have become fixtures in closets around the world because they are durable and cheap to make. Stretchy, sweat-wicking workout clothes, water-resistant rainwear and fleece sweaters are all made of synthetics — not to mention many T-shirts, dresses and jeans that contain a cotton-synthetic blend.
These tiny bits of plastic pose a daunting environmental challenge. As so-called microfibers shed off clothing, they eventually end up in the ocean, where they can be ingested by fish and other seafood that humans eat. Read the whole story here.
15 Eco-Friendly Products You Should Begin Using This Earth Day!
One Green Planet
22 April 2019
From the packaging of our foods and personal care products to our utensils when we get take-out or shop online, it seems we can't get away from creating waste and using plastic. However, reducing our reliance on plastic is an urgent issue. It's damaging our precious oceans and harming marine life, which in turn affects our own chances of survival on Earth. To do better for ourselves, the planet, and the creatures we share it with, we can begin making improvements by reducing our plastic use. Sure, there is still lots of plastic out there, but the more consumers demand and seek out environmentally friendly products, the more manufacturers will take notice and aim to please.
Even the smallest and simplest changes can make a big impact, and we'd love to help you begin making improvements. That's why in honor of Earth Day this year, we put together a list of 15 eco-friendly products you should try using. All of these products are available on Amazon and can help you reduce your waste and plastic use, and in general live a more eco-conscious lifestyle. Read the whole article here.
Does beeswax-coated food storage really work?
12 January 2019
Mother Nature Network
Robin Shreeves
Keep herbs fresher longer inside a Beebagz, a plastic-free bag coated with beeswax that can replace a disposable plastic bag. (Photo: Beebagz)
Between Thanksgiving and Christmas, I buy a lot of cheese because I entertain often. I save what's left to make Fromage Fort for Christmas Eve. It's a French method of using up little bits of a variety of leftover cheese and turning them into a cheese spread.
Storing leftover cheese for a couple of weeks without drying it out can be tricky. The cheese needs to be able to breathe a little bit, but not too much. This year, I found that using Beebagz, plastic-free baggies coated with beeswax, worked very well with the cheese. I was sent samples of Beebagz to try.
These bags aren't the only beeswax-coated food storage product. There are similar types of food wraps on the market that come in sheets. Beebagz is the first to make a bag out this material, a bag that can replace many of the zipper-type, disposable plastic bags used in kitchens regularly. Read the whole story here.
19 ways to stop creating unnecessary trash
Mother Nature Network
31 December 2018
Recycling is a fine practice, but the industry as a whole as hit a brick wall. One way to help alleviate this worldwide problem is by reducing the amount of trash you generate in the first place and reusing items you'd ordinarily discard. (Photo credit: Nokwan007/Shutterstock)
You dutifully set out a full recycling bin each week brimming with plastic, paper and metal. It's a good habit, but, unfortunately, recycling efforts aren't working as well as they should.
In the last few decades, for instance, the number of plastic products has exploded, but only about 9 percent of them are actually recycled, according to National Geographic. Meaning most of your plastic beverage bottles, single-serve food containers, straws and cups end up in the landfill — and ultimately, the ocean — where they take centuries to biodegrade and harm wildlife.
More bad news arrived in 2018 when China (the recipient of much of the world's recyclables) announced it would no longer accept many types of solid waste, including certain plastics, unsorted paper and steel waste.
As the world grapples with this latest recycling rough patch, municipal waste haulers are being forced to send even more recyclables to landfills. Read the whole story here.
'Single-use' is the 2018 word of the year
Mother Nature Network
12 November 2018
Single-use plastic bottles are washed up along the beach with other trash. (Photo: Larina Marina/Shutterstock)
Collins Dictionary has named "single-use" its word of the year for 2018.
Arguably, it's not the most well-known dictionary. It doesn't have the same clout as the Oxford English Dictionary, which has the power to make "wine o'clock" a new word. Nor does it have the hipness of the Scrabble Dictionary, which can add words like "hashtag" or "selfie" so word geeks don't into get feuds over a board game. Collins did, however, capture the attention of NPR, which reports the dictionary is all about the word "single-use" this year.
Collins explains why it chose the term as word of the year:
Selected as the #CollinsWOTY 2018, single-use encompasses a global movement to kick our addiction to disposable products. From plastic bags, bottles and straws to washable nappies, we have become more conscious of how our habits and behaviours can impact the environment.
Read the whole story here.
Why I'll never have a lawn again
by Starre Vartan
Mother Nature Network
12 October 2018
The "no-mow" movement is gaining steam, and I've joined it, after I've had the luck to see firsthand how beautiful a natural meadow can be.
Several years ago, I moved to a tiny town in the Coast Range of Oregon. When we pulled up to the house where we would be staying — on 40 acres without a neighbor in sight, I took one look at what I saw as the overgrown grass and added "mow lawn" to my mental checklist. When I looked out the back door (see image above) the sea of grass took my breath away. "This is going to be a huge job," I thought to myself.
I grew up in the Hudson Valley of New York, and my grandfather taught me how to mow our acre of lawn deep in the woods when I was 8 years old. The first two months he sat on a rock wall and supervised and offered critiques, but I was mowing on my own by the end of the summer. I kept that lawn — later learning to weed wack the edges — until I left for college, and most summers during my studies I was home for at least part of the season, and took care of it then, too. We played croquet on the lawn a couple times a year, but mostly it was for looking at.
Later, I bought my own home in Connecticut, and the house came with a small patch of lawn out back. By then I had been writing for Audubon magazine and had learned (in a research sense) how pointless lawns were. I wanted to install a butterfly garden, and plant native perennials, maybe reduce the lawn to something quite small, or just have grass pathways. At 27, I was already sick of mowing. But we kept the lawn, as my partner was rightly concerned about the future resale value of a house without a back lawn. So, I've only known lawns for most of my life.
Once I had spent a couple of very busy weeks acclimating to Oregon life, I realized that the meadow that surrounded my new home in the mountains wasn't an unkempt lawn, but one of the local types of ecosystems that flourish here naturally; they form post-fire. And in my first weeks enjoying my new favorite place in the world — the back porch — I was stunned and delighted by the plethora of life the meadow supported. And I immediately thought of that life extinguished if I had started mowing.
Sarah Baker, who is battling her town for the right to keep a meadow rather than a lawn, puts this death-by-lawn into numbers when she writes in the Washington Post: "There are 40.5 million acres of lawn in the United States, more than double the size of the country's largest national forest. We disconnect ourselves from wildlife habitat loss by viewing it as a problem caused by industry and agriculture. But habitat loss isn't a problem happening out there somewhere; it's happening in our own back yards." Read the whole story here.
Three ways making a smartphone can harm the environment
The Conversation
28 August 2018
Photo credit gizmodo
Nearly five billion people worldwide will use a smartphone by 2020. Each device is made up of numerous precious metals and many of the key technological features wouldn't be possible without them. Some, like gold, will be familiar. Others, such as terbium, are less well-known.
Mining these metals is a vital activity that underpins the modern global economy. But the environmental cost can be enormous and is probably far greater than you realise. Read the whole story here.

How to design an energy efficient bedroom
by Amelia Wilson
TUCK
Photo Credit: Pinterest, conzecon.info
Saving energy is always a good idea. In some ways, it's part of being a good neighbor. Reducing your household's energy consumption reduces the strain on your city's electrical grid.
But here's the best part: making your bedroom energy-efficient nets you significant savings on your monthly utility bills. Talk about sleeping easy.
Follow these tips to save energy in your bedroom.
1. Let go of the A/C.
If you're like most people, your air conditioner probably eats up a significant amount of your electric bill. You'll save more if you're willing to let your thermostat go a little bit higher in the summer, and a bit lower in the winter.
However, the optimal temperature for sleep is somewhere in the mid-60 degrees Fahrenheit. If you live in a hot area, it's going to get costly if you try to achieve that solely using the air conditioner. Likewise, if you live somewhere with icy winters, it can easily drop well below that range.
Make up the difference by finding other ways to cool or warm yourself. Try some of the tips below.
2. Use ceiling fans instead.
Ceiling fans are twice as efficient as A/C – they cost about half as much as running your A/C, and provide the same effect. Standalone oscillating fans also create a nice, breezy effect for hot summer nights.
Read more tips here.
Must See Movie!
The Fast Fashion Exposé The True Cost is available on Netflix. See the trailer here:
Websites advocating for change in the fashion industy:
Top Four Reef-Safe Sunscreens
Scuba Diver Life
Jan 1, 2016
Marine damage, caused by the seemingly harmless task of applying sunscreen, was the inspiration for the creation of a number of less-damaging products.
Plenty of divers already know that sunscreen can damage coral, but some that claim to be reef-safe. Statistics state that "between 6,000 and 14,000 tons of sunscreen washes off into our coral reefs every year, accelerating the process of coral bleaching."
Blame the common ingredient, oxybenzone, which kills coral and causes DNA damage. This prevents coral in its larval stage from reaching adulthood. Oxybenzone traps it in its own skeleton, making it unable to float within currents for distribution. Oxybenzone is also linked to coral bleaching, wherein corals expel the colorful algae living inside them. This leaves the bleached-looking exoskeleton behind and ultimately leads to coral-reef death.
This marine damage, caused by seemingly harmless sunscreen, inspired the creation of a number of less-damaging products. And although it's hard to known exactly what "reef-safe" means, any small effort to reduce the amount of oxybenzone pollution in our waters could mean that a coral reef survives a hotter-than-usual summer, or that a degraded area begins to recover. With that in mind, we've compiled a list of the top four reef-safe sunscreens currently on the market.
Stream2Sea - This eco-conscious company manufactures biodegradable and aquatic toxicity tested body-care products, which not only protect you and your family from the sun's damaging rays, but also the planet's waters. All products are rigorously tested, and the company guarantees that they're all made with the safest possible ingredients. Check out the conscious diver kit, which is available with reef-safe sunscreens and body lotions. This makes a perfect gift for your favorite diver.
Green People, a UK-based small company, focuses on natural and organic skin-care products. They never test on animals and never use any harsh chemicals. They also work alongside the Marine Conservation Society to highlight sunscreen's impact on the marine environment.
Badger Healthy Body Care - New-Hampshire based Badger Healthy Body Care produces certified organic and natural skin-care products. The company offers a range of reef-safe sunscreens, from products for babies and kids to ones that last up to 80 minutes underwater.
Raw ElementsRaw Elements - with the tagline "your skin, our ocean, one sunscreen," specializes in sun and lip-care for water-based activities. Their Eco Formula 30 is water-resistant past 80 minutes, non-GMO, and is never tested on animals.
With so many ecofriendly products available, you needn't sacrifice your skin or the health of the world's coral. If your favorite sunscreen isn't on this list, check its ingredients. Avoid known reef-damaging substances like the aforementioned oxybenzone, as well as butylparaben, octinoxate and 4-methylbenzylidine camphor.